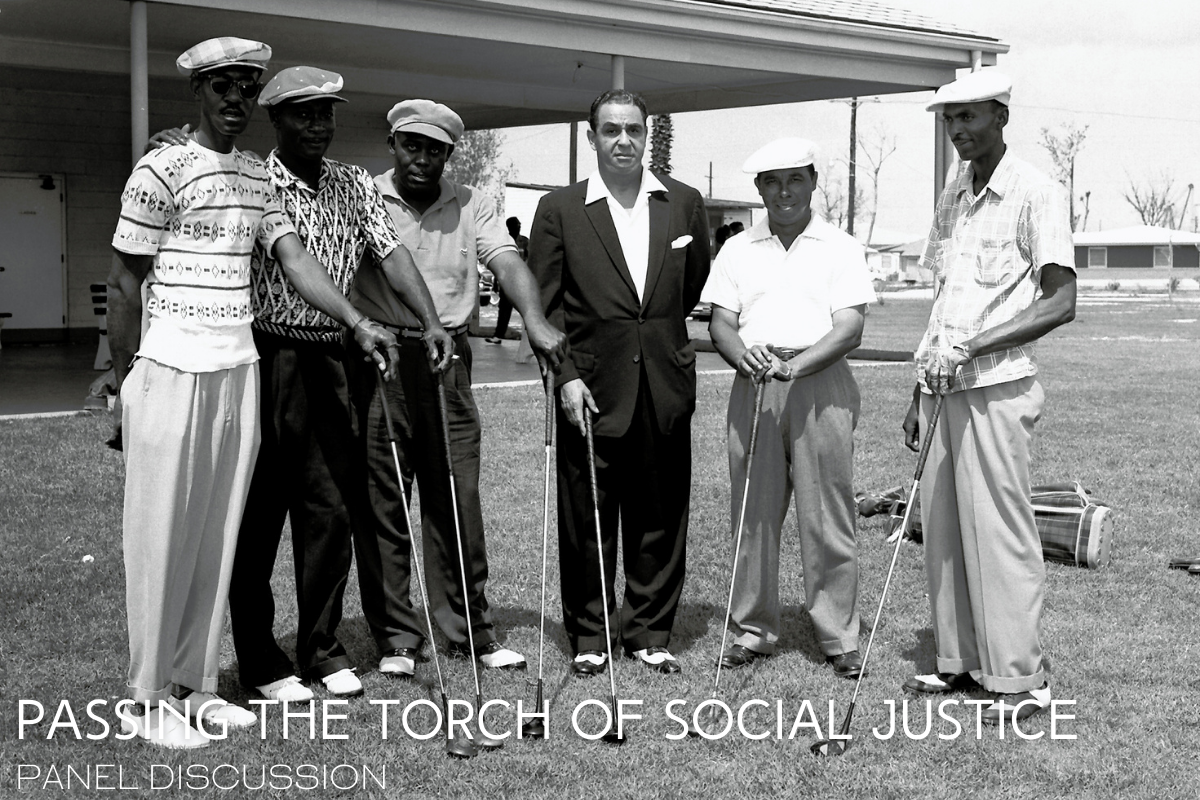 Panel Discussion
Passing the Torch of Social Justice
/// January 17, 2022 @ 3:00 pm - 4:00 pm
Join us for a program celebrating individuals who have made changes in the way we experience New Orleans and the world. Led by Shukrani Gray, African American Resource Collection Equity and Inclusion Librarian, and Dr. Zada Johnson, Associate Professor and Inner City Studies Academic Program Facilitator at Northeastern Illinois University, this discussion explores the history of social justice activism in New Orleans, as well as contemporary social justice movements in the city.
In collaboration with Free Family Day and Martin Luther King Jr. Day, this panel discussion is free and open to the public. The panel is open seating and has reduced capacity. Doors open at 2:30pm. 
IMPORTANT EVENT GUIDELINES
Anyone 5 years of age and older must provide proof of at least one dose of an approved COVID vaccine or a negative COVID-19 test within 72 hours to access.
We will accept original vaccine cards, the LA Wallet app or high-resolution photos of both sides of your vaccine card as proof of vaccination. Physical copies or a photo of a negative COVID-19 test will also be accepted.
Masks are required.
About the Panelists
Mariah Moore
Mariah Moore is an award-winning social justice advocate, National Organizer at the Transgender Law Center, and Co-Founder and Co-Director of the House of Tulip. Born at Charity Hospital with deep roots in the city's 7th and 9th wards she spent much of her childhood in foster care. After returning to New Orleans post-Katrina, Mariah, like so many New Orleanians, struggled to secure stable housing, a job that paid a living wage, and a foothold in the city that she and generations before her had called home. She knew that she deserved more and her city deserved more. 
When the COVID-19 pandemic struck, leaving the city's most vulnerable residents at the highest risk, Mariah and fellow organizer Milan Sherry drafted plans for House of Tulip, a non-profit collective that provides housing for trans and gender nonconforming folks. While hundreds of thousands of Louisianans were still struggling to get in touch with the state's office of unemployment, Mariah and the House of Tulip Founder's Circle were raising over $1 million to support their community in a time of crisis and helping secure desperately needed access to employment, healthcare, legal aid and more.
Leon August Waters
Leon August Waters is a 66-year-old native of New Orleans. Mr. Waters serves as the board chairperson of the Louisiana Museum of African American History. The museum began in 2002 on the second floor of St. Augustine Catholic Church hall in the Treme neighborhood. Katrina delivered a blow to many of the museum board members' homes, and thus setback the museum. Today, the board is searching for a permanent physical facility for the museum.
As a licensed tour host, where he directs tours on 'hidden history,' Mr. Waters is also the manager of Hidden History, L.C.C. – a publishing, touring, and research company. He has published one book titled On To New Orleans: Louisiana's Heroic 1811 Slave Revolt. This 300 page book tells the story of the largest slave revolt in the United States that happened in St. John the Baptist, St. Charles and Orleans Parishes. Mr. Waters is currently working on two more books to be published soon.
About the performance artists
Sha'Condria "iCon" Sibley
Alexandria, Louisiana native, Sha'Condria "iCon" Sibley is a New Orleans-based poet, writer, performing artist, visual artist, and teaching artist. A founding member of poetry slam powerhouse, Team SNO (Slam New Orleans), iCon is a multiple-time team and individual national and regional poetry slam champion.
iCon's involvement in building and sustaining the poetry community goes beyond the page and the stage. She co-founded the former Write, NOLA! Poetry Festival; at one time, returned to her hometown to partner with the Alexandria Museum of Art to host and organize the Rhythm & Rhymes Spoken Word Performing Arts Series for several years; works as the organizer for the New Orleans Youth Open Mic (NOYOM); and curates and organizes several cultural and artistic events, including as part of the planning board for Pass It On Open Mic, the longest running multi-disciplinary arts open mic series in New Orleans.
Joy Clark 
Having studied her self-taught craft since the age of 12, Joy truly embodies the bliss that comes with creating melodies and rhythms to celebrate peace and the undeniable power of love. Her music is often described as the essence of ease, upliftment, self-affirmation and sensitivity. It's no wonder that she quickly rose to critical acclaim as a founding member of the disbanded Soulkestra. Joy has also performed with Water Seed, and living-legend Cyril Neville, and continues to enchant audiences throughout the Southern United States and around the world.
This program is organized in collaboration with the New Orleans Public Library and sponsored by the Friends of the New Orleans Public Library. The program is also supported by a Rebirth PL Grant from the Louisiana Endowment for the Humanities. Funding for Rebirth PL grants has been provided by the National Endowment for the Humanities (NEH) and administered by the Louisiana Endowment for the Humanities (LEH) as part of the Coronavirus Aid, Relief and Economic Security (CARES) Act economic stabilization plan. Additional funding is provided by the Union Pacific Foundation.

/// Event image courtesy of City Archives & Special Collections, New Orleans Public Library
Related Events