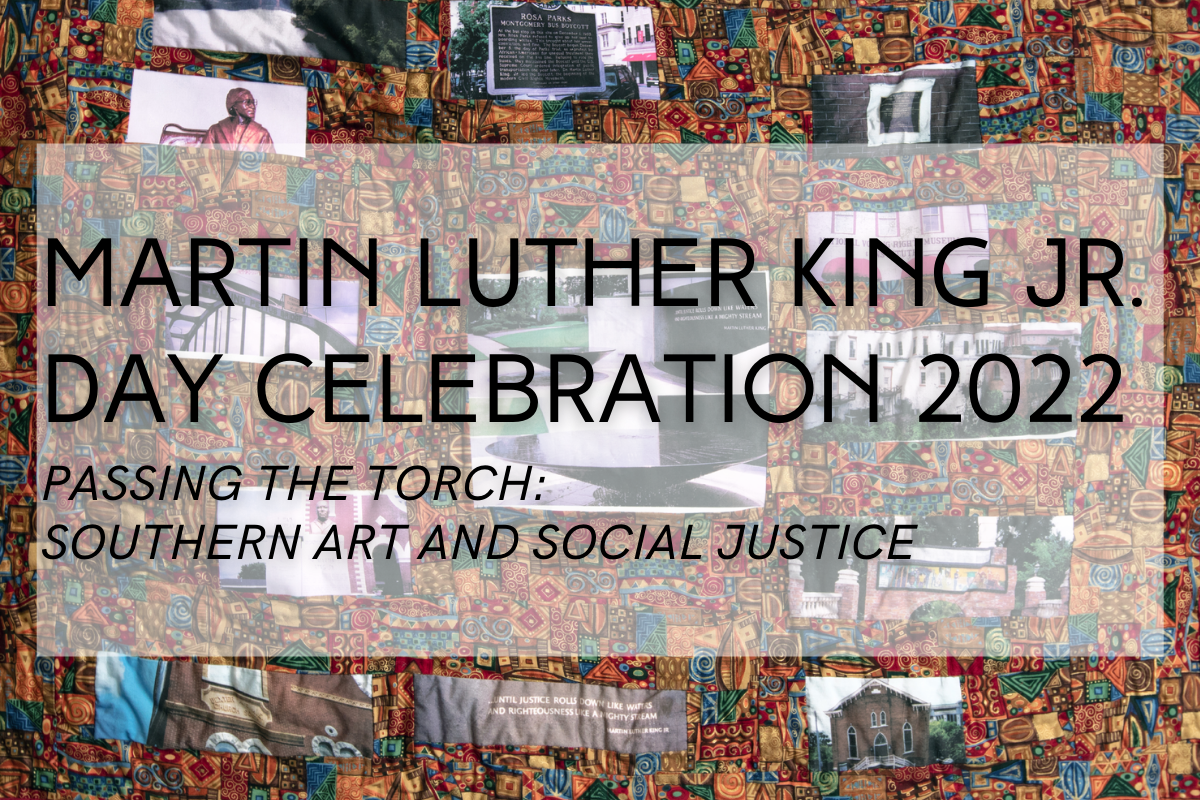 Martin Luther King Jr. Day: Passing the Torch of Social Justice
Enjoy free admission all day!
/// January 17, 2022 @ 10:00 am - 5:00 pm
Event Navigation
In honor of Martin Luther King Jr.'s life and legacy, Ogden Museum of Southern Art presents its 5th Annual FREE Martin Luther King Jr. Day Celebration on Monday, January 17, 2022. This special event is presented with support provided by Cox Communications.
From 10 a.m. to 3 p.m. enjoy a museum scavenger hunt, family friendly entertainment, an interactive "I Have a Dream" wall and more! Explore the Museum through a scavenger hunt inspired by the Prospect 5 exhibition. Plus, learn how to get involved in your community through information tables featuring the New Orleans Public Library, BikeEasy, Electric Girls and more! Food will be available for purchase from Tanjarine Kitchen food truck. Take-Home Art Activity Bags including art supplies and instruction booklet will also be available throughout the day.
Bring the whole family to the O for this free event!
Take-Home Art Activity Bags for all ages includes:
Ink Drawings Inspired by P.5 Artist Welmon Sharlhorne
Mini Protest Signs Inspired by Martin Luther King Jr.
Freedom Rider Bus Inspired by the Freedom Riders
Family-Friendly Entertainment Featuring: 
Bard Early College Poetry Club
Young Audiences Charter School Jazz Band
DJ Heelturn
Plus, join Shukrani Gray, African American Resource Collection Equity and Inclusion Librarian, at 3 p.m. for a free panel discussion exploring the history of social justice activism in New Orleans, as well as contemporary social justice movements in the city. 
LEARN MORE ABOUT THIS PANEL DISCUSSION
Online ticket reservations are not required for this event, but highly encouraged.
RESERVE FREE TICKET
IMPORTANT EVENT GUIDELINES
Anyone 12 years of age and older must provide proof of at least one dose of an approved COVID vaccine or a negative COVID-19 test within 72 hours to access.
We will accept original vaccine cards, the LA Wallet app or high-resolution photos of both sides of your vaccine card as proof of vaccination. Physical copies or a photo of a negative COVID-19 test will also be accepted.
Masks are required.
/// Event image Cecilia Pedescleaux, Selma to Montgomery (detail), 2004, Textile, Gift of John and Lyn Fischbach, 2005.29.1