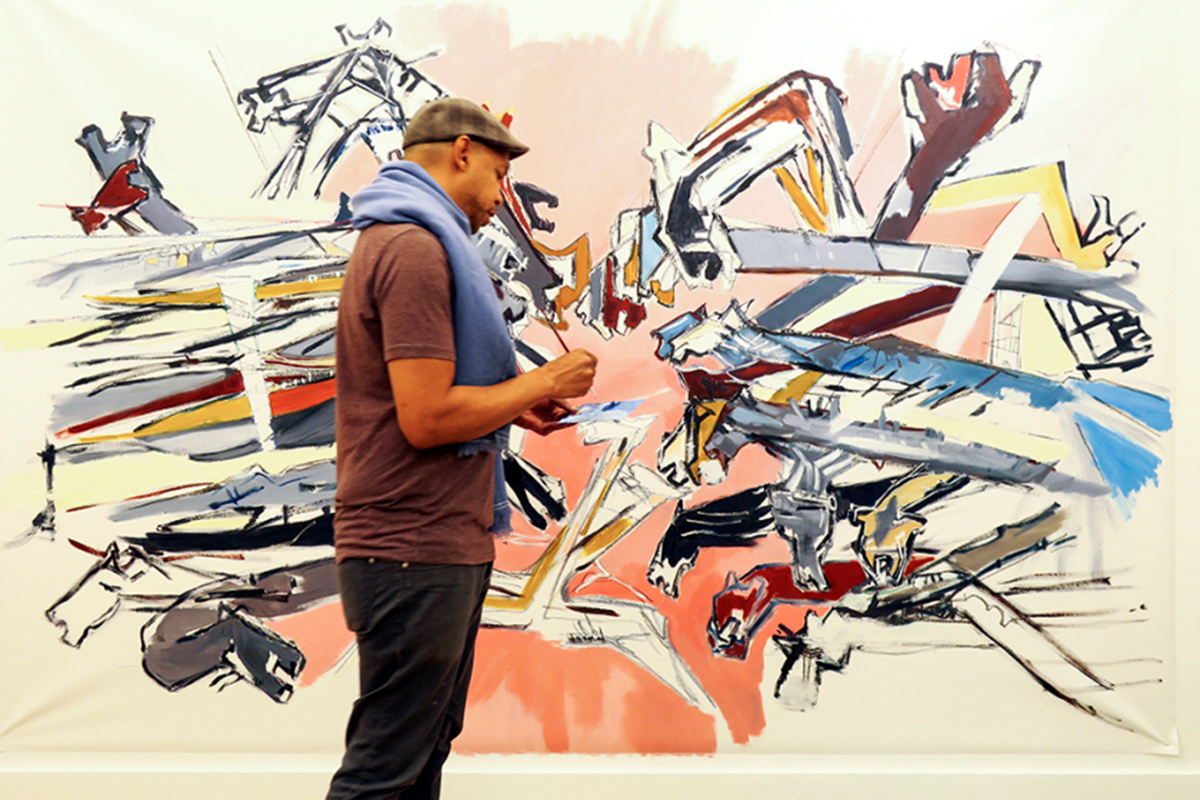 Curated Conversations
With Level Artist Collective Member Horton Humble
/// October 15, 2019 @ 6:00 pm - 7:00 pm
Join us for the first in a series of conversations in the galleries of the Ogden Museum of Southern Art with members of Level Artist Collective. The conversation on October 15 will feature Horton Humble.
This event is free and open to the public.
Curated Conversations: Carl Joe Williams Curated Conversation: Rontherin Ratliff
ABOUT HORTON HUMBLE
Born in New Orleans, Horton Humble is a self-taught American painter. Humble's debut show in 2007 entitled Debris, was a series of paintings using wood from the Hurricane Katrina wreckage centered on themes of a lost city and water as a powerful force. In 2008, he embarked on a one-year journey through Africa for his next series Transit Urban, twelve paintings using local traditional fabrics depicting the energy of the people, land and culture. Each piece was drafted on site and later accompanied him on his other travels from Europe to the US, in cities like Chicago and Lisbon. Enchanted by the old and mestizo city, he returned to Lisbon in 2012 where he lived for almost three years and created The Lisbon Series influenced by the discovery of a new medium; ceramics and its modeling techniques. After this productive period in Portugal, Humble again returned home and established his studio with a group of fellow artists in New Orleans and co-founded the Level Artist Collective in 2015.
In 2017, Horton Humble was a resident artist at the Joan Mitchell Center in New Orleans and named "one of the most talented young painters producing in the South today" by Bradley Sumrall, Curator of the Collection at the Ogden Museum of Southern Art (Curator's Choice, Country Roads Magazine). Through the summer he created his first public sculpture in steel – The Guardian, commissioned by The Helis Foundation for the Poydras Corridor project – Sculpture for New Orleans. Currently, Humble is creating his most ambitious work, large scale canvases in which he is releasing the formality of his detail obsession into a more dynamic and expressive work.
Horton Humble is a founding member of LEVEL Collective and a 2015/ 2017 nominee for the United States Artists Fellowship. His works are included in public and private collections, showcased at the Poydras Corridor in New Orleans, Prizm Art Fair- Art Basel Miami, Atlanta Contemporary Biennial, Ohr-O`Keefe Museum of Art- Biloxi, Mississippi, Luciano´s Benetton Imago Mundi Collection- Italy, NOMA- Prospect 2 Satellite, Carroll Gallery- Tulane University, Antenna Gallery- New Orleans, among others.
/// Photo courtesy of Horton Humble