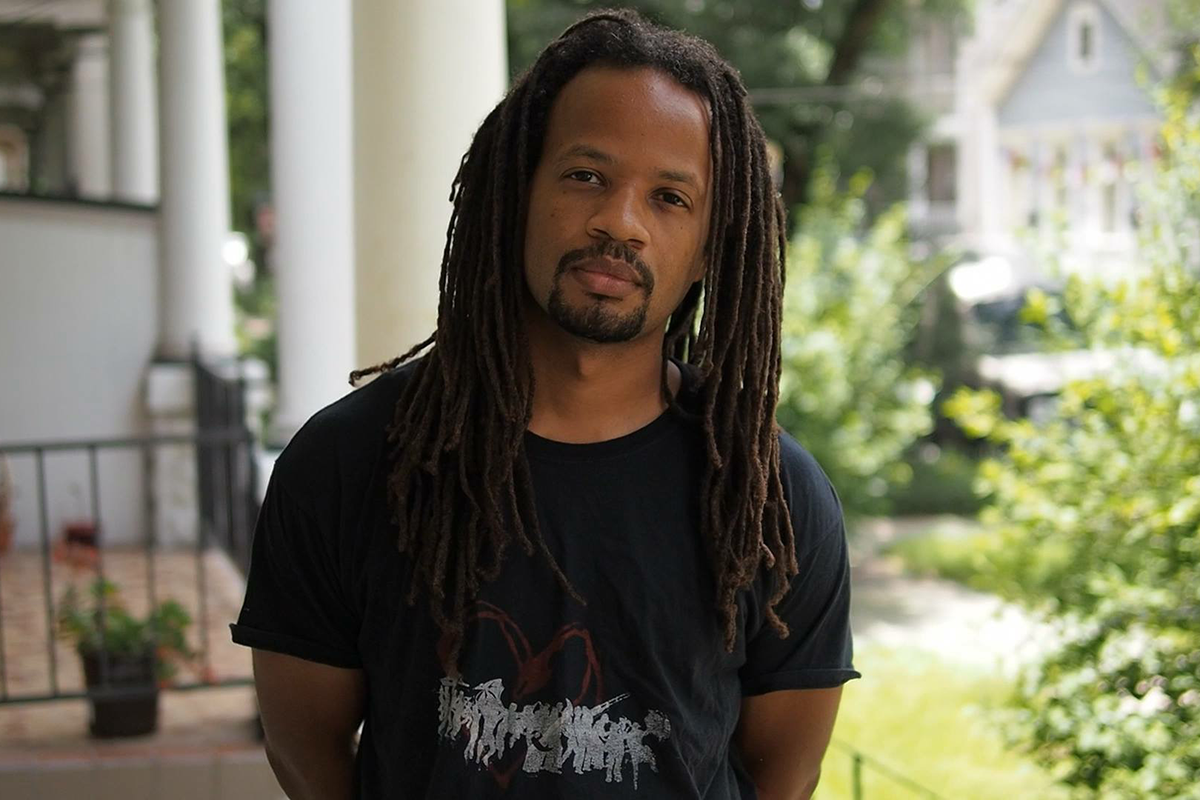 Curated Conversations
With Level Artist Collective Member Rontherin Ratliff
/// January 7, 2020 @ 6:00 pm - 7:00 pm
Join us for the third in a series of conversations in the galleries of the Ogden Museum of Southern Art with members of Level Artist Collective. The conversation on January 7 will feature Rontherin Ratliff.
This event is free and open to the public.
Curated Conversation: Horton Humble Curated Conversations: Carl Joe Williams
ABOUT RONTHERIN RATLIFF
Rontherin Ratliff was born in New Orleans, where he currently lives and works. He is a self-taught artist whose work explores architecture as analogous to the human conditions.
In 2009, Rontherin Ratliff led the artistic direction and co-creation of the set installation for the Works and Process production of Peter and the Wolf at the Guggenheim NYC. In 2010, with support from the Joan Mitchell Foundation and the Contemporary Arts Center, he was commissioned to create Sounds of a Crescent City, a large-scale sculpture for Habitat for Humanity's Musicians' Village in New Orleans. That same year, he was invited to exhibit Things That Float at Diverse Works in Texas. In 2012, he was awarded a Percent For Art grant by the Arts Council of New Orleans to create Way Down Yonder in New Orleans, a site-specific public art sculpture at The New Orleans Mayer Branch Library.  In the same year, he was selected to exhibit Revolve, a large-scale sculptural installation at the Contemporary Art Center in New Orleans.   In 2014, he was invited to participate in the 7th Annual Governors Island Art Fair to install Mud Room, a site-specific installation.  He was a 2014 recipient of the Joan Mitchell Center Artist-In-Residence Program in New Orleans, which led to his series, Counterbalance, later exhibited at the Contemporary Arts Center, New Orleans. Also in 2014, he was selected as one of the collaborating artists for the nationally acclaimed New Orleans Street Art installation, ExhibitBe, where he created the site-specific installation Hanging in the Balance and Storm Clouds. In 2015, the Diaspora Vibe Cultural Arts Incubator and NPN/VAN awarded him with an artist residency in Miami, Florida. While in residency, he started on his series, Can't Call Home. Currently, Rontherin Ratliff is expanding this series.
The Can't Call Home series is an attempt to explore what Ratliff understands to be home, the mental and physical space. It is the result of his investigation of connections and communication, love and loss, nostalgia and yearning, irrecoverable conditions and acceptance, and an overall expression of optimism. The themes of this series encouraged him to look at past periods in his life that brought back memories and emotions he was not quite sure how to manage. His understanding of that place called home is not a closed structure with a roof overhead but instead: space in time. His experience of home has been lived in moments that offered a sense of familiarity, comfort and security. Through consideration of what it means to be beyond these established moments of significance, he is exploring the loss of a period in time and the absence of familiar feelings derived from loved ones.
/// Photo courtesy of Joshua Huval
Related Events