Español abajo
Create your own super tall drawing of whatever scene you like!
Download Activity

Clementine Hunter, Flowing River, circa 1950, Medium Oil on panel
Clementine Hunter was born in 1886 near Natchitoches, Louisiana. Hunter spent most of her life working as a physical laborer and housemaid on the Melrose Plantation. In her late fifties, she taught herself to paint, eventually becoming the first African American artist to have a solo exhibition at the New Orleans Museum of Art. Hunter called her works "memory paintings," because she used them to depict daily life on the plantation. She is known for her use of bold colors, vibrant patterns, and stacked perspective.
Supplies
Paper x2, Tape, Pencil or Black Pen, Color Pencils
Instructions  
Step 1: Place your two pieces of paper with one above the other in portrait orientation so that they form one tall sheet of paper. Tape them together, then flip them over so that the side with tape is facing down and the side without tape is facing up.
Step 2: Think of a scene that you would like to draw. It can be something you've witnessed in real life, something you've seen in a movie or a book, or something from your imagination. 
Step 3: Use your pencil or black pen to draw your scene on your tall piece of paper, placing the parts closest to the viewer at the bottom of the paper and the parts farthest from the viewer at the top. For example, if you are drawing a winding road with a house at the end of it, draw the beginning of the road at the bottom of the paper, and the house at the top. 
Step 4: Use your colored pencils to bring your stacked perspective drawing to life!
Step 5 (Optional): Try again, this time using three or four pieces of paper. How tall can you make your drawing?
Vocabulary
Self-Taught Artist – an artist who did not go to art school or receive any formal artistic training
Stacked Perspective – a technique that artists use to show distance by placing objects closest to the viewer at the bottom of the artwork and objects farther away from the viewer at the top of the artwork
Portrait Orientation – when a piece of paper is used so that it is taller than it is wide (as opposed to landscape orientation, which is when a piece of paper is used so that it is wider than it is tall)
SEE MORE WORKS BY CLEMENTINE HUNTER IN THE PERMANENT COLLECTION AT THE OGDEN MUSEUM OF SOUTHERN ART. CHECK OUT THE OGDEN MUSEUM ONLINE FOR MORE RESOURCES !
QUESTIONS? EMAIL EDUCATION@OGDENMUSEUM.ORG.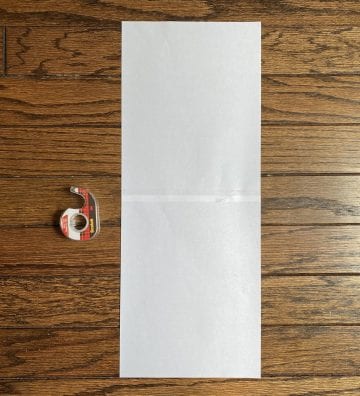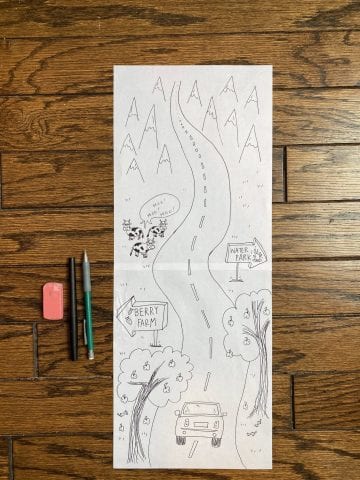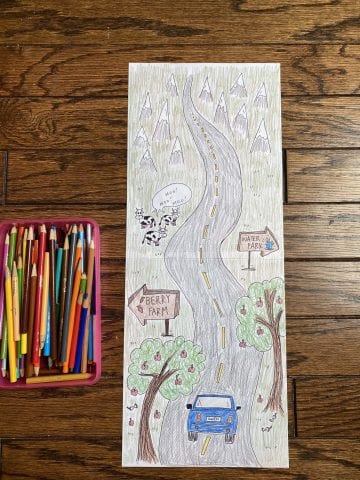 ______________________________________
Actividades artísticas O-riginales: Dibujo en perspectiva apilada Inspirado por Clementine Hunter
¡Crea tu propio dibujo super alto del paisaje que quieras!
Clementine Hunter​ nació en 1886 cerca de Natchitoches, Luisiana. Pasó la mayor parte de su vida trabajando en la plantación Melrose como trabajadora de campo y empleada doméstica. Aprendió a pintar sola a sus cincuenta años, para luego convertirse en la primera artista afroamericana en tener una exhibición propia en el Museo de Arte de Nueva Orleans. Hunter solía llamar a sus obras "pinturas ceremoniales" porque las usaba para representar su vida diaria en la plantación. Es conocida por utilizar colores intensos, patrones vibrantes y una perspectiva apilada.
Materiales
Papel x2, Cinta adhesiva, lápiz o lapicera negra, lápices de colores.
Instrucciones
Paso 1:​ Coloca uno de los pedazos de papel en  posición vertical por arriba del otro, para que juntos  formen una gran hoja de papel. Pégalos con cinta  adhesiva y luego dálos vuelta para que el lado de la  cinta quede hacia abajo y el lado sin cinta quede  hacia arriba.
Paso 2: ​Piensa en un paisaje que te gustarìa dibujar.  Puede ser algo que hayas visto en la vida real o en un  libro o película, o algo que te hayas imaginado.
Paso 3:​ Utiliza tu lápiz o lapicera negra para dibujar el  paisaje en la gran hoja de papel, colocando las partes  más cercanas al observador en la parte de abajo del  papel, y las partes más alejadas all observador en la  parte de arriba de la hoja. Por ejemplo: si estás  dibujando un camino sinuoso con una casa al final,  dibuja el principio del camino en la parte inferior de la  hoja de papel y la casa en la parte superior.
Paso 4: ​¡Utiliza tus lápices de colores para darle vida  a tu dibujo en perspectiva!
Paso 5 (Opcional): ​Intenta nuevamente, esta vez,  utilizando tres o cuatro hojas de papel. ¿Qué tan alto  puedes hacer tu dibujo?
Vocabulario
Artista autodidacta: ​ un artista que no fue a una  escuela de arte ni recibió ningún entrenamiento  artístico formal.
Perspectiva apilada: ​es una técnica utilizada por  los artistas para mostrar distancia y consiste en  colocar los objetos que se encuentran más  cercanos al observador en la parte de abajo de la  obra y los objetos más lejanos al observador en la  parte superior.
Orientación vertical: ​cuando una hoja de papel  se utiliza para que otra parezca más larga y no  ancha (lo opuesto a ​orientación horizontal ​ que es cuando una hoja de papel se utiliza para que
otra sea más ancha que larga).
¡VÉ MÁS OBRAS DE CLEMENTINE HUNTER EN LA COLECCIÓN PERMANENTE ​DEL MUSEO OGDEN DE ARTE SUREÑO!
¡VISITA ​OGDEN ​MUSEUM ​ONLINE PARA MÁS RECURSOS!
¿PREGUNTAS? ENVÍA UN EMAIL A EDUCATION@OGDENMUSEUM.ORG​.
Translation by Agostina Coll