Español abajo
Create an abstract sculpture using a variety of materials in this Movement Monday Activity inspired by William Monaghan.
Download Activity
BUILT: Sculptural Art from the Permanent Collection highlights how artists of the America South have explored the power of the sculptural form. Unlike paintings, sculpture exists in the same space as the viewer, which can cause a physical interaction with the art. The artists in this exhibition use a variety of materials to push the boundaries of their craft while continuing to carry on traditional art practices.
Instructions  
Step 1: In Untitled (1619), William Monaghan arranges found objects on a piece of wood to create this artwork. What objects can you see? Do the objects look like something you see in real life?
Step 2: Look around your house for objects to use in your sculpture. Try to find objects that would fit together or could be stacked on top of each other. Be sure to ask your parent or guardian permission to use the found objects.
Step 3: Find a place to set up your sculpture. You can use any flat surface, maybe on top of a table, on the floor or on a chair. Be sure to clear space around your sculpture for observation.
Step 4: Once you have a space to work and your objects, think about the composition of your artwork. How do the objects in your sculpture interact with each other? How do you interact with the sculpture?
Step 5: When you are happy with your artwork, ask a parent or guardian to help you take photos of your sculpture to share with friends and family.
Vocabulary
Composition – is the arrangement or placement of visual elements in a piece of artwork
Found Object – a thing that someone else has given or thrown away that is often repurposed by artists
Sculpture – an artwork made from materials such as glass, wood, clay, metal that is 3D
SEE WILLIAM MONAGHAN'S UNTITLED (1619) IN BUILT: SCULPTURAL ART FROM THE PERMANENT COLLECTION AT THE OGDEN MUSEUM
SEE MORE FUN AT-HOME ACTIVITIES FOR KIDS ON THE O BLOG!
QUESTIONS? EMAIL EDUCATION@OGDENMUSEUM.ORG.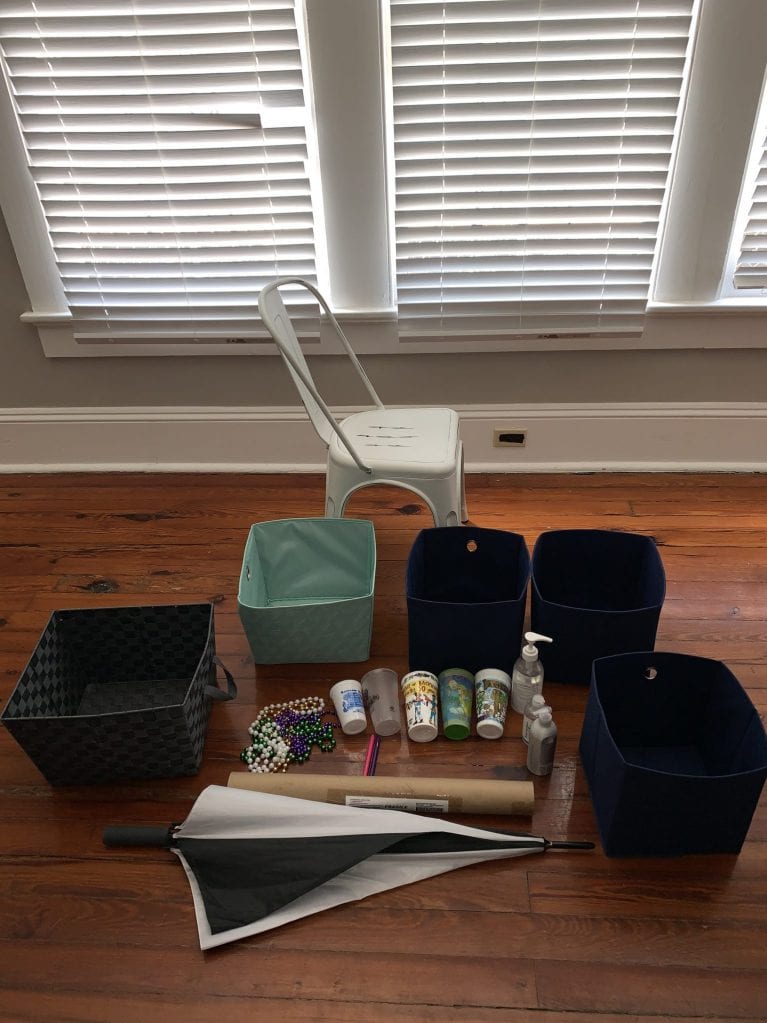 ___________________________________
Lunes de movimiento: Escultura abstracta inspirada por William Monaghan
Crea una escultura abstracta utilizando una variedad de materiales en esta actividad del lunes del movimiento inspirada en William Monaghan.
BUILT: Arte Escultural de la Colección Permanente destaca cómo los artistas de América del Sur han explorado el poder de la forma escultórica. A diferencia de las pinturas, la escultura existe en el mismo espacio que el espectador, lo que puede provocar una interacción física con el arte. Los artistas de esta exposición utilizan una variedad de materiales para ampliar los límites de su oficio mientras continúan con las prácticas artísticas tradicionales.
Instrucciones
Paso 1: En Sin título (1619), William Monaghan organiza los objetos encontrados en un trozo de madera para crear esta obra de arte. ¿Qué objetos puedes ver? ¿Los objetos se parecen a algo que ves en la vida real?
Paso 2: Busca en tu casa objetos para usar en tu escultura. Trata de buscar objetos que encajen entre sí o que puedan apilarse uno encima del otro. Asegúrate de pedirle permiso a tus padres o tutores para usar los objetos encontrados.
Paso 3: Busca un lugar para colocar tu escultura. Puedes utilizar cualquier superficie plana, tal vez encima de una mesa, en el suelo o en una silla. Asegúrate de dejar espacio alrededor de tu escultura para observarla.
Paso 4: Una vez que tengas un espacio para trabajar y tus objetos, piensa en la composición de tu obra de arte. ¿Cómo interactúan los objetos de tu escultura entre sí? ¿Cómo interactúas con la escultura?
Paso 5: Cuando estés satisfecho con tu obra de arte, pídele a un padre o tutor que te ayude a tomar fotos de tu escultura para compartir con amigos y familiares.
Vocabulario
Composición: es la disposición o colocación de elementos visuales en una obra de arte.
Objeto encontrado: algo que alguien más ha regalado o tirado y que a menudo es reutilizado por artistas.
Escultura: una obra de arte hecha de materiales como vidrio, madera, arcilla o metal, que tiene 3 dimensiones.
VE MÁS DE SIN TÍTULO (1619) DE WILLIAM MONAGHAN EN BUILT: ARTE ESCULTURAL DE LA COLECCIÓN PERMANENTE DEL MUSEO OGDEN
¡VE MÁS ACTIVIDADES DIVERTIDAS ​PARA NIÑOS PARA HACER EN CASA​ ​EL O BLOG!
¿PREGUNTAS? ENVÍA UN EMAIL A EDUCATION@OGDENMUSEUM.ORG​.
Translation by Agostina Coll