Español abajo
In this O-riginal Art Activity create a landscape collage of your city or neighborhood.
Download Activity
Purvis Young is an African American artist from Miami, Florida who was born on February 4, 1943. A self-taught artist, Young creates mixed media collage paintings that incorporate depictions of African American heritage and the South.
Supplies
Multicolored paper, white paper, scissors and glue.
Instructions  
Step 1: Create a landscape of your city, street or town. Find an area in your house where you can freely create your artwork. Grab all of your supplies and head to that designated area. 
Step 2: Look at Young's work, Cityscape with Cars. What do you notice? His artwork is very bright and colorful. The buildings and people in his artwork are abstracted (do not look like real life). What elements are in your city or neighborhood? How do the buildings, people and surroundings look? How will you create your landscape? Will you use multiple colors, and include people or animals?
Step 3: Once you have come up with an idea about your landscape, grab a few pieces of paper. With the help of a parent or guardian, cut out the type of things you would like to add to your landscape like buildings, cars, people or animals. Think about what colors you want these elements to be, cut them out of respective colored paper. How will you arrange the cut outs? 
Step 4: After cutting out the landscape pieces, start gluing the pieces down on a separate sheet of paper. 
Step 5: Let your artwork dry. Show your work with your family and friends!
Vocabulary
Abstraction – representing something by focusing on shapes and colors rather than realistic accuracy
Landscape — an image of the land, nature, or outside; genre of art
SEE PURVIS YOUNG'S CITYSCAPE WITH CARS IN THE PERMANENT COLLECTION AT OGDEN MUSEUM OF SOUTHERN ART.
CHECK OUT THE O BLOG FOR MORE KID FRIENDLY RESOURCES!
QUESTIONS? EMAIL EDUCATION@OGDENMUSEUM.ORG.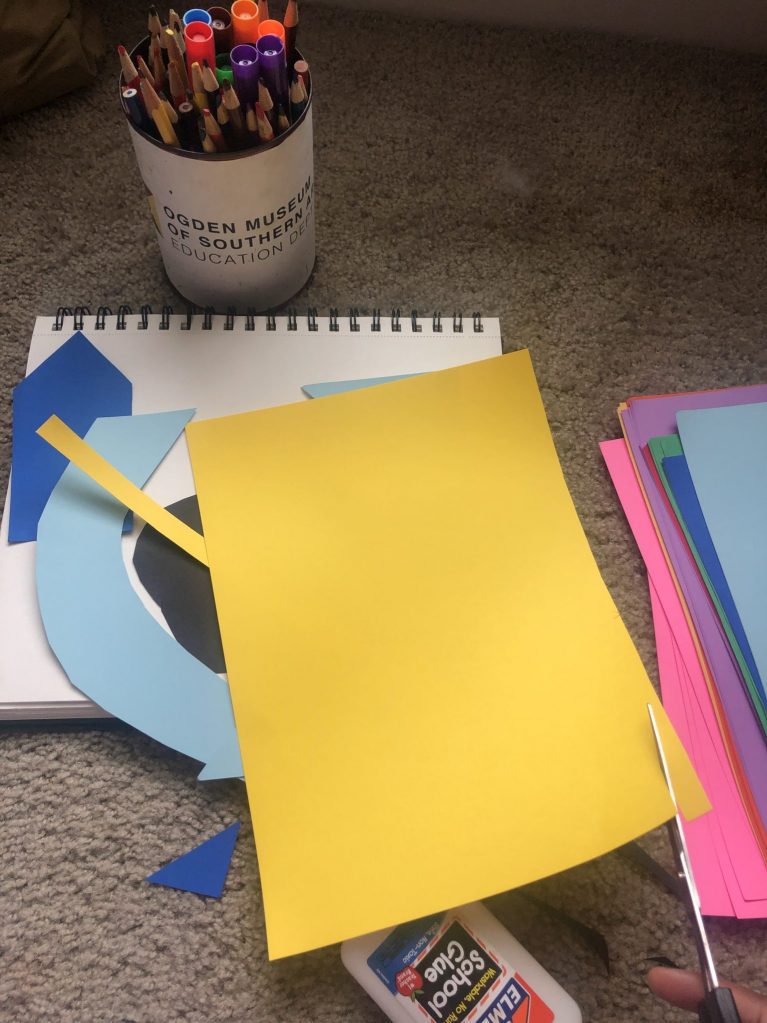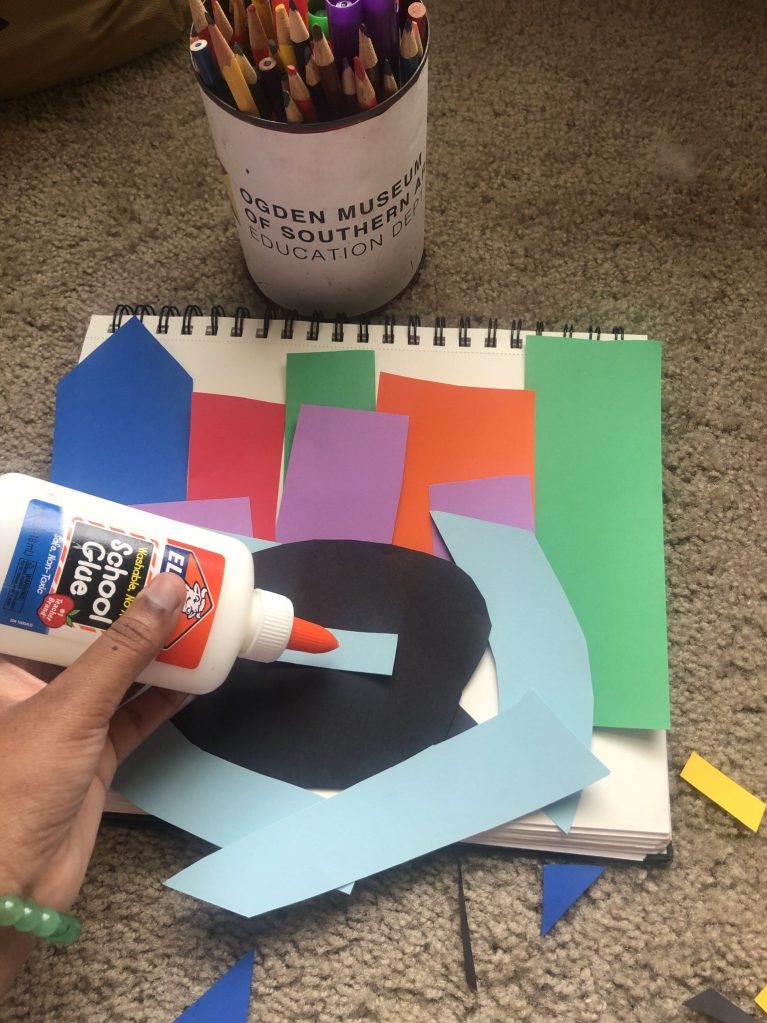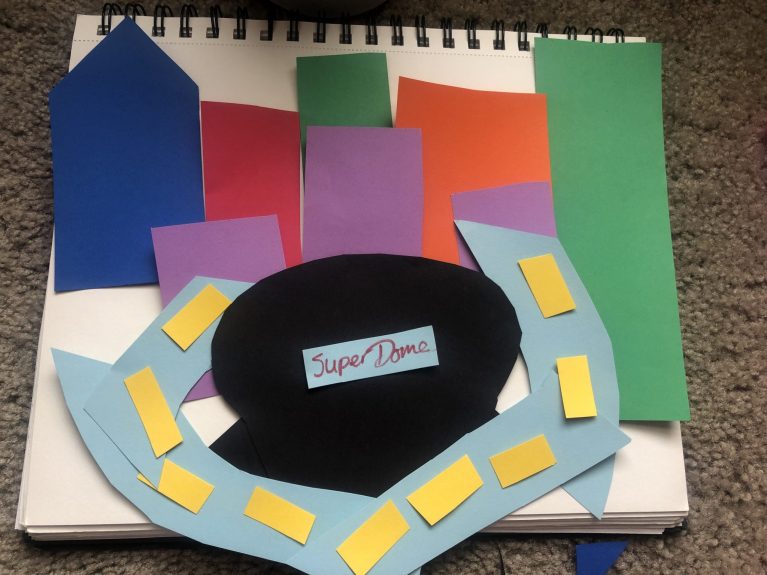 ________________________________________________________________________
Actividad artística O- riginal: Collage de paisajes inspirado en Purvis Young
En esta actividad artística o-riginal, crea un collage de paisajes de tu ciudad o vecindario.
Descargar Actividad
Purvis Young es un artista afroamericano de Miami, Florida, nacido el 4 de febrero de 1943. Artista autodidacta, Young crea pinturas de collage con técnica mixta, las cuales incorporan representaciones de la herencia afroamericana y del Sur.
Materiales
Papeles de colores, papel blanco, tijeras y pegamento.
Instrucciones
Paso 1: Crea un paisaje de tu ciudad, calle o pueblo. Busca un área en tu casa donde puedas crear tu obra de arte libremente. Toma todos tus materiales y dirígete a esa área designada.
Paso 2: Observa el trabajo de Young, Paisaje urbano con autos. ¿Qué notas? Su obra de arte es muy brillante y colorida. Los edificios y las personas de su obra de arte son abstractos (no parecen de la vida real). ¿Qué elementos hay en tu ciudad o barrio? ¿Cómo se ven los edificios, las personas y los alrededores? ¿Cómo crearás tu paisaje? ¿Usarás varios colores e incluirás personas o animales?
Paso 3: Una vez que hayas tenido una idea sobre tu paisaje, toma algunas hojas de papel. Con la ayuda de un padre o tutor, recorta el tipo de cosas que te gustaría agregar a tu jardín, como edificios, automóviles, personas o animales. Piensa de qué colores quieres que sean estos elementos y córtalos del papel de color respectivo. ¿Cómo organizarás los recortes?
Paso 4: Después de cortar las piezas del paisaje, comienza a pegarlas en una hoja de papel separada.
Paso 5: Deja que tu obra de arte se seque. ¡Muéstrale tu obra a tu familia y amigos!
Vocabulario
Abstracción: representar algo centrándose en las formas y los colores en vez de en la precisión realista.
Paisaje: una imagen de la tierra, la naturaleza o el exterior; género artístico.
¡CONOCE MÁS ACTIVIDADES DIVERTIDAS PARA NIÑOS PARA HACER EN CASA EN THE O BLOG!
¿PREGUNTAS? ENVÍA UN EMAIL A EDUCATION@OGDENMUSEUM.ORG.
Translations by Agostina Coll