Español abajo
Illustrate your dreams as Minnie Evans has done.
Download Activity
Minnie Evans was a visionary artist – her ideas came to her in her dreams. She also drew inspiration from the gardens where she worked. A number of her works feature a symmetrical face surrounded by flora and fauna. Many cultures believe dreams connect us to our ancestors.
Supplies
Color Pencils, Scissors, Glue stick, Color paper
Instructions
Step 1: Fold your paper in half vertically with the template on the outside.
Step 2: Think about your favorite dream. What colors, shapes or images come to mind?
Step 3: Use color pencils to fill in the outline with colors, shapes and images from your dream. Color the side closest to the fold.
Step 4: Unfold the paper.
Step 5: Fill in the other half of the drawing. Think about symmetry. Minnie Evans' work has the same image on each half of the drawing, creating a symmetrical work of art.
Step 6: Use scissors to cut out your drawing, use a glue stick to glue it to a color cardstock background.
If you don't have color cardstock, get creative, use magazine paper or other types of paper you find in your house. Don't forget to ask permission from your parent or guardian before using other materials you find in your house.
Vocabulary
Visionary artist — an artist who is inspired by a wider vision of awareness, including spiritual or mystical themes
Symmetry – is when the elements of a painting or drawing balance each other out.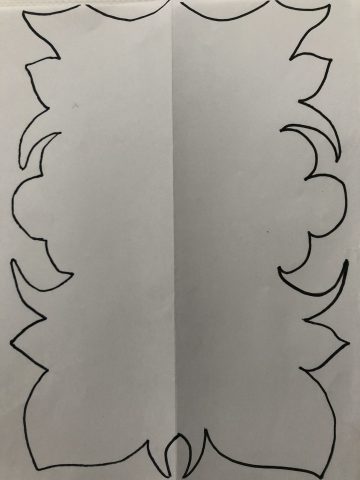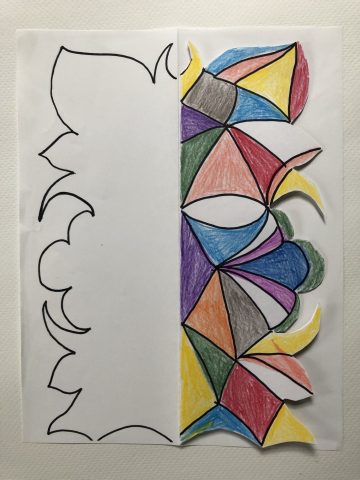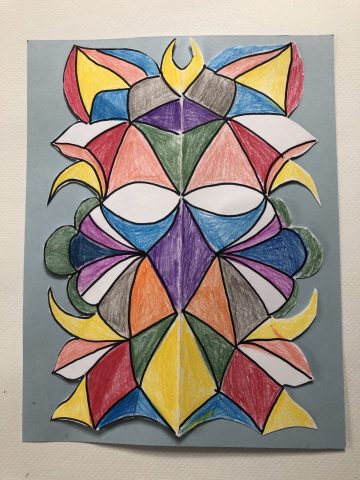 ___________________________________________
Actividades artísticas O-riginales: Dibujo simétrico de sueños Inspirado por Minnie Evans
Dibuja tus sueños como lo hizo Minnie Evans.
Minnie Evans fue una ​artista visionaria​: sus ideas le llegaban en sus sueños. También se inspiró en los jardines en donde trabajó. Varias de sus obras se caracterizan por una cara simétrica rodeada de flora y fauna. Muchas culturas creen que los sueños nos conectan con nuestros ancestros.
Materiales
Lápices de colores, tijeras, pegamento y papel de color.
Instrucciones
Paso 1: Dobla el papel verticalmente por la mitad, dejando la plantilla del lado de afuera.
Paso 2: Piensa en tu sueño favorito. ¿Qué colores, formas o imágenes vienen a tu mente?
Paso 3: Utiliza lápices de colores para rellenar el contorno con colores, formas e imágenes de tu sueño. Colorea el lado que esté más cerca del pliegue.
Paso 4:​ Desdobla el papel.
Paso 5: Completa la otra mitad del dibujo. Piensa en la ​simetría​. Las obras de Minnie Evans tienen la misma imagen en ambos lados, lo que las convierte en obras de arte simétricas.
Paso 6: Utiliza las tijeras para cortar tu dibujo y utiliza el pegamento para pegarlo a una hoja de color que servirá como fondo.
Si no tienes una hoja de color, usa tu creatividad y utiliza una hoja de una revista u otros tipos de papel que encuentres en tu casa. No olvides pedir permiso a tus padres o tutores antes de utilizar otros materiales que estén en tu casa.
Vocabulario
Artista visionario: ​un artista que se inspira en una visión más amplia de conciencia, incluyendo temáticas espirituales o místicas.
Simetría: se da cuando los elementos de una pintura o dibujo se equilibran el uno al otro.