Español abajo
Create your own symmetrical abstract painting!
Download Activity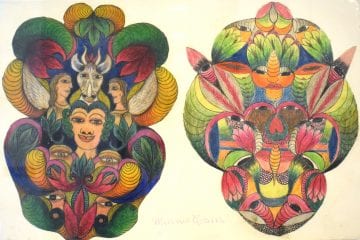 Minnie Evans, Untitled, c. 1970, Mixed media on paper
Minnie Evans was an artist who spent most of her life in Wilmington, North Carolina. She served as a gatekeeper at the famous Arlie Gardens for several years and much of her work is inspired by the beautiful scenery she encountered there. Evans is known for her colorful abstract works that use nature to express religious themes.
Supplies
Paper, Paint, Black Sharpie (Optional)
Instructions  
Step 1: Make sure your paper is oriented so that the longer sides are on the top and bottom and the shorter sides are on the left and right (landscape orientation). Fold your piece of paper in half from left to right to form a crease down the middle of the page. Unfold your paper.
Step 2: Using the crease as a border, create a colorful design on one half of the page by carefully squeezing your paint directly onto your paper. Be sure not to put too much paint on the paper. Express how you're feeling through the colors and designs that you choose. Follow your instincts – maybe blue dots mean that you're sad today, or red lines mean that you're excited. 
Step 3: While the paint is still wet, fold the blank side of your paper over the crease so that it covers the painted side of your paper. Gently press down on your folded piece of paper so that the painted side makes an imprint on the blank side.
Step 4: Unfold your paper. Now you have an awesome symmetrical abstract design!
Step 5 (Optional): While the paint dries, think about what you see in your painting. What sorts of things do the shapes and colors remind you of? Do you see any patterns that you want to highlight? Are there designs you want to add?
Step 6 (Optional): Once your painting is completely dry, use your black sharpie to bring these details to life! Trace the shapes that you see, or turn them into something new. Add some petals to make flowers, or eyes to make an animal. Make sure to try to keep your drawings symmetrical!
Vocabulary
Symmetry – when two identical parts of an image face each other
Abstraction – representing something by focusing on shapes and colors rather than realistic accuracy
Mandala – a diagram that exists in several Eastern religions and uses shapes and patterns to connect to the divine; Minnie Evans' work is sometimes compared to these spiritual designs
SEE MINNIE EVANS' UNTITLED IN THE PERMANENT COLLECTION AT THE OGDEN MUSEUM OF SOUTHERN ART.
CHECK OUT THE O BLOG FOR MORE KID FRIENDLY RESOURCES!
QUESTIONS? EMAIL EDUCATION@OGDENMUSEUM.ORG.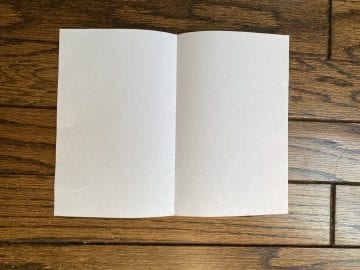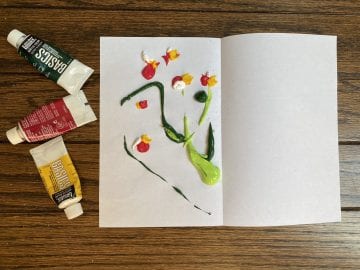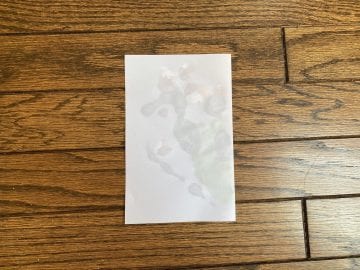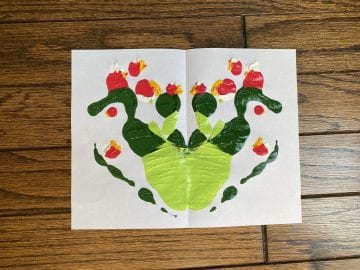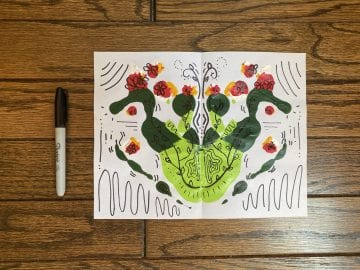 ______________________________________
Actividades artísticas O-riginales: Pintura abstracta simétrica inspirada por Minnie Evans
¡Crea tu propia pintura abstracta simétrica!
Minnie Evans ​fue una artista que pasó la mayor parte de su vida en Wilmington, Carolina del Norte. Durante varios años, trabajó como conserje en los famosos Jardines de Airlie (​Airlie Gardens​ ) y gran parte de su trabajo estuvo inspirado en los hermosos paisajes que allí observó. Evans es conocida por sus coloridas obras abstractas que utilizan a la naturaleza para expresar temáticas religiosas.
Materiales
Papel, pintura, marcador negro (opcional)
Instrucciones
Paso 1:​ Asegúrate de que el papel esté ubicado de  forma tal que los lados más largos estén arriba y  abajo y los más cortos a la izquierda y derecha
(posición horizontal). Dobla la hoja de papel por la  mitad de izquierda a derecha para formar un pliegue  en la mitad del papel. Despliega la hoja de papel.
Paso 2:​ Utilizando el pliegue como borde, crea un  diseño colorido en una de las mitades de la hoja y,  con cuidado, aplica la pintura directamente sobre el  papel. Asegúrate de no aplicar mucha pintura sobre el  papel. Expresa tus sentimientos utilizando los colores  y diseños que quieras. Sigue tu instinto: quizás puntos  azules signifiquen que hoy estás triste o líneas rojas  que estás emocionado.
Paso 3:​ Mientras que la pintura todavía está húmeda,  dobla el lado blanco del papel en donde está el  pliegue para que cubra el lado que pintaste. Aprieta  suavemente el papel doblado, para que el lado  pintado haga una impresión en el lado blanco.
Paso 4:​ Despliega el papel. ¡Ahora tienes un diseño  abstracto increíble!
Paso 5 (opcional):​ Mientras que la pintura se seca,  piensa sobre lo que ves en tu pintura. ¿A qué te  recuerdan las formas y los colores? ¿Ves algún patrón  que te gustaría resaltar? ¿Hay diseños que quisieras  agregar?
Paso 6 (opcional): ​Luego de que la pintura esté  completamente seca, utiliza un marcador negro para  darle vida a los detalles. Remarca las form o conviértelas en algo nuevo. Prueba añadir pétalos para hacer flores u ojos para hacer un animal.
Vocabulario
Simetría: ​cuando dos partes idénticas de una  imagen se encuentran enfrentadas.
Abstracción: ​ una representación que se enfoca en  las formas y colores en vez de en la exacta realidad.
Mandala: ​un diagrama que existe en varias  religiones orientales que utiliza formas y patrones para conectar con lo divino. A veces, la obra de Minnie Evans es comparada con
estos diseños espirituales.
VE MÁS DE "SIN TÍTULO" DE MINNIE EVANS ​ EN LA  COLECCIÓN PERMANENTE DEL MUSEO OGDEN DE ARTE SUREÑO. 
¡VISITA ​EL O BLOG PARA MÁS RECURSOS!
¿PREGUNTAS? ENVÍA UN EMAIL A EDUCATION@OGDENMUSEUM.ORG​.
Translation by Agostina Coll