Español abajo
Explore texture and wrapping in this O-riginal Art Activity inspired by Kristin Meyers.
Download Activity
Kristin Meyers is a Calabrian-American interdisciplinary artist who uses drawing, installation, assemblage, and sculpture to explore systems of energy and spirituality. Meyers' studio practice involves the wrapping and binding of found objects into figurative sculptures. Her practice is intuitive and process-driven. It involves the collecting of materials based on perceived energy. Her process often begins by searching for objects based on a concept, emotion or abstracted idea.
Supplies
Plastic Bottle, Scissors, Tape or Glue, String, Color Paper or Cloth
Instructions  
Step 1: Use a plastic bottle or found object for the base of your sculpture. Be sure to ask your parent or guardian for permission to make art with your found object.
Step 2: Choose your material for wrapping. Think about what texture and color you want your sculpture to have. Examples of materials to use: string, paper, cloth etc. If you choose to use paper or cloth, use scissors to cut the material into strips. To create additional texture roll the strips into "string".
Step 3: Tape or glue the material strips together into one long strip.
Step 4: Start at the top of your object. Use tape or glue to attach the material to the top of your object. Wrap the object; be sure to wrap it tightly. If you run out of material before you get to the bottom of your object, tape or glue that piece in place. Start again with another piece of material. Continue until you have completely covered the object.
Step 5 (Optional): Consider adding layers and more texture to your object by wrapping it with another layer of the same or different material if available.
Step 6 (Optional): Add depth and form to your piece by wrapping additional objects and attach them to your sculpture.
Vocabulary
Found object — a thing that someone else has given or thrown away that is often repurposed by artists
Sculpture — an artwork made from materials such as glass, wood, clay, metal that is 3D
Texture – the surface quality of a work of art
KRISTIN MEYERS' SHE BOXES IN ENTWINED: RITUAL WRAPPING AND BINDING IN CONTEMPORARY SOUTHERN ART AT THE OGDEN MUSEUM. 
CHECK OUT THE OGDEN MUSEUM ONLINE FOR MORE RESOURCES !
QUESTIONS? EMAIL EDUCATION@OGDENMUSEUM.ORG.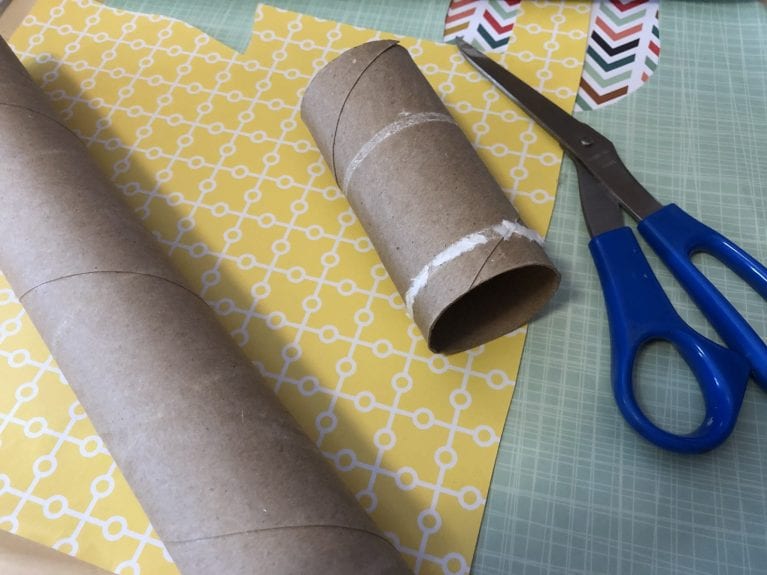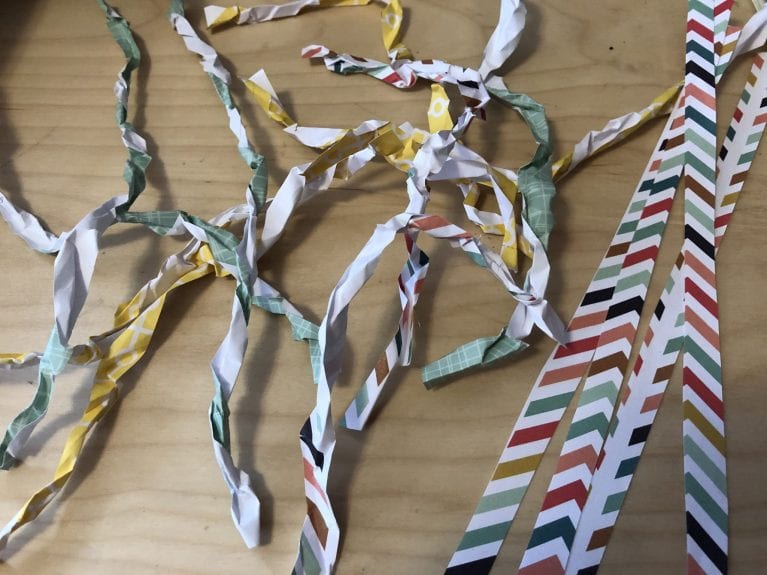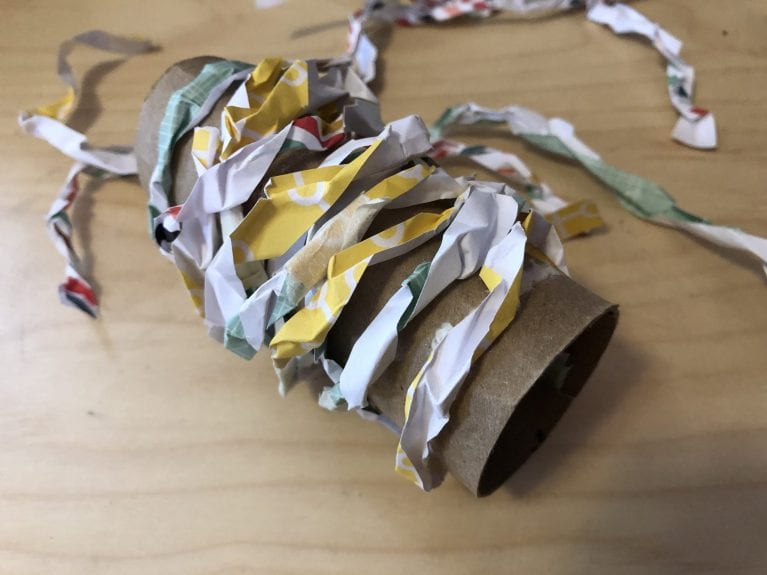 ______________________________________
Actividades artísticas O-riginales: Escultura envuelta  inspirada por Kristin Meyers
Explora  la  textura  y  la  envoltura  en  esta  actividad  artística o-riginal inspirada por Kristin Meyers.
Kristin Meyers​ es una artista interdisciplinaria de origen  calabrés-americano, que utiliza el dibujo, las instalaciones, el ensamblaje y la escultura para explorar  sistemas de energía y espiritualidad. Su práctica de  estudio consiste en envolver y encintar objetos encontrados, transformándolos en esculturas figurativas.  Su método es intuitivo e impulsado por el proceso y consiste en recolectar materiales basándose en la energía  percibida. El proceso generalmente comienza en la  búsqueda de objetos, basándose en un concepto,  emoción o idea abstracta.
Materiales
Botella de plástico, tijeras, cinta adhesiva o pegamento, hilo, papel de color o trapo.
Instrucciones
Paso 1:​ Utiliza una botella de plástico u ​objeto  encontrado​ para la base de tu ​escultura​. Asegúrate  de pedirle permiso a un padre o tutor para hacer arte  con tu objeto encontrado
Paso 2: ​Elige el material para envolver. Piensa en la  textura ​y el color que quieras que tu escultura tenga.  Algunos ejemplos de materiales son: hilo, papel, un  trapo,etc. Si eliges papel o un trapo de tela, utiliza  las tijeras para cortar el material en tiras. Para crear  textura adicional, enrolla las tiras formando "hilos".
Paso 3: ​Encinta o pega las tiras, formando una única  tira larga.
Paso 4: ​ Comienza por la parte superior de tu objeto. Utiliza cinta o pegamento para fijar el material en la  parte superior del objeto. Envuelve el objeto y  asegurate de hacerlo con firmeza. Si se te acaba el  material antes de llegar a la parte inferior del objeto,  encinta o pega esa pieza en su lugar. Comienza  nuevamente con otro material y continua hasta  cubrir el objeto en su totalidad.
Paso 5 (Opcional):​ Considera añadir capas y más  textura a tu objeto, envolviéndolo con otra capa del  mismo material o uno distinto, si hay disponible.
Paso 6 (Opcional): ​Añade profundidad y forma a tu  escultura, envolviendo objetos adicionales y  anexándolos a tu escultura.
Vocabulario
Objeto encontrado: ​un objeto que alguien donó o  descartó y que los artistas reutilizan para hacer arte.
Escultura: ​una obra de arte 3D hecha con materiales  como vidrio, madera, arcilla o metal.
Textura: ​la calidad de la superficie de una obra de  arte.
VÉ MÁS DE SHE BOXES DE KRISTIN MEYERS ​EN  ​​ENTRELAZADO: ENVOLTURA Y ATADURA RITUAL  EN EL ARTE SUREÑO CONTEMPORÁNEO E N EL  MUSEO OGDEN DE ARTE SUREÑO. 
¡VISITA ​OGDEN ​MUSEUM ​ONLINE PARA MÁS RECURSOS!
¿PREGUNTAS? ENVÍA UN EMAIL A EDUCATION@OGDENMUSEUM.ORG​.
Translation by Agostina Coll