Español abajo
Create a silhouette cutout of an image of your choice!
Download Activity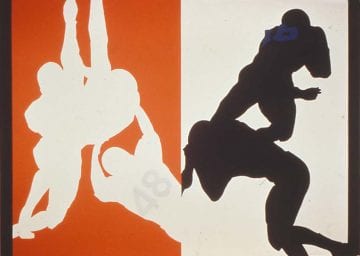 Kendall Shaw, Stichweh Tackled, 1963-64, Liquitex on canvas (acrylic)
Kendall Shaw was born in New Orleans in 1924, and worked as an artist both there and in New York City. Shaw served in the Navy during WWII, and his experiences during his service informed his artwork for the rest of his life. In the 1970s, Shaw was one of the founding members of a group of artists known as the Pattern and Decoration Movement, who used repeating geometric patterns inspired by various craft traditions around the globe.
Supplies
Construction Paper x2 (Different Colors), Pencil, Scissors, Glue
Instructions  
Step 1: Lay a piece of construction paper down in landscape orientation (horizontal). Fold it in half from left to right, then unfold it to form a crease down the center of the page. Cut along the crease so that your piece of paper is now half as large.
Step 2: Choose an image that you would like to use for your cutout. Remember, keep it simple! You will want to keep the image intact when you cut it out.
Step 3: Use a pencil to draw your image in the center of the half-sized piece of paper. Draw as much as you'd like, this won't be visible when you're done.
Step 4: Cut out your image, try to keep the surrounding paper in one piece. Flip your cutout and the outline of your cutout over so that the side without pencil markings is visible to your viewer.
Step 5: Grab your second piece of construction paper and make sure it's in landscape orientation. Place your cutout and the outline of your cutout side-by-side on the piece of paper. Glue them down. Congratulations, you've created your very own silhouette cutout artwork!
Vocabulary
Silhouette – the dark outline of an image against a light background
Pattern and Decoration Movement – a group of artists based out of New York in the 1970s that used repeating geometric patterns inspired by various craft traditions around the globe
SEE KENDALL SHAW'S STICHWEH TACKLED IN THE PERMANENT COLLECTION AT THE OGDEN MUSEUM OF SOUTHERN ART. CHECK OUT THE OGDEN MUSEUM ONLINE FOR MORE RESOURCES !
QUESTIONS? EMAIL EDUCATION@OGDENMUSEUM.ORG.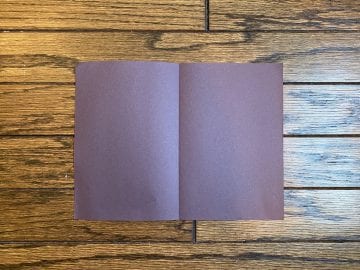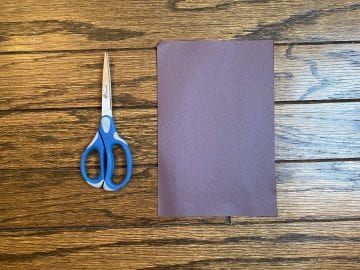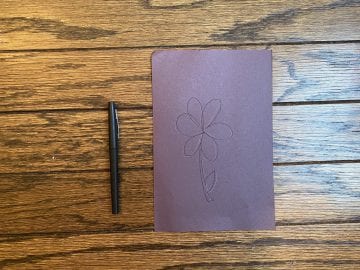 ______________________________________
Actividades artísticas O-riginales: Recorte de silueta inspirado por Kendall Shaw
¡Crea un recorte de una silueta utilizando una imagen que te guste!
Kendall Shaw ​nació en Nueva Orleans en 1924 y trabajó como artista tanto allí como en Nueva York. Shaw prestó sus servicios en la marina durante la Segunda Guerra Mundial y sus experiencias allí se vieron reflejadas en las obras de toda su vida. En los años 70, Shaw fue uno de los miembros fundadores del grupo de artistas conocidos como movimiento Pattern & Decoration, quienes, inspirados por distintas tradiciones artesanales del mundo, utilizaron patrones geométricos repetitivos.
Materiales
Cartulinas x2 (de distintos colores), lápices, tijeras, pegamento.
Instrucciones
Paso 1: ​Coloca una cartulina en forma apaisada (posición horizontal). Doblala por la mitad de izquiera  a derecha y luego desdoblala para formar un pliegue  en el centro de la hoja. Corta la hoja por el pliegue  para que ahora sea el doble de larga.
Paso 2: ​Elige una imagen que te gustaría utilizar para  tu recorte. Recuerda hacerlo sencillo. Querrás que la  imagen quede intacta cuando la recortes.
Paso 3:​ Utiliza un lápiz para dibujar tu imagen en el  centro de la hoja de papel recortada. Dibuja todo lo  que quieras, ya que esto no será visible cuando  termines.
Paso 4:​ Recorta tu imagen y trata de mantener el  papel que la rodea en una pieza. Da vuelta tu recorte y  el contorno de tu recorte para que el lado sin lápiz sea  visible al observador.
Paso 5:​ Toma la segunda cartulina y asegúrate de  colocarla en posición horizontal. Coloca tu recorte y el  contorno de tu recorte uno al lado del otro en la hoja  de papel. Pégalos. ¡Felicitaciones, creaste tu propio recorte de silueta!
Vocabulario
Silueta: ​el contorno oscuro de una imágen, sobre  un fondo en el que se destaca.
Pattern and Decoration Movement: ​grupo de  artistas de Nueva York que surgió en los años
70 y que utilizaba patrones geométricos repetitivos, tomando como inspiración varias  tradiciones artesanales del mundo.
VE MÁS DE ​STICHWEH TACKLED DE ​ KENDALL SHAW EN LA COLECCIÓN PERMANENTE DEL MUSEO OGDEN DE ARTE SUREÑO.
¡VISITA ​OGDEN ​MUSEUM ​ONLINE PARA MÁS RECURSOS!
¿PREGUNTAS? ENVÍA UN EMAIL A EDUCATION@OGDENMUSEUM.ORG​.
Translation by Agostina Coll