Español abajo
Create a silhouette portrait using bold, solid colors like Clementine Hunter has done.
Download Activity
Clementine Hunter was from the Cane River region of Louisiana and taught herself how to paint while living and working on Melrose Plantation. While she did not start painting until later in her life, she took inspiration from her experiences, memories and everyday life on Melrose Plantation.
Supplies
Color/Pattern Paper, Scissors, Glue, Markers, Pencil
Instructions 
Step 1: Look at Clementine Hunter's portrait. What do you notice about it? Hunter uses bold, solid colors to depict the face and shoulders of the subject. Notice that the head wrap has a pattern made up of black and yellow strips and orange polka dots.
Step 2: Decide if you want to create your own self-portrait or make a portrait of a friend or family member.
Step 3: Notice that the background of Hunter's portrait is white. Pick a color or pattern paper that you want to use for the background of your portrait.
Step 4: Decide what color you want as the skin tone. Hunter has used black to indicate skin color or emphasize the silhouette of the portrait. Use a pencil to draw an oval on the "skin tone" paper. Use a mirror if you are drawing yourself. Look at the profile (side view) of the face. What shape does your forehead, nose and mouth make? Use a pencil to draw the face profile on one side of the oval. Use scissors to cut out the head.
Step 5: Decide what color/pattern paper you want to use for the shoulders in the portrait. Use the cut out head as a guide. Use a pencil to draw a shoulder and neck. Use scissors to cut out the shoulders.
Step 6: Clementine finished her portrait with a patterned head wrap. What does your hair look like? Do you want your portrait to have hair, a head wrap or a hat? Pick the color or pattern paper for the hair or head wrap. Use the head as a guide. Use a pencil to draw the hairstyle. Use scissors to cut out the hair. Use a glue stick to glue all of the pieces together on the background paper.
Step 7: Clementine added details to her portrait. Notice that the head wrap has orange polka dots and there is a brooch on the shoulder. Use markers to add details to your portrait.
Step 8: Look at the right hand corner. Clementine Hunter created a symbol of her initials; a backwards C and an H to use as her signature. How will you sign your artwork? Write your full name, use your initials or create your own symbol to sign your work in the right hand corner.
Vocabulary
Portrait – an image of a person; genre of art
Pattern – a repetition of specific visual elements in art
Symbol – an object or concept that represents, stands for or suggests another idea, visual image, belief or action
Silhouette – is the image of a person, animal, object or scene represented as a solid shape of a single color, with its edges matching the outline of the subject
CHECK OUT THE O BLOG FOR MORE RESOURCES!
QUESTIONS? EMAIL EDUCATION@OGDENMUSEUM.ORG.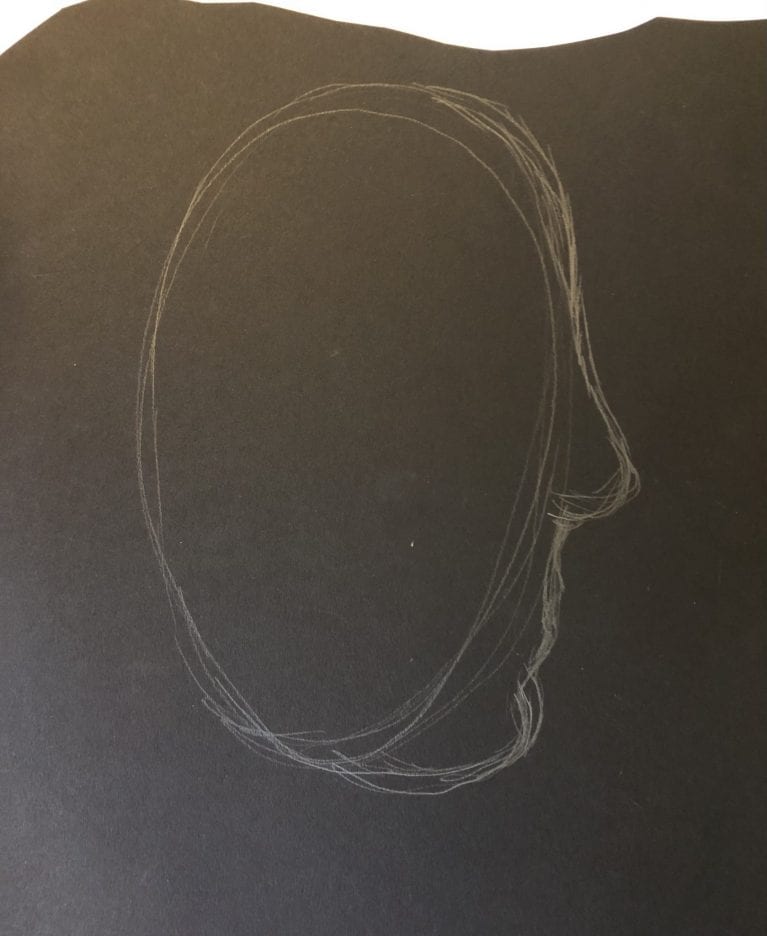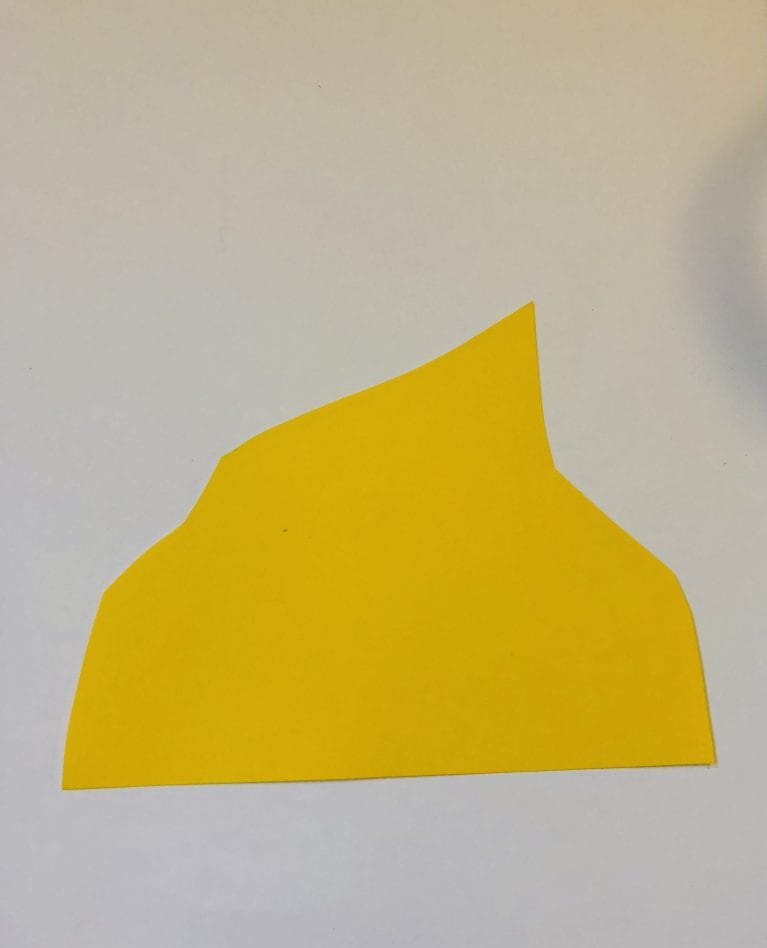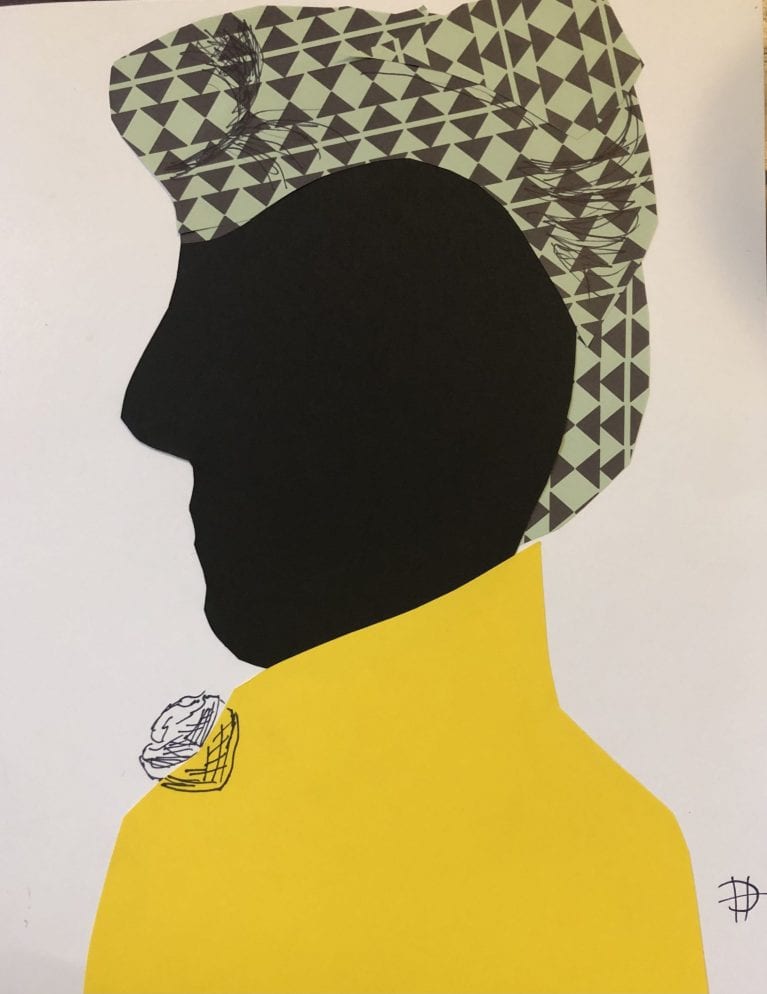 ---
Actividad artística O-riginal: Retrato de silueta inspirado por Clementine Hunter
Crea un retrato de silueta usando colores sólidos y atrevidos como lo ha hecho Clementine Hunter.
Descargar Actividad
Clementine Hunter era de la región de Cane River en Luisiana y aprendió a pintar por sí misma mientras vivía y trabajaba en Melrose Plantation. Si bien no comenzó a pintar hasta más tarde en su vida, se inspiró en sus experiencias, recuerdos y vida cotidiana en Melrose Plantation.
Materiales
Papel de color o con diseño, tijeras, pegamento, marcadores, lápiz.
Instrucciones
Paso 1: Mira el retrato de Clementine Hunter. ¿Qué notas al respecto? Hunter utiliza colores sólidos y llamativos para representar el rostro y los hombros del sujeto. Observa que la envoltura de la cabeza tiene un patrón formado por tiras negras y amarillas y lunares naranjas.
Paso 2: Decide si quieres crear tu propio autorretrato o hacer un retrato de un amigo o familiar.
Paso 3: Observa que el fondo del retrato de Hunter es blanco. Elige un papel de color o patrón que desees utilizar como fondo de tu retrato.
Paso 4: Decide qué color quieres como tono de piel. Hunter ha utilizado el negro para indicar el color de la piel o enfatizar la silueta del retrato. Utiliza un lápiz para dibujar un óvalo en el papel que sea el "tono de piel". Usa un espejo si te estás dibujando a ti mismo. Mira el perfil (vista lateral) de la cara. ¿Qué forma tiene tu frente, nariz y boca? Usa un lápiz para dibujar el perfil de la cara en un lado del óvalo. Usa tijeras para recortar la cabeza.
Paso 5: Decide qué papel de color/patrón quieres usar para los hombros en el retrato. Utiliza la cabeza recortada como guía. Usa un lápiz para dibujar un hombro y el cuello. Usa tijeras para recortar los hombros.
Paso 6: Clementine finalizó su retrato con un pañuelo estampado en la cabeza. ¿Cómo luce tu cabello? ¿Quieres que tu retrato tenga pelo, un pañuelo en la cabeza o un sombrero? Elige el color o el patrón del papel que se utilizará para el cabello o el pañuelo. Usa la cabeza como guía. Usa un lápiz para dibujar el peinado. Usa tijeras para cortar el cabello. Utiliza una barra de pegamento para pegar todas las piezas en el papel de fondo.
Paso 7: Clementine agregó detalles a su retrato. Observa que el pañuelo tiene lunares naranjas y hay un broche en el hombro. Usa marcadores para agregar detalles a tu retrato.
Paso 8: Mira la esquina de la derecha. Clementine Hunter creó un símbolo de sus iniciales; una C al revés y una H para usar como su firma. ¿Cómo firmarás tu obra de arte? Escribe tu nombre completo, usa tus iniciales o crea tu propio símbolo para firmar tu trabajo en la esquina derecha.
Vocabulario
Retrato: la imagen de una persona, género artístico.
Patrón: en el arte, es la repetición de elementos visuales.
Símbolo: un objeto o concepto que representa o sugiere otra idea, imagen visual, creencia o acción.
Silueta: es la imagen de una persona, animal, objeto o escena representada como una forma sólida de un solo color, con sus bordes que coinciden con el contorno del sujeto.
¡VISITA THE O BLOG PARA MÁS RECURSOS!
¿PREGUNTAS? ENVÍA UN EMAIL A EDUCATION@OGDENMUEUSM.ORG