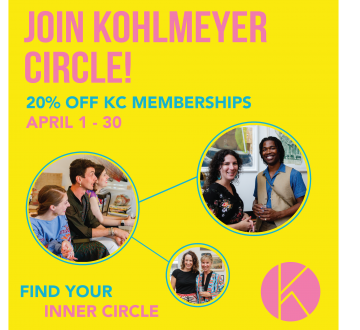 The Kohlmeyer Circle is a special level of Ogden Museum membership for young art patrons and collectors, ages 21 – 45, with a passion for Southern art and a desire to be more involved with the Museum and the New Orleans creative community. 
Throughout the month of April, we'll be offering a 20% discount on this membership level! Plus when you join, your membership is good for 13 months instead of 12! More perks listed below. Interested? Here's 10 great reasons to join the O as a KC member!
1. Engage with Southern art and the New Orleans Community
The Ogden Museum of Southern Art holds the largest and most comprehensive collection of Southern art and is recognized for its original exhibitions, public events and educational programs, which examine the development of visual art alongside Southern traditions of music, literature and culinary heritage to provide a comprehensive story of the South.
2. Exclusive Behind-the-Scenes Tours of Museum Exhibitions and Private Collections
Last year, members enjoyed an unveiling reception for a recent Ogden Museum acquisition by William Monaghan, a private tour at the Contemporary Arts Center of William Monaghan : I-Object and reception, plus a tour at William Monaghan's studio. We have some exciting things planned for 2020, including virtual tours!
3. Exclusive Tours of Artist Studios to Get to Know Artists
In addition to behind-the-scenes tours of exhibitions and private collections, members also enjoy tours of artists' studios. Members will enjoy a Saturday afternoon tour of three artist studios included in this year's Louisiana Contemporary exhibition, presented by The Helis Foundation. Members will also be able to tour the home and studio of artist, Simon Gunning. While touring artists' studios, members have the opportunity to get to know the artists. They learn about each artists' work, background, career and techniques.
4. Discounted Tickets to Events Like Magnolia Ball and O What A Night! Gala
As a Kohlmeyer Circle member you won't want to miss out on our biggest events of the year! Our annual Magnolia Ball has become one of the most anticipated social events of the summer. This year, join us to honor and celebrate Entwined and the Museum's spring exhibition series. The O What A Night! Gala is not only an experiential celebration of the very best in Southern art, music and food, but is also the Museum's top fundraising event.
5. Learn About Collecting
Want to start collecting works of art? We host cocktail receptions and special viewings in collector's homes. Our featured collectors participate to share how they began their collection and love providing tips on how to start or grow your own collection.
6. Network and Engage with a Diverse Group of Members
Kohlmeyer Circle has over 100 member households. Many of our members are artists, collectors, gallerists and art enthusiasts. You can take advantage of the opportunity to network with people of a variety of backgrounds and professions!
7. Invitations to private exhibition previews and evening receptions with the Director
Members receive invitations to the VIP openings and receptions for exhibitions. This year, members were able to attend exhibition openings at the Ogden Museum for Melvin Edwards: Crossroads and What Music is Within: Black Abstraction from the Permanent Collection. Members will also receive invites to a Director's Tour for each exhibition in 2020!
8. Invitation to Kohlmeyer Circle Holiday Party
Each year, the Kohlmeyer Circle holds a holiday party that has proven to be one of our largest Kohlemyer events of the year. Last year, 85 Kohlmeyer Circle members joined us at Dawn DeDeaux's artist compound where she shared her residency program as well as her home and studio.
9. Invitations to select Board and Richardson Society events
Join our board members and the Richardson Society, our highest level of membership, in select private events and receptions!
10. Discounts in the Ogden Museum Store and on Registration for Events Like Craft Happy Hour and Artist Workshops
Use your discount to come #shoptheSouth in the Ogden Museum Store for the perfect gift for yourself or loved ones. In addition, you will be able to get discounts when you come #discovertheSouth in our artist workshops and #crafttheSouth with us every Tuesday night in our Craft Happy Hours.
FOR NEW AND RENEWING MEMBERS: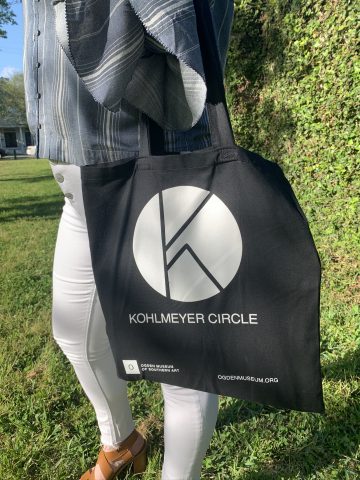 During the month of April, ALL new and renewing members will receive a special edition Kohlmeyer Circle tote bag, two drink tickets to be used at Ogden Museum events such as OAH, and everyone will be entered in a raffle to win the following prizes:
Two lucky winners will receive two tickets to Magnolia Ball 2020!

One lucky winner will receive this original work of art by Betsy Stewart (value – $2,500)! 
Learn More About Membership