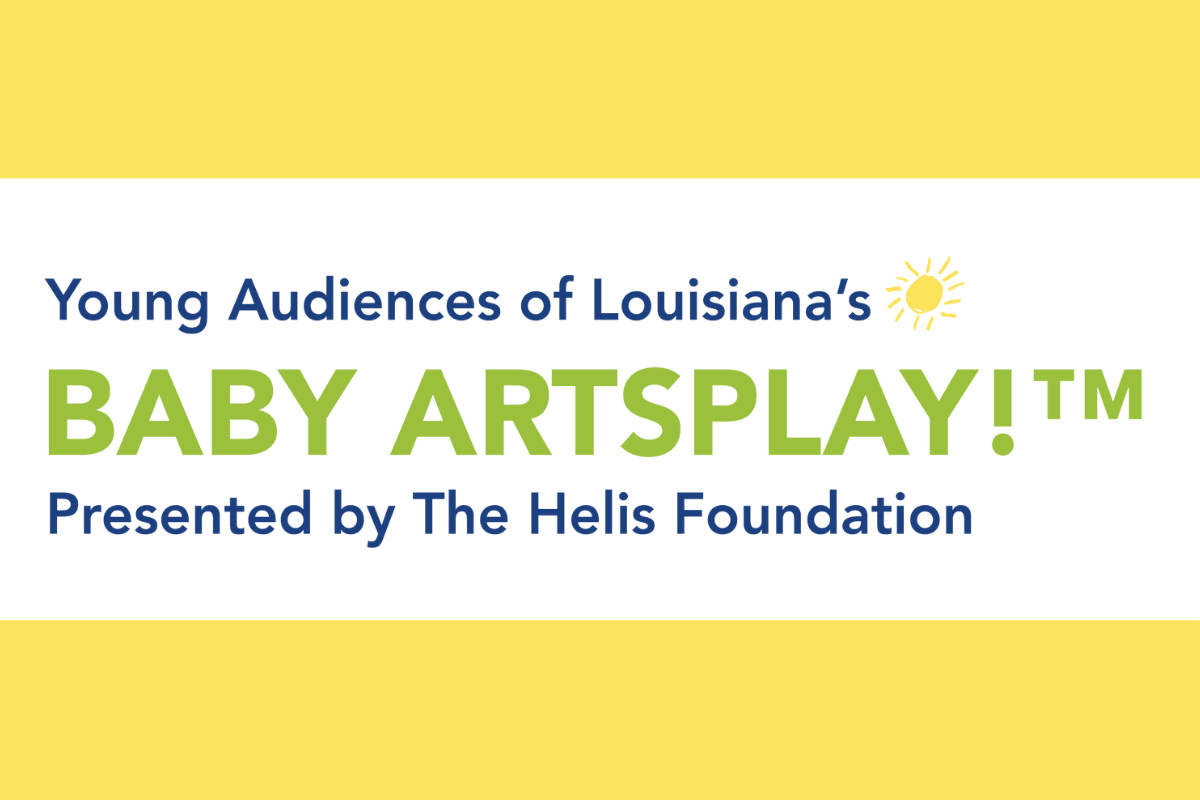 YALA BABY ARTSPLAY!
PRESENTED BY THE HELIS FOUNDATION
/// October 28, 2021 @ 9:30 am - 10:00 am
Join Young Audiences of Louisiana for "Baby Artsplay!TM," presented by The Helis Foundation.
This 6-part museum workshop series, "Getting to Know You," provides engaging arts-based activities designed to instruct caregivers on how to use the arts at home to promote early learning. Lessons are conducted by certified Louisiana Wolf Trap Teaching Artist Howe Pearson, who has expertly crafted multi-sensory experiences that foster children's natural curiosity for learning. After each workshop, children and their caregivers can download our digital Connection Cards for tips on how workshop activities can be continued at home.
October 28 – Workshop I – My Five Senses (Sensory Play)
Develop your child's awareness of the five senses through play.
November 4 – Workshop II – Baby Says… (Language)
Promote your child's language development through artful play.
November 11 – Workshop III – My Body (Self Awareness)
Teach your child to identify body parts through music and movement.
November 18 – Workshop IV – Let's Move!
Use movement to encourage your child's brain development.
December 2 – Workshop V – Up, Down, & All Around (Spatial Awareness)
Help your child learn basic directional concepts with movement and music.
December 9 – Workshop VI – Get Your Motor Running (Motor Skills)
Use artful play to develop your child's fine and gross motor skills.
Register for one or all upcoming workshops:
Oct.28 Nov. 4 Nov. 11 Nov. 18 Dec. 2 Dec. 9
Advanced registration is required. Registration for each session will open two weeks prior to the date of the workshop. Upon registering, participants will receive a QR code to use when checking in.
About Young Audiences of Louisiana
Young Audiences of Louisiana is the leading provider of arts education and integration programs in the state of Louisiana. We offer a comprehensive and creative approach to educating young minds. Fortified with years of experience, we draw upon our city's strong arts culture to provide young people with tools to impact their worlds using art. Through our school performances, arts-integrated residencies, extended learning programs and community workshops we not only impact the children of New Orleans, but make intentional contact with the influential adults in their lives.
Learn More
YALA Health and Safety Protocols
Face coverings: YALA will uphold a universal masking policy for all individuals aged two and older at any indoor children's programming. This includes those who are vaccinated, as well.
Social distancing: YALA will require social distancing for family groups at all indoor and outdoor events. Please maintain space of six feet or more between your family and those who are not part of your family unit.
Eating and drinking: Sometimes little ones need to snack. If our event venue permits it, please feel free to provide snacks to your children. However, please minimize your time unmasked and re-mask immediately after eating or drinking.
Children with medical conditions and sensory processing conditions: We understand that there are children and adults who have special needs or circumstances that make it difficult to follow our mask policy and we want to work with all of our families. If your child has a medical condition or sensory processing issue that prevents them from wearing a mask, please contact omote@ya4la.org.
Proof of vaccination: YALA will act in accordance with the City of New Orleans vaccination requirements. Anyone 12 years of age and older must provide proof of at least one dose of an approved COVID vaccine or negative PCR test within 72 hours before attending our indoor events.
Accepted forms of vaccination proof: LA Wallet app (Download and install the app from the Apple Store or Google Play Store.)
An original, digital photograph or photocopy (both sides) of your CDC vaccination card.
An official vaccination record issued by another state, foreign nation or the WHO
Accepted forms of Negative COVID-19 PCR results:
Email containing results (within 72 hours of your visit)
Print out of negative results (within 72 hours of your visit)
Symptoms after the event? If you think you are sick with Covid 19, please follow the CDC's recommendations and fill out our reporting form so we can let other families know they may need to quarantine.
Related Events