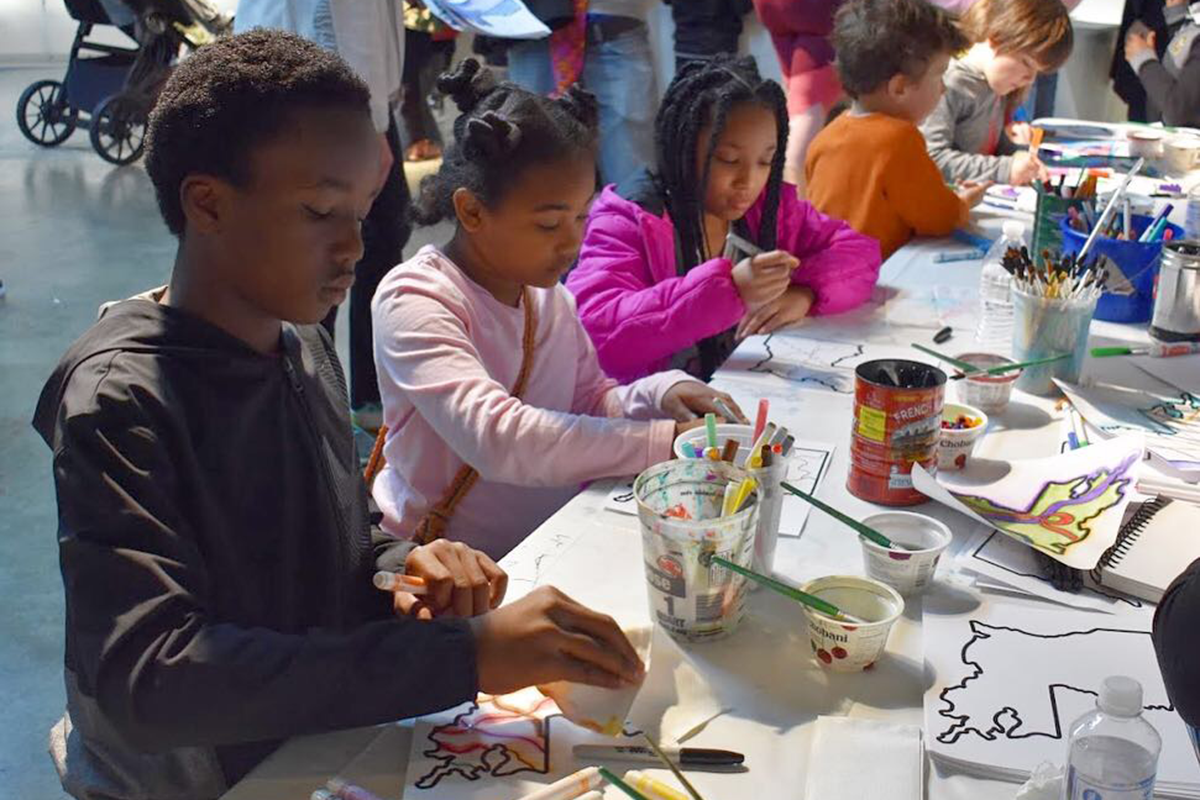 Ogden Museum Family Fair
An Annual Free Family Day at the O!
/// September 7, 2019 @ 10:00 am - 2:00 pm
Event Navigation
A day of kid friendly art activities and entertainment – all inspired by the American South!
Join us for this annual celebration and FREE admission day featuring art activities, games and performances inspired by a Southern county fair. Enjoy performances by Ever More Nest, DJ Heel Turn and a puppet show performed by the Ogden Museum Teen Docents. Crêpes á la Cart will also have food available for purchase.
Ogden Museum memberships will be 25% off during the Family Fair. Redeem this offer at the Museum's admission desk or store between 10 a.m. and 2 p.m.
This event is free, open to the public and fun for the whole family. Come See the South at the O!
FAMILY FAIR ACTIVITIES:
Abstract Painting Bean Bag Toss Inspired by Dusti Bongé
Show us your skills! Complete the abstract painting by scoring three shots in the bag toss.
Paper Sculpture Derby Hats
Design a paper sculpture derby hat. Decorate your hat with lavish feathers or get creative with other designs.
Best in Show Ribbons
Personalize a ribbon then play the Best in Show Scavenger Hunt. Take a selfie with your ribbon next to your favorite work of art.
Interactive Landscape Mural Inspired by Walter Anderson
Get inspired by nature! Add your favorite wildlife creature to the Walter Anderson collaborative mural.
Keyhole People Inspired by Dusti Bongé
Draw abstract figures to create your own surrealist Keyhole People.
Soft Sculpture Puppets Inspired by the Permanent Collection
Make a soft sculpture puppet of your favorite character from the Teen Docent Puppet Show.
Pin the Tail on the Universal Mule Inspired by Jack Niven
Play the classic game with an Ogden twist, pin the tail on Jack Niven's Universal Mule.
Best in Show Scavenger Hunt 
After decorating your ribbon, take a selfie with it next to your favorite work of art. Continue the fun and search for your favorite landscape, portrait, sculpture or abstract work of art.
Candy Guess
How many candy pieces are in the jar? Guess a number closest to the actual number and win a prize!
You Are a Work of Art Selfie Station 
Be your own work of art! Take a picture frame selfie, then tag the Ogden on social media @ogdenmuseum.
Go Fish! Inspired by Walter Anderson
Create a Walter Anderson inspired fish. Go fishing for your masterpiece in a round of Go Fish.
Related Events