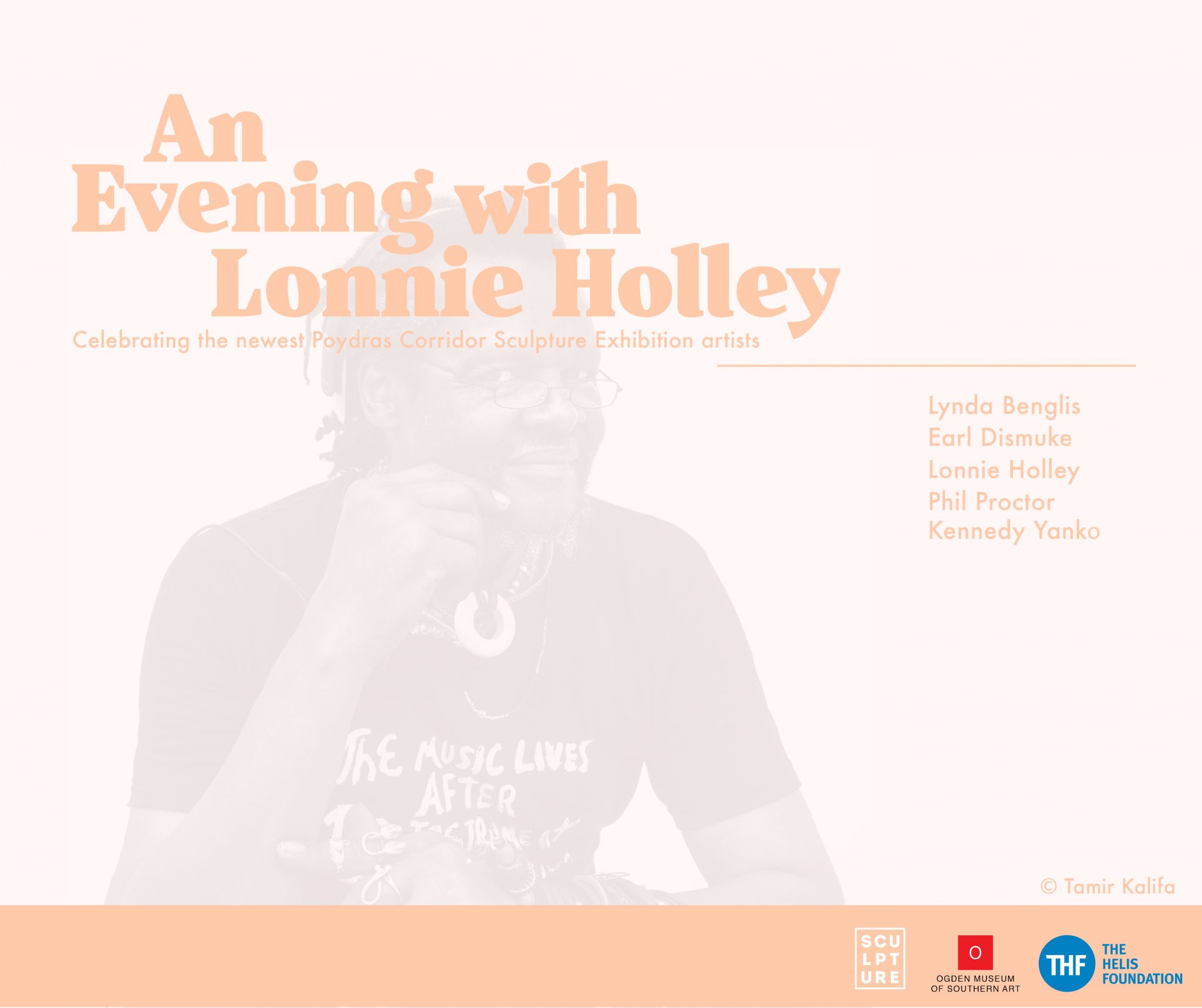 An Evening with Lonnie Holley
Celebrating the Newest Poydras Corridor Sculpture Exhibition Artists
/// September 24, 2019 @ 5:00 pm - 8:00 pm
Join us to celebrate the newest Poydras Corridor Sculpture Exhibition installations with a public reception and concert on Tuesday, September 24 at the Ogden Museum of Southern Art.
This event, hosted by The Helis Foundation and Ogden Museum of Southern Art, will celebrate the installation of five new sculptures along Poydras Corridor by Lynda Benglis, Earl Dismuke, Lonnie Holley, Phil Proctor and Kennedy Yanko.
5 – 6:30 p.m. – Public reception
6:30 – 8 p.m. – Concert with Lonnie Holley, sculptor, artist, musician and creator
Reception guests will also have the opportunity to view ELEPHANT NECKLACE, an exhibition of works by Lynda Benglis, on view at the Ogden Museum September 21 – January 19, 2020.
This event is free and open to the public. 
---
 About the Poydras Corridor Sculpture Exhibition Artists
 Lynda Benglis – "Power Tower"
Since the 1960s, Lynda Benglis has been celebrated for the free, ecstatic forms she has made that are simultaneously playful and visceral, organic and abstract. Her work demonstrates an enduring fascination with process and materials. Through her multifarious practice, Benglis continues a long-running investigation of the proprioceptive, sensory experiences of making and viewing her works.
Benglis was born in Lake Charles, Louisiana in 1941. She earned a B.F.A. in 1964 fromNewcomb College in New Orleans, where she studied ceramics and painting, and later went onto study painting at the Brooklyn Museum Art School. Benglis resides in New York, Santa Feand Ahmedabad, India. She is the recipient of a Guggenheim Fellowship and two National Endowment for the Arts grants, among other commendations. Benglis's work is in extensivepublic collections, including the Guggenheim, New York; Los Angeles County Museum of Art;Museum of Modern Art, New York; the National Gallery of Victoria, Melbourne, Australia; SanFrancisco Museum of Modern Art; Walker Art Center, Minneapolis; and the Whitney Museumof American Art.
Earl Dismuke – "Dingbat"
Earl Dismuke is a Mississippi-based sculptor who is dedicated to enhancing community life through the power of public art, all the while pursuing his passion of creating his own body of work. He graduated in 2007 from the University of Mississippi with a Bachelor of Fine Arts degree with an emphasis in sculpture. Earl is a co-founder of the Yokna Sculpture Trail, a bi-annual rotating outdoor sculpture exhibition in Oxford, Miss. He is a recipient of the Mississippi Arts Commission 2019 Visual Arts Fellowship Grant, and a member of the International Sculpture Center. Examples of his work have been included in several international and national exhibitions, including but not limited to, Scope Basel in Basel, Switzerland, Lima, Peru, and several gallery and museum shows. Earl works out of his studio in Oxford, Miss., where he lives with his wife and four children.
Lonnie Holley – "Headed to the Land We Were Promised (Glory)"
Lonnie Holley has devoted his adult life to the practice of improvisational creativity across many media, from visual art, to music and—most recently—film. His film, "I Snuck Off the Slave Ship," premiered at 2019 Sundance Film Festival. His 2018 album, "MITH," was critically acclaimed, making lists of the top 10 records of the year in the New Yorkerand Newsweek. Paste magazine has named Holley (along with cultural icons such as Yoko Ono, David Byrne, Jean-Michel Basquiat and Laurie Anderson) as one of the 10 most important artists who crossover between the visual arts and music. Holley's work has been acquired by, among many other museums, the Metropolitan Museum of Art, the Whitney Museum of American Art, the Smithsonian American Art Museum, the American Folk Art Museum, the High Museum of Art, Minneapolis Institute of the Arts, Virginia Museum of Fine Art, Fine Arts Museums ofSan Francisco, Museum of Fine Arts Houston, The Phillips Collection and the Ogden Museum of Southern Art.
Phil Proctor – "The Guide"
Phil Proctor is a professional sculptor practicing in Atlanta since 2003. He holds a Master of Fine Arts in Sculpture from East Carolina University and a Bachelor of Fine Arts in Sculpture from the University of Southern Mississippi. His permanently installed public art works can be found across the southeastern United States and Eastern Europe including several large-scale outdoor works in the Metro Atlanta area. His outdoor sculpture exhibition record covers the southeast and includes an exhibition at Hartsfield Jackson International Airport.
Proctor has developed a professional reputation in the public art community by his involvement in the infrastructure of public art. Some examples are: his role as a committee member for the development of a public art master plan for the city of Suwanee, Ga. and his initiatives leading to the first annual temporary outdoor sculpture exhibition in the city of Decatur, Ga.
Phil Proctor occupies an 11,000 square foot studio in south Atlanta where he works to generate his sculpture and other specialty metal work. His company is Nucleus Sculpture Studio LLC, where he designs, fabricates and installs custom projects for designers, artists and the motion picture industry.
Kennedy Yanko – "Three Ways"
Kennedy Yanko is a Brooklyn-based multidisciplinary artist working primarilywith found objects and paint. Her formal gesture towards material is balanced by her examination of the paradoxes within perception.
Since debuting sculptures from her "Elements and Skin" collection as part of a Derrick Adams-curated group show, "Hidden in Plain Sight" (Jenkins Johnson Project Space. Brooklyn, N.Y., 2017), Yanko has shown regularly at galleries and fairs domestically and internationally. Her work belongs to the JP Morgan Chase Collection, and the collections of Beth Rudin deWoody, and Helyn Goldenberg. In 2018 Yanko was named "Artist of the Week" during Armory Week by MilkMagazine and profiled by Vice.She exhibited in Cry of Victory and Short Walks to Freedom as part of Hank Willis Thomas' national For Freedoms project, and was a part of Parallels and Peripheries at the Museum of Contemporary Art Detroit. In 2019, Yanko's solo shows include Highly Worked (Denny Dimin Gallery, NY), Hannah (Kavi Gupta, Chicago), and Before Words (UICA, Grand Rapids). Each of these shows reveals the gravity of abstraction and its utility as an intuitive tool in understanding present realities.
---
About The Poydras Corridor Sculpture Exhibition presented by The Helis Foundation
The Poydras Corridor Sculpture Exhibition presented by The Helis Foundation was founded in 2013 as an initiative of non-profit organization, Sculpture for New Orleans, and has quickly become the South's leading rotating public sculpture exhibition. Sculptor Michael Manjarris founded Sculpture for New Orleans shortly after Hurricane Katrina with the mission of lifting the spirits of the people of New Orleans through public art and providing local and regional artists the opportunity to show in a public venue.
A unique example of a public-private partnership, Sculpture for New Orleans, The Helis Foundation, the Ogden Museum of Southern Art, and The City of New Orleans Department of Parks and Parkways work together to bring interesting and inspiring sculpture to the residents of and visitors to New Orleans.
The Poydras Corridor Sculpture Exhibition presented by The Helis Foundation has installed over 35 sculptures by artists of local and international acclaim on Poydras Street between Convention Center Boulevard and South Galvez.
/// Photo by Tamir Kalifa
Related Events