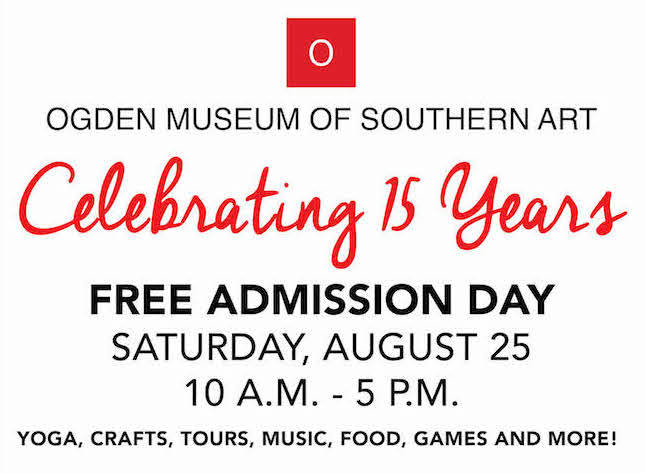 15th Anniversary Celebration
Free Admission All Day!
/// August 25, 2018 @ 10:00 am - 5:00 pm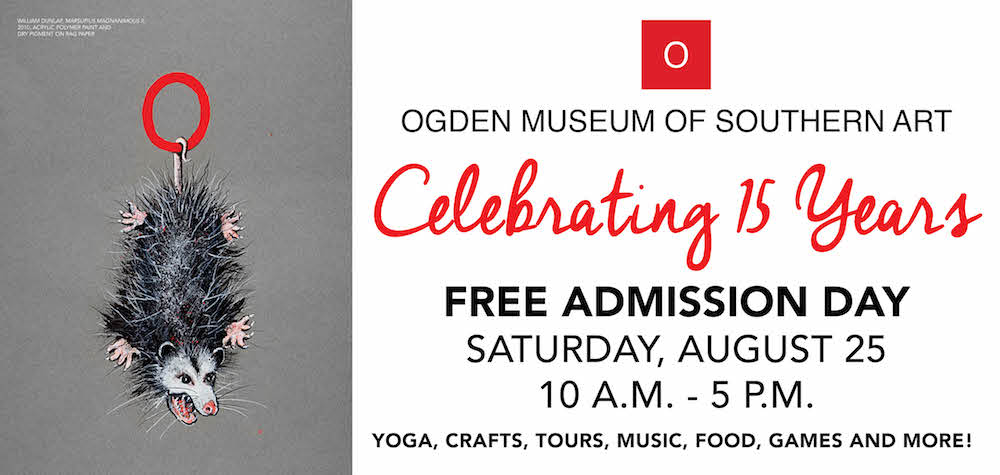 This year marks the Ogden Museum's 15th anniversary! Since opening in 2003, the Museum has been dedicated to sharing the visual arts and culture of the American South with the community. Come join us to celebrate our 15th year with a day of kid and adult art activities, yoga, scavenger hunts, music, food and more! This event is FREE and fun for the whole family. Come Celebrate the South! 
PROGRAM
10 a.m. Coffee available from Solo Espresso 
10 a.m. – 4 p.m. Raffle drawing and giveaways (Drawings at 12:30, 1:30, 2:30, 3:30 and 4 p.m.)
10 a.m. – 2 p.m. Scavenger hunts – explore the Museum and compete for prizes!
10 a.m. – 2 p.m. Craft stations for kids
10 a.m. – 2 p.m. Pin the Tail on the Universal Mule, Jack Niven's popular work in the Museum's Collection
10:15 a.m. Performance by Young Audiences' Dave James
10:30 a.m., 12:30 p.m., 2:30 p.m. Docent Tours of the Museum
11 a.m. Danceout: Bounce Fitness with MoeJoe
11 a.m. Free yoga in the Patrick F. Taylor Library
12 p.m. Performance by Young Audiences' Dave James
12 – 2 p.m. Free snowballs from Plum Street Snoballs
12 – 2 p.m. Food trucks available: La Cocinita and Fete au Fete
12:45 p.m. Teen Docent Puppet Shows
1:15 p.m. DJ Heelturn
2:30 p.m. Drawing class
2:30 – 4 p.m. Adult crafts: pom poms and opossum letterpress card making with Jessica Peterson
3 p.m. Cocktail hour featuring the O!Possum specialty cocktail
3 – 3:30 p.m. Performance by the Original Pinettes Brass Band
Image Credit: William Dunlap, Marsupius Magnanimous II, 2010, Acrylic Polymer Paint and Dry Pigment on Rag Paper