Español abajo
Create a landscape collage inspired by Adams' photographs depicting industrial landscapes.
Download Activity
David Emitt Adams' current practice engages historical photographic methods in order to create a dialogue about the past and present. Power is an exploration of the industrial landscape of the American oil industry. These photographs are made on-location with a custom-built camera that exposes light-sensitive emulsion onto the lids of 55-gallon oil drums.
Supplies
Glue stick, Black and Grey Markers, Black Construction Paper, White Cardstock
Instructions 
Step 1: What does nature or the industrial landscape look like where you live?
Step 2: Use a plate to trace a circle on white cardstock. Use scissors to cut it out. This will be your background.
Step 3: Use a marker to draw a landscape on a different sheet of white cardstock. Include buildings, trees, etc.
Step 4: Use scissors to cut out the objects in your landscape. Next, cut out shapes from the black paper. Use the glue stick to glue the shapes to your landscape or onto the background.
Step 5: Cut the black paper into a few small strips. Roll the strips and glue them together. Next, glue the rolled construction paper between your objects and the background to create a 3D effect.
SEE DAVID EMITT ADAMS' VALERO BILL GREEHEY REFINERY NO. 1, CORPUS CHRISTI, TX IN REVELATIONS: RECENT PHOTOGRAPHY ACQUISITIONS AT THE OGDEN MUSEUM.
CHECK OUT THE OGDEN MUSEUM ONLINE FOR MORE RESOURCES !
QUESTIONS? EMAIL EDUCATION@OGDENMUSEUM.ORG.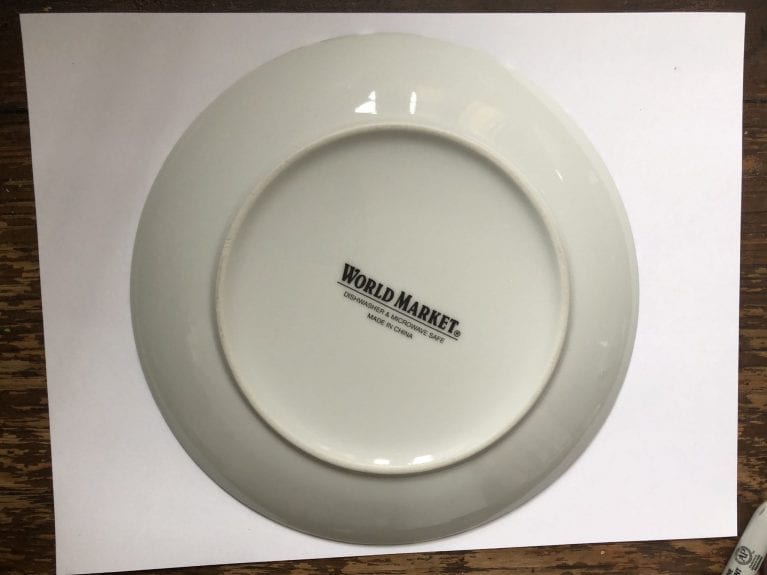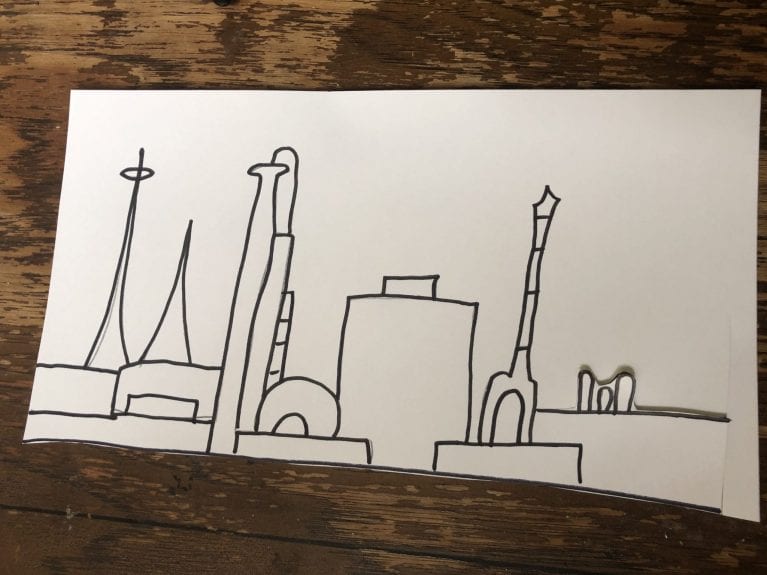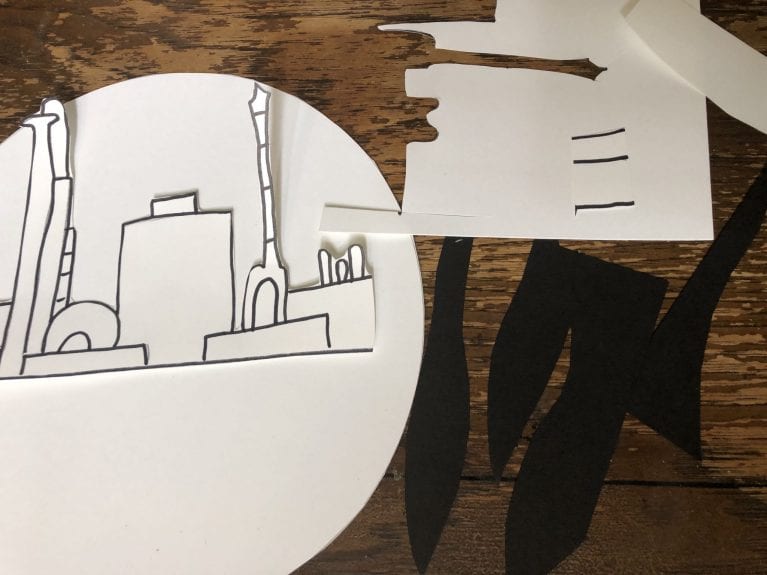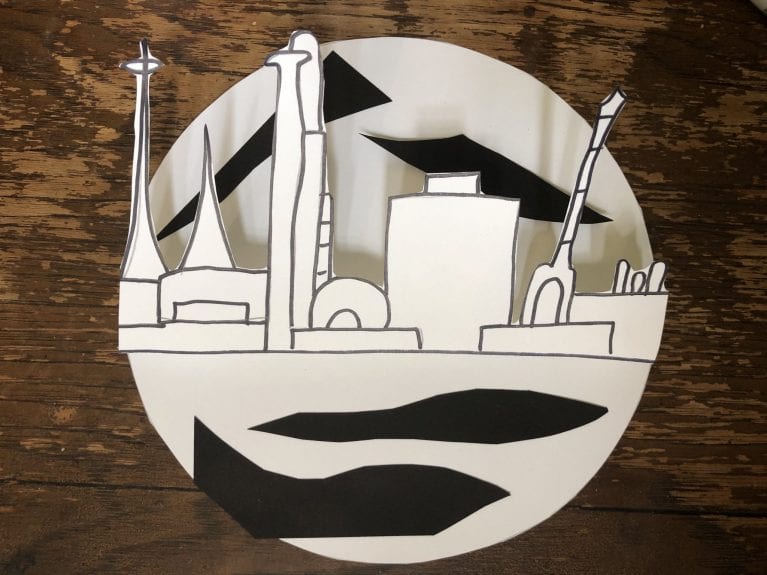 _______________________________________________________________________
Actividad artística O-riginal: Collage de paisaje  industrial inspirado por  David Emitt Adams 
Crea un collage de un paisaje inspirándote en las fotografías de paisajes industriales de Adams.
Descargar Actividad
En su trabajo artístico, ​David Emitt Adams utiliza métodos fotográficos históricos para crear un diálogo sobre el pasado y el presente. ​Poder explora el paisaje industrial de la industria petrolera estadounidense. Estas fotografías fueron tomadas en exteriores, con una cámara construida a medida, la cual expone las emulsiones fotosensibles que se encuentran en las tapas de los barriles de 55 galones de petróleo.
Materiales
Pegamento en barra, marcador negros y gris, cartulina negra, cartulina blanca.
Instrucciones
Paso 1:​ ¿Cómo es el paisaje natural o industrial en el lugar en donde vives?
Paso 2:​ Utiliza un plato para trazar un círculo sobre la cartulina blanca y córtalo con una tijera. Esto servirá como tu fondo.
Paso 3:​ Utiliza un marcador para dibujar un paisaje en otra cartulina blanca. Incluye edificios, árboles, etc.
Paso 4: ​Utiliza las tijeras para cortar los objetos en tu paisaje. Luego corta formas de la cartulina negra. Utiliza el pegamento en barra para pegar las formas en tu paisaje o sobre el fondo.
Paso 5: ​Corta el papel negro en pequeñas tiras. Enrolla las tiras y pégalas. Luego, pega la cartulina negra enrollada entre tus objetos y en el fondo para crear un efecto 3D.
VÉ MÁS DE ​VALERO BILL GREEHEY REFINERY  NO. 1, CORPUS CHRISTI, TX DE ​ DAVID EMITT ​EN ​REVELACIONES: FOTOGRAFÍAS  ADQUIRIDAS RECIENTEMENTE ​ EN EL MUSEO OGDEN.
¡VISITA OGDEN  MUSEUM ONLINE​ PARA MÁS RECURSOS! 
¿PREGUNTAS? ENVÍA UN EMAIL A EDUCATION@OGDENMUSEUM.ORG.
Translation by Agostina Coll