Español abajo
Create a marbled print using shaving cream!
Download Activity
Arlington Weithers, Throop Street Series: Thalos Script, 1999, Acrylic polymer emulsion with dry pigment
Arlington Weithers is a painter who was born in Guyana in 1948. After studying art in Georgetown, the capital of Guyana, Weithers moved to the United States, and served as the artist-in-residence for Dallas, Texas for several years. Weithers is famous for his large, vividly colorful artworks that use thickly applied heavy paint to create cracks within the slabs of color.
Supplies
Paint or Food Coloring, Shaving Cream, Toothpick, Baking Sheet, Paper
Instructions  
Step 1: Cover your baking sheet with shaving cream to create a rectangle about the size of your piece of paper.
Step 2: Squeeze droplets of paint or food coloring onto different sections of the shaving cream layer. Remember, less is more! You are going to want to leave some white space, and you can always add more paint later.
Step 3: Use your toothpick to swirl around the drops of paint in the shaving cream to create a design that you like.
Step 4: Gently press your piece of paper down onto your shaving cream design. Carefully lift up the piece of paper, then flip it over to reveal your marbled print! Lay the paper flat on a paper towel and allow it to dry completely. 
Step 5 (Optional): Repeat as many times as you would like! Feel free to use your marbled paper to make birthday and holiday cards, or to write letters to a friend.
Vocabulary
Abstract art – art that does not try to represent real-life, but instead focuses on shapes, colors, and textures
Marbling – a technique of creating multicolored swirls or stone-like patterns on paper or fabric
Artist-in-residence – an artist that has been invited by a certain institution to make art at that institution 
SEE ARLINGTON WEITHERS' THROOP STREET SERIES: THALOS SCRIPT IN WHAT MUSIC IS WITHIN: BLACK ABSTRACTION FROM THE PERMANENT COLLECTION AT THE OGDEN MUSEUM OF SOUTHERN ART. CHECK OUT THE OGDEN MUSEUM ONLINE FOR MORE RESOURCES !
QUESTIONS? EMAIL EDUCATION@OGDENMUSEUM.ORG.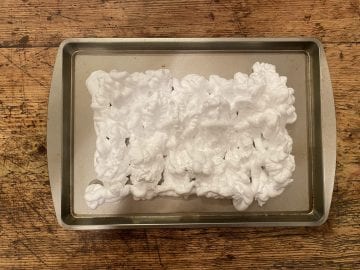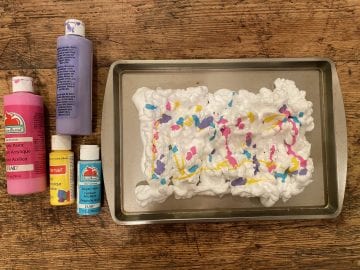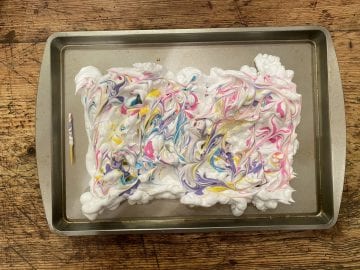 ______________________________________
Actividades artísticas O-riginales: Estampa jaspeada Inspirada por Arlington Weithers
¡Crea una estampa jaspeada utilizando crema de afeitar!
Arlington Weithers ​es un pintor que nació en Guyana en 1948. Luego de estudiar arte en Georgetown, capital de Guyana, Weithers se mudó a los Estados Unidos y fue artista en residencia en Dallas, Texas por varios años. Weithers es conocido por sus obras de arte vívidas y coloridas y por utilizar pintura espesa, la cual aplica en capas gruesas para crear grietas dentro de los brillantes esquemas de colores.
Materiales
Pintura o colorante de comida, crema de afeitar, escarbadientes, bandeja para hornear y papel.
Instrucciones
Paso 1: ​Cubre la bandeja para hornear con crema de  afeitar para crear un rectángulo del tamaño de tu hoja  de papel.
Paso 2: ​Aplica gotitas de pintura o colorante de  comida en distintas secciones de la capa de crema de  afeitar. ¡Recuerda que menos es más! Querrás dejar  espacio blanco ya que siempre puedes agregar más  pintura más tarde.
Paso 3:​ Utiliza el escarbadientes para hacer  remolinos alrededor de las gotas de pintura en la  crema de afeitar, para crear un diseño que te guste.
Paso 4:​ Presiona suavemente tu hoja de papel contra  el diseño en la crema de afeitar. Cuidadosamente,  levanta la hoja de papel y luego dala vuelta para  observar tu estampado jaspeado. Coloca el papel  estirado sobre una servilleta de papel y déjalo secar  por completo.
Paso 5 (Opcional):​ ¡Repite tantas veces como te  guste! Siéntete libre de utilizar tu papel jaspeado para  crear tarjetas de cumpleaños o navideñas o para  hacerles cartas a tus amigos.
Vocabulario
Arte abstracto: ​arte que no representa la vida real,  sino que se enfoca en formas, colores y texturas.
Jaspeado: ​técnica para crear remolinos multicolores o un estampado similar al mármol en  papel o tela.
Artista en residencia:​ un artista que fue invitado por una institución para realizar arte en la misma.
VE MÁS DE THROOP STREET SERIES: THALOS SCRIP DE  ARLINGTON WEITHERS ​EN LO QUE LA MÚSICA ES POR  DENTRO: ABSTRACCIÓN AFROAMERICANA DE LA  COLECCIÓN PERMANENTE DEL MUSEO OGDEN DE 
ARTE SUREÑO. 
¡VISITA ​OGDEN ​MUSEUM ​ONLINE PARA MÁS RECURSOS!
¿PREGUNTAS? ENVÍA UN EMAIL A EDUCATION@OGDENMUSEUM.ORG​.
Translation by Agostina Coll