Español abajo
Connect to nature in this O-riginal Art Activity inspired by Abbey Kuhe.
Download Activity
In E.O. Wilson's Biophilia, the author reminds the modern reader that the long evolution of homo sapien occurred within an environment we have only very recently differentiated as "nature".
Through ceramics Abbey Kuhe explores the histories of our extractive economies and the species that we simultaneously revere and annihilate.  Her work is inspired and informed by a myriad of subjects including: the intersections of social and climate justice, the golden age of children's book illustration, 19th Century textile design, and 16th century scientific expedition illustration.  She explores these tensions in human identity, using narrative and history of the human struggle to differentiate from or connect to nature.
Supplies
Crayons, Cardstock, Pencil, Ruler
Instructions
Step 1: Use a pencil and a ruler to draw sections on your paper separating it into halves or fourths.
Step 2: Look at Abbey Kuhe's artwork, Bycatch. What is depicted in this scene? What animals do you notice?
Step 3: What is your favorite animal? What environment does it live in? Think about the environment your favorite animal lives in. What are the characteristics of this landscape or seascape?
Step 4: Use a pencil to draw your animal and its environment in one section of your paper.
Step 5: What is your favorite color? Use a crayon of your favorite color to color your animal and its environment.
Step 6: Use a pencil and a different color crayon to draw a different animal and environment in the remaining sections of the paper.
Vocabulary
Monochromatic – containing or using only one color 
Landscape – an image of the land, nature, or outside; genre of art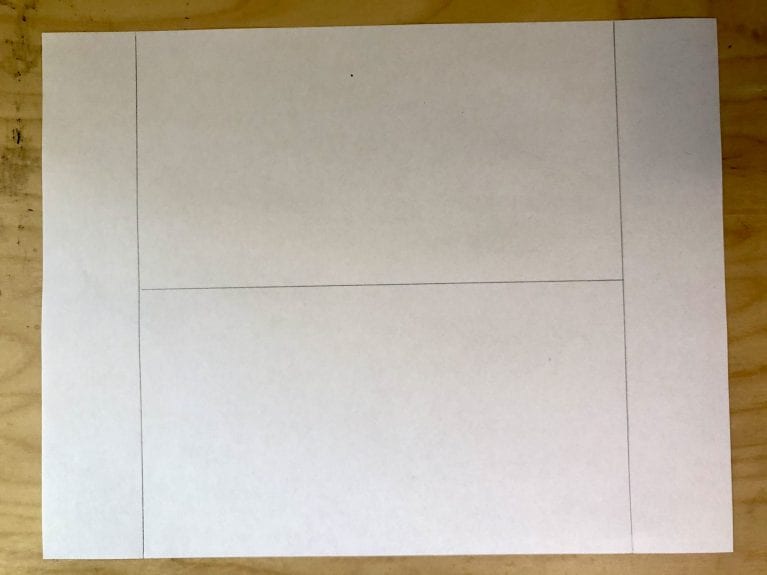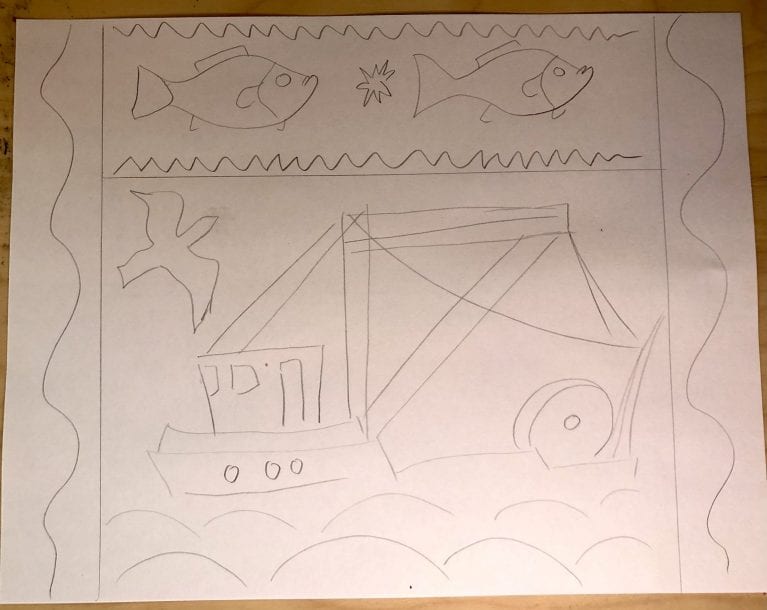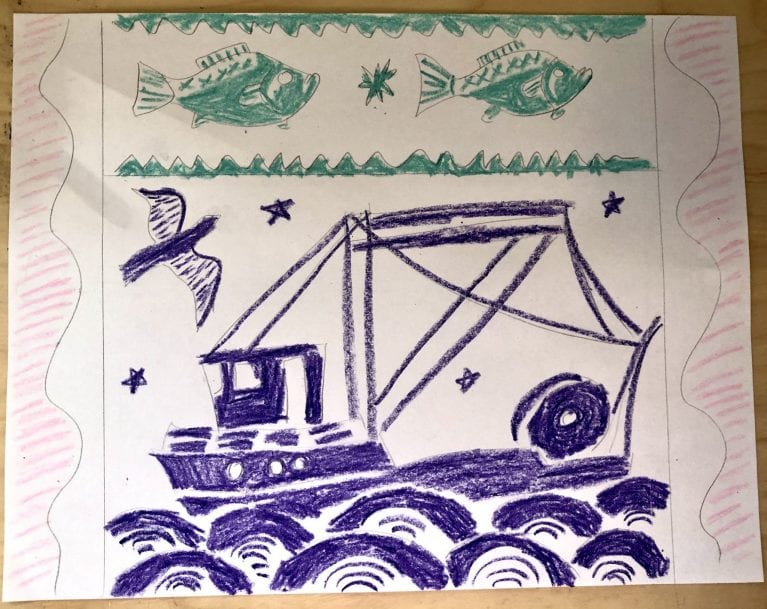 SEE ABBEY KUHE'S BYCATCH IN LOUISIANA CONTEMPORARY, PRESENTED BY THE HELIS FOUNDATION AT THE OGDEN MUSEUM.
CHECK OUT OGDEN MUSEUM ONLINE FOR MORE RESOURCES!
QUESTIONS? EMAIL EDUCATION@OGDENMUSEUM.ORG.
___________________________________________________________________
Actividad artística O-riginal: Paisaje monocromático Inspirado por Abbey Kuhe
Conéctate con la naturaleza en esta actividad artística O-riginal inspirada en Abbey Kuhe.
Descargar Actividad
En el libro Biofilia , el autor E.O Wilson le recuerda al lector moderno que la larga evolución del homo sapiens se produjo en un entorno que sólo recientemente distinguimos como "naturaleza".
A través de la cerámica, Abbey Kuhe explora las historias de nuestras economías extractivas y las especies que veneramos y aniquilamos simultáneamente. Su trabajo está inspirado e informado por una gran variedad de temas que incluyen: las intersecciones de la justicia social y climática, la edad de oro de la ilustración de libros para niños, el diseño textil del siglo XIX e ilustraciones de expediciones científicas del siglo XVI. Ella explora estas tensiones en la identidad humana, utilizando la narrativa y la historia de la lucha humana para diferenciarse o conectarse con la naturaleza.
Materiales
Crayones, cartulina, lápiz y regla.
Instrucciones
Paso 1: Utiliza un lápiz y una regla para dibujar secciones en tu papel, separándolo en mitades o cuartos.
Paso 2: Echa un vistazo a la obra de arte Captura Incidental de Abbey Kuhe. ¿Qué se representa en esta escena? ¿Qué animales puedes identificar?
Paso 3: ¿Cuál es tu animal favorito? ¿En qué entorno vive? Piensa en el entorno en el que vive tu animal favorito. ¿Cuáles son las características de este paisaje o paisaje marino?
Paso 4: Utiliza un lápiz para dibujar a tu animal y su entorno en una sección del papel.
Paso 5: ¿Cuál es tu color favorito? Utiliza un crayón de tu color favorito para colorear a tu animal y su entorno.
Paso 6: Utiliza un lápiz y un crayón de diferente color para dibujar un animal y un entorno diferentes en las secciones restantes del papel.
Vocabulario
Monocromático: que contiene o utiliza un solo color.
Paisaje: una imagen de la tierra, la naturaleza o el exterior; género de arte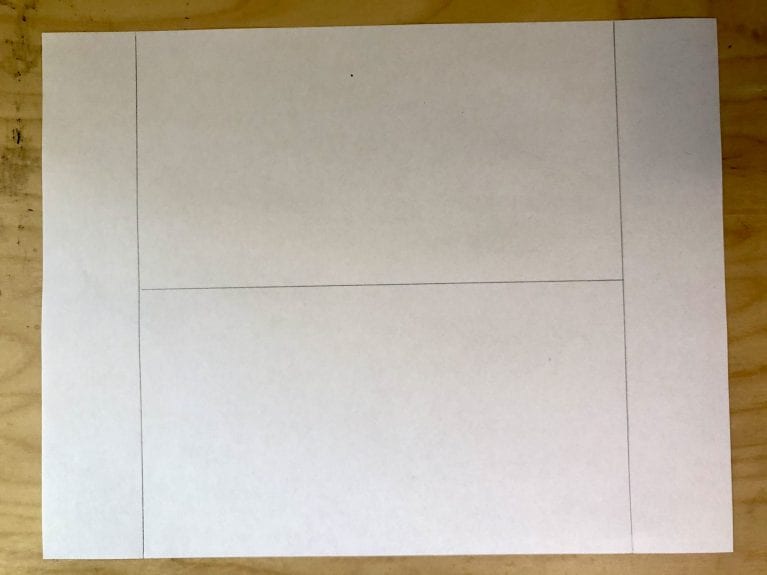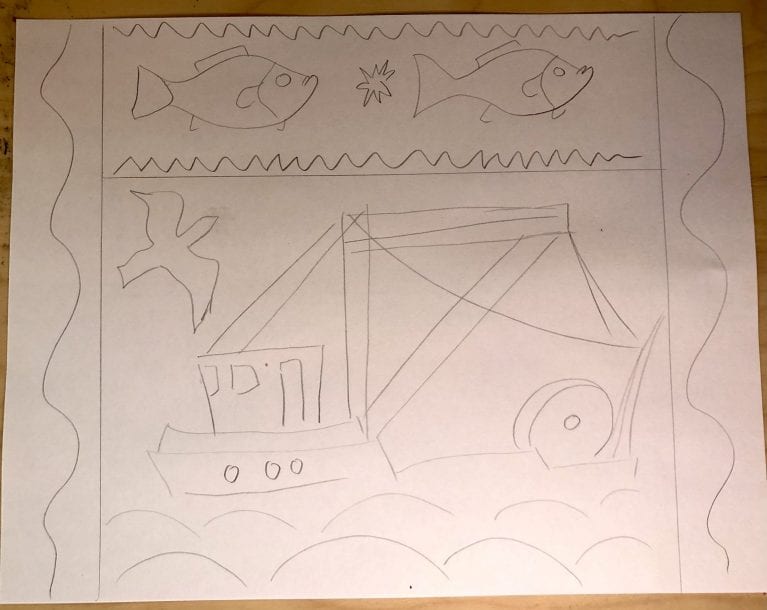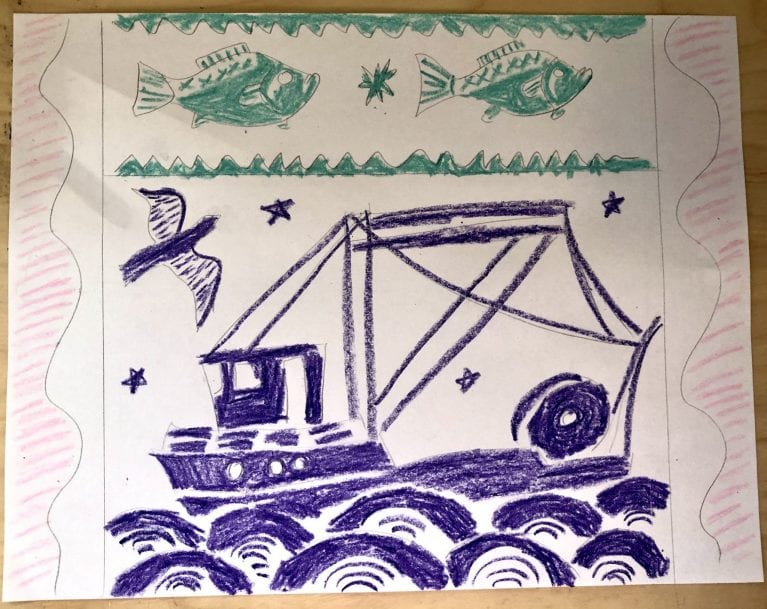 VÉ MÁS DE CAPTURA INCIDENTAL DE ABBEY KUHE EN LUISIANA CONTEMPORÁNEA, PRESENTADA POR LA FUNDACIÓN HELIS EN EL MUSEO OGDEN.
¡VISITA OGDEN MUSEUM ONLINE​ PARA MÁS RECURSOS! 
¿PREGUNTAS? ENVÍA UN EMAIL A EDUCATION@OGDENMUSEUM.ORG.
Translation by Agostina Coll