Ogden Museum of Southern Art has announced the winners of the 2020 edition of Louisiana Contemporary, presented by The Helis Foundation, on view at Ogden Museum September 5, 2020 – February 7, 2021. Louisiana Contemporary is the Museum's annual juried exhibition, and this year features 55 works by 56 Louisiana artists.
The 2020 guest juror, René Morales, Director of Curatorial Affairs and Chief Curator at Pérez Art Museum Miami (PAMM), announced the following awards:
The Helis Foundation Art Prize for Best in Show: Wendo Brunoir
Appropriation of a Masterpiece, Spray paint on laser cut wood on birch panel
Don't Catch You Slippin' Up, Acrylic and spray paint on laser cut wood mounted to panel
About Wendo Brunoir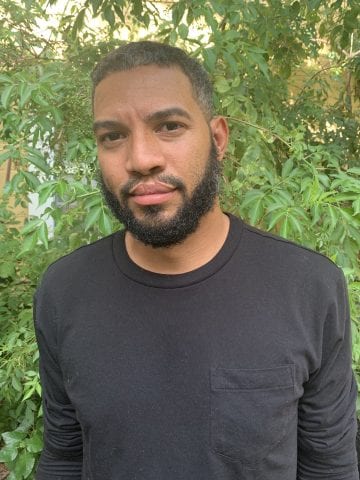 Wendo Brunoir was born in 1982 in New Orleans, Louisiana.  He received his bachelor's degree from the University of New Orleans and soon after his M.F.A. from UNO. Upon receiving his master's degree in painting, he was picked to represent his school by doing an art exhibition in Austria. After participating in various gallery shows, he started painting murals in and around New Orleans. He has done commissions for several local businesses as well as private commissions. Soon after, he traveled to different parts of the country with two other members painting murals in Texas, Mississippi and Georgia. He has participated in group shows around New Orleans and has had a solo show at Boyd satellite gallery on Julia Street in the Arts District. In 2018, he was presented an opportunity to paint the first ever large scale mural in Labo, Camarines Norte in the Philippines. Wendo currently lives and works in New Orleans.
Wendo Brunoir's Artist Statement
The scope of my recent works has been attributed to my love of film and music. Nostalgia is a big factor in my artwork. Relating where I was or what I was doing when I saw or heard something that inspired me has always played a part in my remembrance of time and place. Drawing from these various artforms, I use different thoughts, motifs, dialogue and lyrics to convey new ideas. Keeping the basis of the original context, new ideas are formed. Whether relating them visually or by title the idea is recontextualized to form a new concept. With this method, I can present an idea that keeps the essence of the original source. I usually draw out the composition then relate the source as the overall motif.
First Place: Nic Brierre Aziz
Pimpin' Ain't Easy (White Barbies), Video
About Nic Brierre Aziz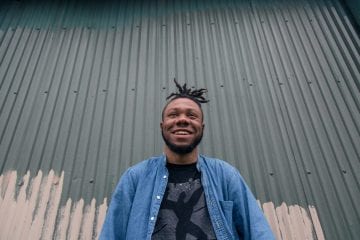 Nic Brierre Aziz is an American-Haitian interdisciplinary artist and curator born and raised in New Orleans, Louisiana. His current practice is deeply community focused and rooted around the utilization of personal and collective histories to reimagine the future. He has worked extensively leading community engaged projects throughout New Orleans, with entities such as the Office of Mayor Mitch Landrieu, Antenna, The Joan Mitchell Center, YAYA, the Arts Council of New Orleans and Prospect. In addition to his personal artistic practice, he currently serves as the Community Engagement Curator for the New Orleans Museum of Art. He has contributed to publications such as HuffPost, Burnaway and AFROPUNK, and his work has been featured by The Oxford American, The Associated Press and The Alternative UK. He is a recipient of several notable artist residencies and fellowships and most recently was selected as a 2020 Andy Warhol Foundation Curatorial Fellow. He obtained a Bachelor of Arts degree from Morehouse College and a Master of Science degree from The University of Manchester (UK).
Nic Brierre Aziz's Artist Statement
Up until the eighth grade, I was what one would consider an "exceptional student." These years were spent in Catholic schools, despite my mother working as a social worker in public schools, and I always found myself at the top of my class. I was even skipped to the fourth grade less than two months into my third grade tenure because of my exceptionality – but despite this prowess, when I began the eighth grade at what was at the time considered the "best" high school in New Orleans, there was a colossal shift. Suddenly, my joyous, curious and intelligent being was thrown into an environment that was extremely destructive to my self-identity. This all-male 95% white catholic space was a treacherous jungle for anyone who did not fit this homogeneously rigid mold – and my boldly black facial and cultural features along with my "weird" last name were as arguably as antithetical to this environment as one could get. My uncomfortability manifested itself in barely maintaining a 2.0 grade point average and often finding myself in detention (known as "Penance Hall") for infractions such as unshined shoes and crooked nametags. This internal and external feud became so serious that I would often come home to my parents and contest my inferiority by telling them that they had to "accept that I was mediocre and stupid." This mental affliction was so debilitating that my vehement contention was being done with a mother who was born in the first independent black republic in the world and a father who was a former member of the Nation of Islam. Thankfully, one of the costliest natural disasters in world history liberated me from this mental captivity and changed my life for the better. I would go on to have numerous life experiences that prompted me to go inward and accept the beauty of my individuality. This is an exercise that is exceedingly difficult for any human on this perplexing planet – but especially for "minority" individuals in a country that was built upon (and continues to exist upon) the literal devaluation of their lives. These tribulations and their relationship to identity, truth and liberation have as a result become fundamental to my interdisciplinary practice. One of the often overlooked aspects of white barbarism (more broadly referred to as "white supremacy") is the mental impact of erasure and marginalization. Personal and collective revolution has always and will continue to exist within the utilization of underdiscussed narratives to reimagine more righteous futures. I seek to create work from the dark matter that uplifts and heals, while exposing truths that enable us all to tread down a more collectively harmonious path of liberation.
Second Place: Luis Cruz Azaceta
CRISIS 3, Acrylic on canvas
About Luis Cruz Azaceta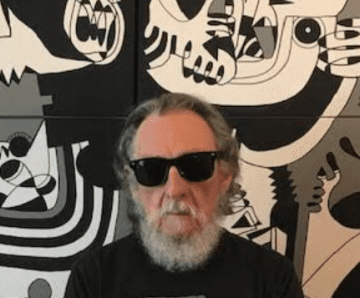 Luis Cruz Azaceta is a Cuban American artist. He lived in New York, graduated from The School of Visual Art and began his long career as an artist.
Azaceta develops parallel series in several media at once, combining materials in unexpected ways. He works constantly and is extremely prolific. For Azaceta, art is a way of facing the world and addressing the human condition.
He has over 100 solo exhibitions and more than 400 group exhibitions. He's been awarded numerous grants and his work is part of major museum collections nationally and internationally.
Luis Cruz Azaceta's Artist Statement
As an artist you use your experiences dealing with your surroundings and your conditions. The condition of being an exile is of being in two places simultaneously-physically in your place of exile, emotionally and spiritually in the place you left behind, your roots. This experience allowed me as an artist to address the condition of violence, racism, isolation, separation and oppression through my work. It gave me an eye to understanding that this experience goes beyond my personal journey to a perspective of a more global condition that many live within.
The rapid state of change in the world at large- the environment, collapsing economies, greed, war, revolution, terrorism – a point where individual citizens are rising against political economic and social injustices is at hand.
Through art I confront this reality. My intention is to create compassion. The vehicle for compassion is the aesthetic that draws one into looking closely at what are, perhaps, sometimes horrific subjects and embracing them.
Third place: Ann Perich
determination or distrust, Archival pigment print
About Ann Perich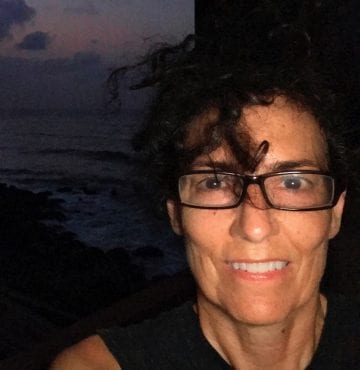 Ann Perich is a photographer, multi-disciplinary artist and performer. Through portraiture she strives to expose an intimate side of the subject while simultaneously revealing the larger cultural context. In combining disciplines, her investigations create work that reinterprets perceptions of time, place, memory and identity. And with her process of layering images, she creates new narratives by incorporating cultural references and iconic imagery.
Her work has been exhibited at The Palm Beach Institute of Contemporary Art, The California Museum of Art in Santa Rosa, the Los Angeles Municipal Art Gallery, Nouveaux Ateliers Waaw in Senegal, in addition to many other galleries.
She is the recipient of a Durfee Foundation Grant and artist residencies in Iceland, Senegal, West Africa and Texas. She established Trunk Gallery in Los Angeles from 2011-2018, where she curated exhibitions in a variety of disciplines, and produced artist talks, film screenings classes, performances and residencies.
Ann has performed solo, and as an ensemble member (performance art and music) at the UCLA Live International Theatre Festival, Institute of Contemporary Art in Glasgow, Scotland, the University of Houston, Cynthia Woods Mitchell Center for the Arts, and at the California Center for the Arts in Escondido, CA
Ann studied at the Santa Monica College of Design, Art and Architecture and holds a B.A. in Psychology from California State University, Sacramento.
Ann Perich's Artist Statement:
"Behind the mask beats a loving heart, willing to save others." – Helen Munson, author
In a city renowned for its masks, a Mardi Gras tradition, residents of New Orleans now go out in public wearing masks of another kind and for a different purpose.  Shot entirely on the iPhone 11 Pro Max, "Behind the Mask" is a series of portraits of New Orleanians wearing masks to prevent the spread of the coronavirus.  It explores the requisite mask wearing in public caused by the worldwide coronavirus pandemic.
Through these portraits I strive to expose an intimate side of the subject while simultaneously revealing the larger cultural context.  How are we going to adapt to this new world?  How can we make a meaningful connection with another person with our faces covered?  The portraits have each been given a title consisting of two emotions.  This is to show how impossible it is to discern what the person behind the mask is feeling.
Masks create isolation by causing the inability to read facial expressions.  If you are unable to perceive these non-verbal nuances, then you behave as if you have no understanding of what others are trying to convey, or even know what is expected of you.  In medical literature this inability is called "social-emotional agnosia."  It severely limits normal social interactions and produces stress and anxiety.  Feelings can easily be misinterpreted.  In this pandemic world, emotions can be fragile and extra care needs to be taken when dealing with others.
Perhaps if we are aware of the effects of wearing masks, we can observe our behavior and be more mindful of our interactions with others.  Compassion and kindness are needed more so now than ever.