Español abajo
Create an abstract drawing of a nature scene near you.
Download Activity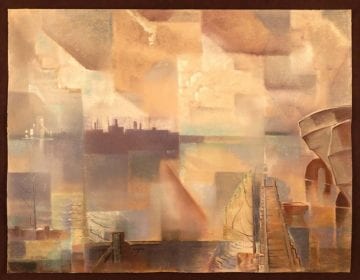 Will Henry Stevens, Abstract Mississippi River, 1942, Pastel on paper
Will Henry Stevens was an artist from Indiana who lived in New Orleans for several years. He is known for his geometric abstraction and his en plein air paintings and geometric landscapes of areas in the American South.
Supplies
Paper, Scissors, Pencil, Colored Pencils, Tape or Glue
Instructions  
Step 1: Pick a scene in nature that you would like to draw. Don't be afraid to explore beyond your own backyard! Ask a parent or guardian to accompany you on a nature walk throughout your neighborhood or a nearby park. If going outdoors isn't an option for you, choose an image online or create one using your imagination. 
Step 2: Draw your scene while you are looking at it in person. If this is not possible for you, you can take a picture of your scene and draw it at home. 
Step 3: Use your colored pencils to bring your artwork to life. Feel free to get creative – if you want the sky to be pink and the trees to have polka dots, go for it!
Step 4: Use scissors to cut your drawing into geometric shapes. Think beyond just circles, squares, and triangles. What about hexagons? Crescents? Hearts? 
Step 5: Practice rearranging the shapes into different patterns and designs. Once you find a composition that you like, tape or glue your artwork back together onto a new piece of paper. 
Step 6: Take a step back and admire your work!
Vocabulary
En plein air painting – painting outside while viewing a subject in person
Abstraction – representing something by focusing on shapes and colors rather than realistic accuracy
Geometric abstraction – a type of abstraction that assembles shapes like circles, squares, and triangles in interesting ways
Landscape – all of the features of a piece of land that you can see at once; a genre of art that shows this type of scene
SEE WILL HENRY STEVENS' ABSTRACT MISSISSIPPI RIVER IN THE PERMANENT COLLECTION AT THE OGDEN MUSEUM OF SOUTHERN ART. CHECK OUT OGDEN MUSEUM ONLINE FOR MORE RESOURCES!
QUESTIONS? EMAIL EDUCATION@OGDENMUSEUM.ORG.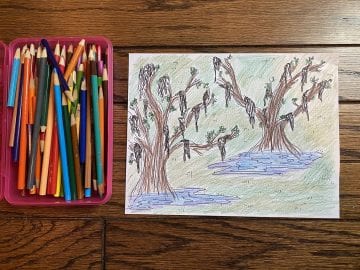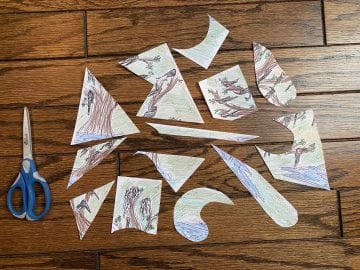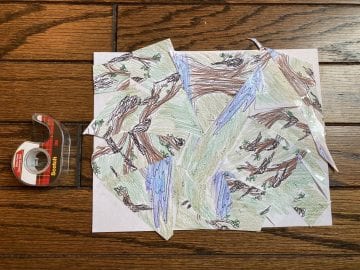 ______________________________________
Actividades artísticas O-riginales: Dibujo abstracto de paisaje, inspirado por Will Henry Stevens
Crea un dibujo abstracto de un paisaje natural que esté cerca tuyo.
John  Barnes  es  un  escultor  que  crea  principalmente  ensamblajes de madera. Barnes se interesó en el arte por primera vez cuando se inscribió en una escuela pública de Baton  Rouge,  pero  su  pasión  surgió  mientras  estudiaba  en la Southern A&M University. Utilizando los residuos y escombros  de  pedazos  de  madera  que  encuentra  en  su  barrio, Algiers, Barnes crea diseños complejos, influenciados  por  políticas  raciales,  la  gentrificación  y  la  desigualdad salarial. Nueva Orleans y la región del delta del  Misisipi  son  el  trasfondo  de  las  obras  del  artista,  mientras que los materiales, temáticas y exhibición son directamente del lugar.
Materiales
Papel,  tijeras,  lápiz,  lápices  de  colores, cinta adhesiva o pegamento.
Instrucciones
Paso  1:  ​Elige  una  escena  de  la  naturaleza  que  te  gustaría dibujar. No tengas miedo de explorar más allá de  tu  jardín.  Pídele  a  un  padre  o  tutor  que  te  acompañen a realizar una caminata en la naturaleza por  tu  vecindario  o  por  un  parque  cercano.  Si  no  puedes salir, elige una imagen de internet o crea una imagen utilizando tu imaginación.
Paso  2:  ​Dibuja  tu  escena  mientras  la  observas  en  persona. Si esto no es posible, toma una foto de tu escena y dibújala en tu casa.
Paso 3: Utiliza tus lápices de colores para darle vida a tu  obra  de  arte.  Siéntete  libre  de  ser  creativo:  si  quieres que el cielo sea rosa o que los árboles tengan lunares, ¡adelante!
Paso  4:  Utiliza  las  tijeras  para  cortar  tu  dibujo  en  formas geométricas. No pienses solamente en círculos,  cuadrados  y  triángulos.  ¿Que  tal  un  hexágono, una media luna o un corazón?
Paso 5: Acomoda las figuras formando diferentes patrones y diseños. Una vez que encuentres una composición  que  te  guste, pega tu obra de arte a un  nuevo pedazo de papel, utilizando cinta o pegamento.
Paso 6: ​¡Da un paso atrás y admira tu obra de arte!
Vocabulario
Pintura plein air: pintura al aire libre, realizada mientras se está observando al objeto en persona.
Abstracción:  representa  un  objeto,  haciendo  foco  en las formas y colores en vez de en la exactitud del objeto en la realidad.
Abstracción  geométrica:  ​un  tipo  de  abstracción  que ensambla formas como círculos, cuadrados y triángulos de formas interesantes.
Paisaje:  ​todas  las  características  de un pedazo de  tierra que puedes ver al mismo tiempo; un género artístico que muestra este tipo de escena.
VÉ MÁS DE RÍO MISISIPI ABSTRACTO DE WILL HENRY  STEVENS​ ​ EN LA COLECCIÓN PERMANENTEDEL MUSEO OGDEN DE ARTE  SUREÑO​ .  ¡VISITA ​OGDEN ​MUSEUM ​ONLINE PARA MÁS RECURSOS!
¿PREGUNTAS? ENVÍA UN EMAIL A EDUCATION@OGDENMUSEUM.ORG​.
Translation by Agostina Coll