Ogden Museum's Center for Southern Craft and Design sat down with Janie Verret Luster, a United Houma Nation tribal council member, recipient of the United Houma Nation Cultural Preservation award, Louisiana Division of the Arts Folklife Fellowship award, member of the Louisiana Hall of Master Folk Artists and Top Louisianaian/Artist of the Year Award by Louisiana Life Magazine. 
In this interview, Janie Verret Luster explains the interwoven nature of her life, her work with the half-hitch basket weaving pattern and her traditions as a member of the United Houma Nation. In this interview, we found that her craft is more than just an art, but also an act of preservation and perpetuation of culture and connection to the land upon which that culture depends.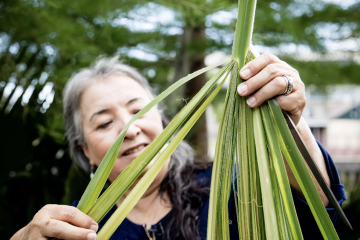 By what name do you prefer to be referred? 
I'm glad that you asked. "Janie Verret Luster" and there's a reason behind that! I want to be known by my full name (including my mother's maiden name, 'Verret') because a basket collector from Canada sent me a picture of a Houma woman who was weaver of the Houma half-hitched coiled palmetto basket. I later found an article about her and they referred to her as "Mrs. Gustave Juda." She was of Houma ancestry but they didn't identify her by her first name or her ancestral maiden name. To me, I felt like they took her identity from her. That happens often in Indian communities because many people were adopted out and often come back to my basket workshops to learn more about their identity and history…who they are. By removing a name you lose the identity of not only the woman but also her entire family. I am proud that I come from a family that was firmly grounded in our ancestral ways of life that carried on and I credit everything I know to them especially my mother, Mary Verret Verret and my father, John G Verret. My name is important because 100 years from now I want generations to know not only who I was but also about my family (including my mother's family). I want generations to come to know how strong my family was in this community.
We must have our names attached to our art to document the basket weavers and crafts people. We have started a project with the Library of Congress to document our stories. Who better to tell the stories than the artists themselves? It all goes back to the Houma weaver of whom I don't know her name. This is in honor of her. We will know the name of future artists and the communities they come from.
Can you tell me a little bit about yourself and your ancestry? Where are you/your family from? 
I was born in 1952 and spent most of my life in Terrebonne Parish in Bayou Dularge. You could only get to our house by water and all of our relatives lived around us. It was a little village with four or five houses all together. I was born in New Orleans because my mom had to have a C-section. Hospitals down here didn't do C-sections for Indian people, so I was born at Charity Hospital. It wasn't an easy journey to get there. Since you could only get to our house by water and there weren't ambulance services at the time, the local funeral home would send a hurst down to pick up expecting mothers. Things were definitely different in those days and people had to adapt to whatever life gave them as Indian people. 
Can you tell me about your connection with the Dwarf Palmetto? Why is it important to the story of the Houma Nation and to this traditional art?
Down here we never had teepees. Indian people make use of what they have around them and the palmetto was one thing that grew abundantly in the Southeast. Like the Indian people, the Dwarf Palmetto adapts and is of the water. My dad was born in 1926 and he spent his first six years in a Palmetto hut. In the summertime they cool and in the wintertime they are warm because you build them on the dirt floor. The heat and coolness from the earth radiates into that hut. The last palmetto hut that I saw was in Montegut, Louisiana around 1990 and it was used as a shed at that point. The roof was still intact and everything under that shed was dry. We used to recreate them at the Louisiana FolkLife Festival in Monroe. My husband built one and it was so much more comfortable than factory-made tents. The connection to the palmetto didn't stop at housing though; Indian people used the plant in everything from baskets to putting them in lakes raising oysters. 
Can you tell us more about traditions that were important to you? 
I learned a lot of my plants from my mom and dad. I was blessed to grow up with a family that was so traditional in their ways. My grandparents and parents didn't go to school because of the discrimination, but they had a different type of knowledge. When I was younger, I was embarrassed that I only knew my plants in French instead of English, but when my dad passed away those plant names could be found in books but his knowledge about their healing remedies could not. Some of their stories used to be recorded at the Acadian Village but many of them have now been lost.
That's why I've taken up not only basket weaving but also teaching workshops. When Ida hit, it 'hit home,' destroying both mine and my daughter's homes. My daughter and her family considered moving to Alabama after that. So many people's sons and daughters in the Indian community don't want to continue losing everything over and over. We saw people leave for the first time in 1992 after Hurricane Andrew. They migrated 'up North,' but sometimes they just left their bayou communities from the lower bayou to upper bayou. While that may not seem like a huge change, their entire lives were connected to the lower bayou. With more hurricanes, they are moving further to North Louisiana or out of state completely. We had a lot of people move to Baton Rouge and across the lake to St. Tammany Parish after Rita and Katrina. The land-loss migration is destroying our communities. A Lot of the bayou communities have become the barrier islands for the larger cities. When communities start moving, you not only move people, but the culture as well. You're moving the way of life. 
It's so important to continue these workshops. We have to teach and show our people how to harvest palmetto. Seeing the new growth of the palmetto is important, the way it adapts to the land. If your family moves, will you have palmetto where you're moving to or will you come home to harvest the palmetto? This practice of returning home to communities, making a good visit to relatives allows us to stay connected to our people despite migration. 
As hurricanes continue to batter the coast of your traditional lands, what do you think is the future of this (and other) traditions that are connected to the land? 
Preserving traditions such as basket weaving may become the connection to communities and lands that continue to disappear. For example, my generation was Americanized and many were not allowed or were too embarrassed to speak French. My parents and grandparents thought that education would be the key to the future. That education may not be what they expected…education coming not from the outside, but from their own community. Indian education programs provide our children with summer camps, workshops, etc. and there is a large interest in the traditional ways. Many people of my generation grew up without the traditional knowledge and they want that knowledge now for both themselves and their families. 
For example, We have a community student who went to Dartmouth to specialize in native communities and their arts. If he wants to get palmetto from down here he can be allotted the time to come down. He even wrote a play and included the traditional half-hitch weaving. In that way, our community and ways don't have to die in the younger generations despite our children and grandchildren migrating to other communities. This is my hope for my palmetto baskets. Like my grandparents and parents, I also have hope in education. But for me it's more of an ancient knowledge that I think holds the promise for the future.
Ogden Museum of Southern Art's Center for Southern Craft and Design is proud to host Janie Verret Luster as our artist spotlight January through March. Janie Verret Luster's traditional half-hitch basket weaving pattern and jewelry from the alligator gar (Atractosteus spatula), a ray-finned fish native to the Southeast United States, will be in the Center for Southern Craft and Design located in our Museum Store. Stop by and learn more about Janie Verret Luster, the traditional basket weave and the people of the United Houma Nation.