April is Jazz Appreciation Month, and to celebrate, the Museum would like to showcase some of the works in its permanent collection that honor the genre.
Jazz was born in New Orleans in the late 19th and early 20th century, when Blues and Ragtime began to collide in new and exciting ways. Improvisation is central to the genre, and it is through this form of artistic expression that musicians are able to showcase their talent and inventiveness. 
For visual artists, representing jazz is a beautiful challenge. Ogden Museum of Southern Art is privileged to hold many pieces that undertake this difficult feat.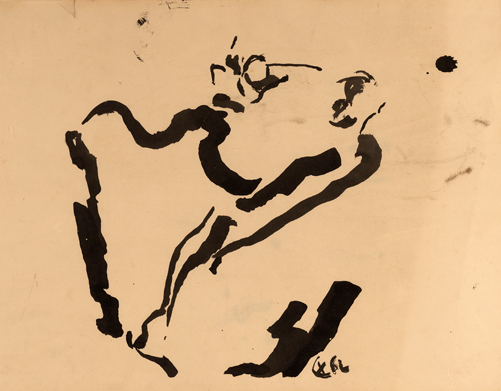 [Jazz Man, Xavier de Callatay, 1962, Ink wash on paper, 11 3/4" x 17 1/2'', Gift of the Roger H. Ogden Collection, 2003.1]
Jazz Man by Xavier de Callatay articulates the essence of creating and performing jazz. Thick lines of ink create the impression of a performer. Intense, heavy in some places and light in others, the drawing creates a sense of ephemerality and grandiosity all at once. The performer is faceless, and becomes simply a vessel for his music, drifting out into the unmarked page.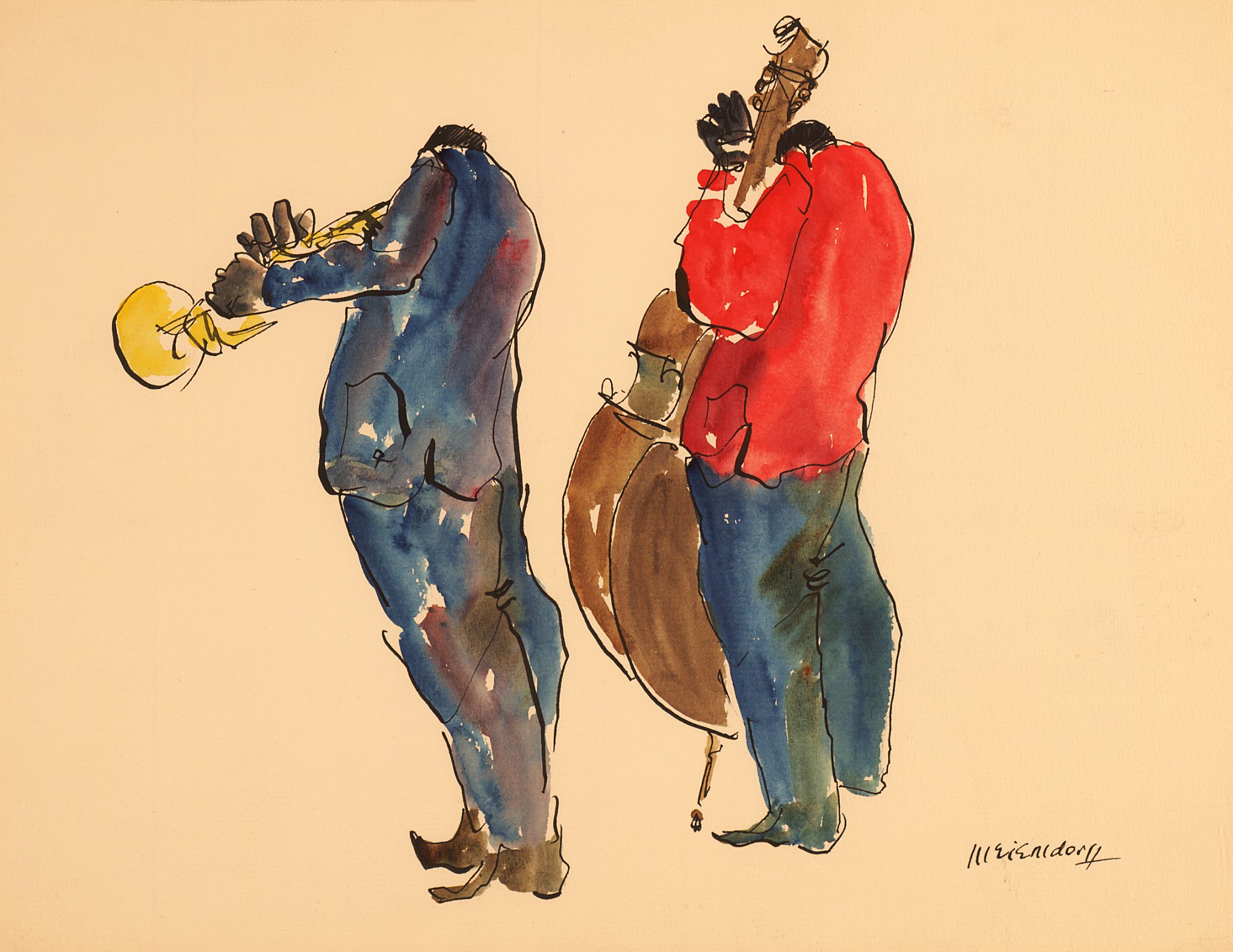 [Jazz Duet I, Leo Meiersdorff, 1980, Watercolor on paper, 10" x 13", Gift of the Roger H. Ogden Collection, 2003.]
Leo Meiersdorff offers a more colorful take on jazz in his piece Jazz Duet I. Here, a standup bassist and a trumpet player stand side by side, represented in watercolor and line. Careful mark making is animated by a playful application of color. Blues become greens, reds, browns, as the watercolors flow across each player. Watercolor is notoriously difficult to control, which makes it a perfect representation of jazz and improvisation. Working with other musicians to create a coherent, powerful piece of music is a demanding task. The rules of collaboration and harmony are represented in Meiersdorff's lines, while the whimsy of watercolor illustrates the power of creativity and improvisation.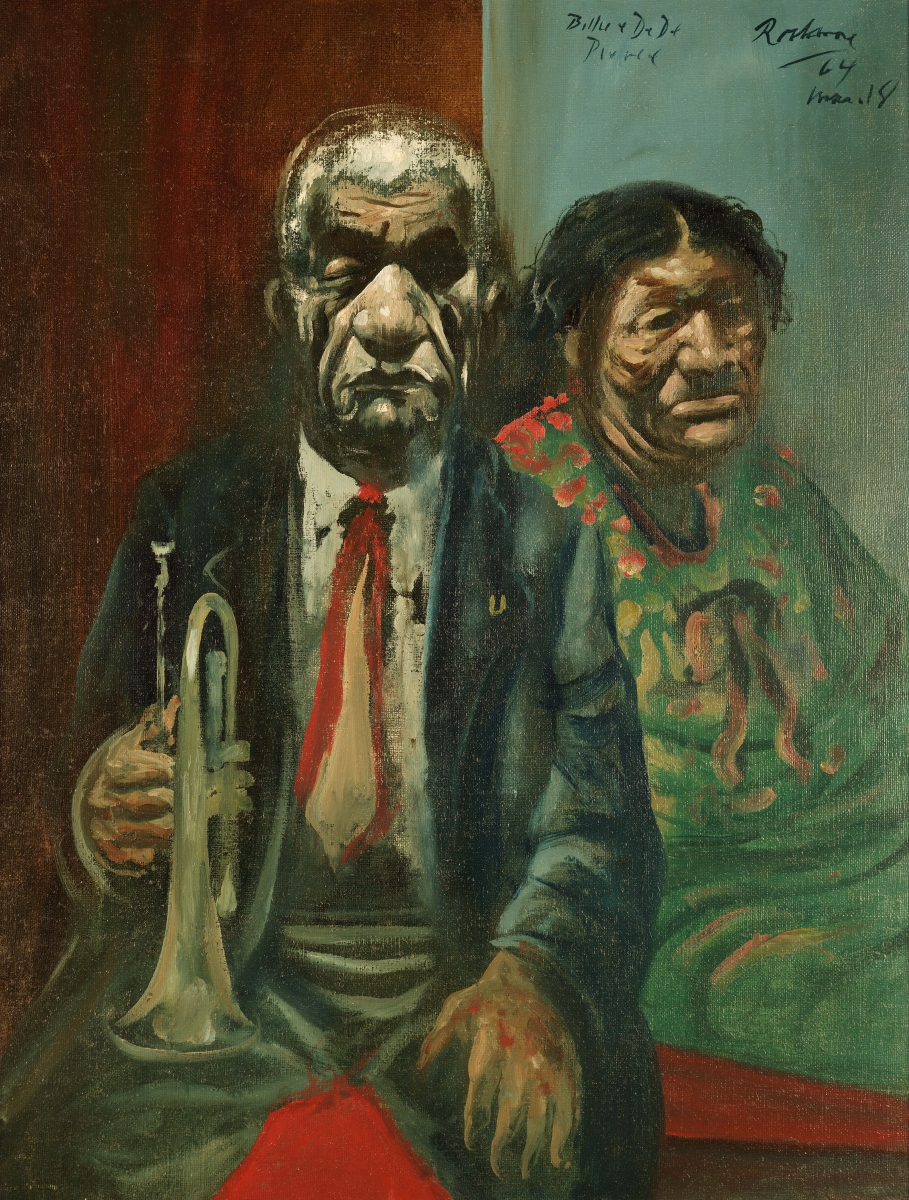 [Billie and De De Pierce, Preservation Hall, Noel Rockmore, 1964, Oil on canvas, 50" x 38'', Gift of the Roger H. Ogden Collection, 2003.1]
Preservation Hall has long stood as the Holy Mecca of jazz in New Orleans. Heralded as the home of the greats, the legendary performance space still stands today, home of the Preservation Hall Jazz Band. Two of the band's founding members are painted here. Billie and De De Pierce were renowned players on their own, and together they were nothing short of a power couple. Billie played piano and sang, while her husband De De played the trumpet. Noel Rockmore paints them together in Preservation Hall, ready to perform. Rockmore has painted several founding members of the Preservation Hall Jazz Band, and Ogden Museum is honored to hold some such pieces in its permanent collection. 
Come by the Museum to see more representations of the music of New Orleans. We are open from 10 a.m. to 5 p.m. every day!
Blog post contributed by Hannah Bartel, Tulane University.