Luis Cruz Azaceta was selected for the 2020 edition of Louisiana Contemporary, presented by The Helis Foundation, and his work, CRISIS 3, took home second place! In this interview, we'll learn a little more about Azaceta as an artist.
Q: In reading your artist statement, you say you confront the reality of many of the world's hardships through art. If the world didn't have all these problems would you still be creating art? How do you think it would be different? 
A: If the world didn't have all these problems, it wouldn't be the world we live in. Throughout the ages, humanity experiences the good and bad simultaneously – starting with the earliest cave paintings. Perhaps creation is a fear of death.
Q: Have you always wanted to be an artist?
A: No, I wanted to be a pilot in the Cuban Air Force.
Q: Were you an artist at an early age or did it come later in life?
A: I would draw when I was a child. In grammar school on Fridays, we had an art class and the teachers would tell me that I had talent.
Q: How would you describe your art? What are you trying to convey with your work?
A: My art is a cry for compassion – a voice for those that live on the edge of society.
Q: What do you think makes the New Orleans art scene special?
A: I embrace the diverse culture of New Orleans. When I first came down here, 20 years ago, familiarizing myself with the neighborhoods where I found beauty. Especially in the poor neighborhoods where a broken window was replaced with a piece of cardboard with an image drawn or a saying scribbled across it—-giving life a positive and  creative voice.
Q: How does the city influence what you do?
A: I've done a lot of paintings related to the city. The first painting I made when I moved here was a large painting paying homage to Louis Armstrong. I titled it "What A Wonderful World" which was the name of his song. I also have works that address the violence and shootings in the city.
Q: Was there a specific moment where you decided to pursue art as a career?
A: Yes, when John F. Kennedy was shot in 1963.  That was the beginning of my career. In the late '60s I graduated from The School of Visual Arts in NYC and ever since I've dedicated my life full time to make art. Art gave me a voice and a weapon against the inhumanities of society.
Q: How has your work, if at all, changed from your first works? Where do you see your work going in the future?
A: My work has always been in a state of flux. I work in series addressing identity, violence, war, dictatorships, HIV, refugees, fires, storms and death. My latest series addresses the Corona Virus and the crisis this country is going through. Currently, my painting, CRISIS 3 is on view in the 2020 Louisiana Contemporary exhibition. There are also two large paintings of mine in the show across the street at the Contemporary Arts Center addressing this issue as well.
You can see Luis Cruz Azaceta's work in Louisiana Contemporary, presented by the Helis Foundation, at Ogden Museum through February 7, 2021.
About Luis Cruz Azaceta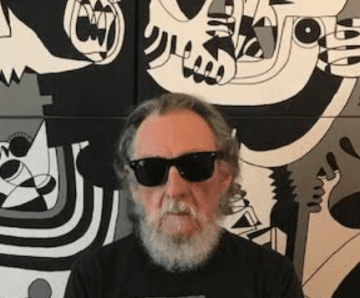 Luis Cruz Azaceta is a Cuban American artist. He lived in New York, graduated from The School of Visual Art and began his long career as an artist. Azaceta develops parallel series in several media at once, combining materials in unexpected ways. He works constantly and is extremely prolific. For Azaceta, art is a way of facing the world and addressing the human condition. He has over 100 solo exhibitions and more than 400 group exhibitions. He's been awarded numerous grants and his work is part of major museum collections nationally and internationally.
Luis Cruz Azaceta's Artist Statement
As an artist you use your experiences dealing with your surroundings and your conditions. The condition of being an exile is of being in two places simultaneously-physically in your place of exile, emotionally and spiritually in the place you left behind, your roots. This experience allowed me as an artist to address the condition of violence, racism, isolation, separation and oppression through my work. It gave me an eye to understanding that this experience goes beyond my personal journey to a perspective of a more global condition that many live within. The rapid state of change in the world at large- the environment, collapsing economies, greed, war, revolution, terrorism – a point where individual citizens are rising against political economic and social injustices is at hand. Through art I confront this reality. My intention is to create compassion. The vehicle for compassion is the aesthetic that draws one into looking closely at what are, perhaps, sometimes horrific subjects and embracing them.
About Louisiana Contemporary
For the 2020 edition of the annual juried exhibition, Louisiana Contemporary, presented by The Helis Foundation, guest juror René Morales, Director of Curatorial Affairs and Chief Curator at Pérez Art Museum Miami (PAMM), has selected 55 works by 56 artists.
Ogden Museum first launched Louisiana Contemporary, presented by The Helis Foundation, in 2012, to establish a vehicle that would bring to the fore the work of artists living in Louisiana and highlight the dynamism of art practice throughout the state. Since its launch, Louisiana Contemporary has presented 729 works by 450 artists.
This statewide, juried exhibition promotes the contemporary art practices in the state of Louisiana, provides an exhibition space for the exposition of living artists' work and engages a contemporary audience that recognizes the vibrant visual arts culture of Louisiana and the role of New Orleans as a rising, international art center.
Learn More
Interview by Kasey Uddo, Ogden Museum Graduate Assistant