Wendo Brunoir is one of the 56 Louisiana artists selected for the 2020 edition of Louisiana Contemporary, Presented by The Helis Foundation. Brunoir has been chosen for Best in Show and is the recipient of The Helis Foundation Art prize for his works, Don't Catch You Slippin' Up and Appropriation of a Masterpiece. In this interview, we'll learn a little more about Brunoir as an artist.

Wendo Brunoir
Q: You mentioned your recent works have been attributed to your love of film and music. Is there a specific film, song or band that has inspired you the most?
A: Nothing in particular. I grew up watching all kinds of movies and listening to all kinds of music. I consider myself an eclectic, so I'm inspired by all varieties of film and music.
Q: Have you always wanted to be an artist?
A:  I knew from a very young age, about 7, that I wanted to draw. But I didn't know what kind of artist I wanted to be until I was in high school. Then I started studying art and realized that I wanted to paint.
Q: Were you an artist at an early age or did it come later in life?
A:  I didn't start making art until I was in college. I didn't have very much support growing up, so my art never made it beyond drawing. Wasn't until I was in my first year of college and taking art classes that I realized that I could do it for real.
Q: How would you describe your art? What are you trying to convey with your work?
A: I would describe my art as a way of skewing perspective. Not in a literal way, but trying to see things not as they are, but what I see that they can be. I'm sure that sounds generic but, I wish to convey a way of taking things that might seem banal or minuscule and seeing them in a different context. Whether it's abstracting or visually reinterpreting, I try to present a different way of looking at things that we don't always stop to think about.
Q: What do you think makes the New Orleans art scene special?
A: What makes this place special is the diversity. Not only the rich history and culture of New Orleans itself, but people from all over the world live here and that contributes to the cultural melting pot of New Orleans. I think the art scene conveys that same motif. Because artists from everywhere live and work here, that contributes all kinds of perspectives and influences for artists to feed upon artistically.
Q: How does the city influence what you do?
A: Although I don't paint the traditional imagery synonymous with this city, I'm still influenced by the colors and textures that I find when walking around New Orleans. These values are essential pieces of my work so I am influenced tremendously by the city itself.
Q: Was there a specific moment where you decided to pursue art as a career?
A: I was working at a sign company and the owner said that I wasn't working out. I was overqualified for the position that I was in. He felt bad and tried to get a job at another sign company that would be better suited for my experience. He set up a meeting for me to meet the owner of the other sign shop, but I decided to go home and paint. Since then 'Ive been pursuing art full-time.
Q: How has the rise of social media impacted the way you connect with people? How do you use it to connect with fans? Potential buyers?
A: I think it's opened us up to all different platforms that we can use to our advantage. A buyer in Chicago saw my work on IG and became interested in my art. That might not have worked like that without social media. It allows us to expand ourselves without having to physically go to different places to get our art shown.
Q: How has your work, if at all, changed from your first works? Where do you see your work going in the future?
A: As I've grown as an artist, so has my perspective. Things that I might have thought worked for me then don't always remain. And also, as an artist, you always want to exceed what you were doing before. So many things in the past have not made it to the present. And in that perspective, things that I do in the future probably will not have the things that I'm doing now. I believe that is the true sign of the evolution of an artist. Relevancy along with growth propel artists. I hope I can keep both throughout my career.
Q: Are you excited about any upcoming projects you're working on?
A: I'm trying to take things one step at a time. So, whatever comes to me I can be prepared for. While I'm awaiting other opportunities, I'm excited for what I'm going to be able to present when the time comes.
You can see all of Wendo's work and the rest of Louisiana Contemporary, presented by the Helis Foundation, at Ogden Museum through February 7, 2021.
About Wendo Brunoir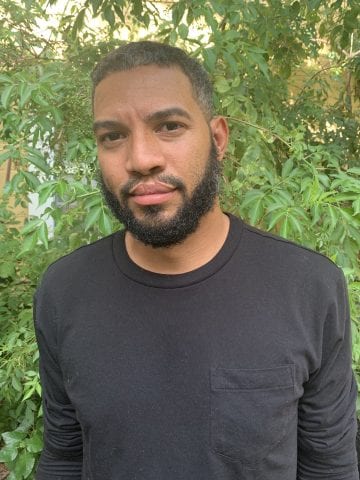 Wendo Brunoir was born in 1982 in New Orleans, Louisiana.  He received his bachelor's degree from the University of New Orleans and soon after his M.F.A. from UNO. Upon receiving his master's degree in painting, he was picked to represent his school by doing an art exhibition in Austria. After participating in various gallery shows, he started painting murals in and around New Orleans. He has done commissions for several local businesses as well as private commissions. Soon after, he traveled to different parts of the country with two other members painting murals in Texas, Mississippi and Georgia. He has participated in group shows around New Orleans and has had a solo show at Boyd satellite gallery on Julia Street in the Arts District. In 2018, he was presented an opportunity to paint the first ever large scale mural in Labo, Camarines Norte in the Philippines. Wendo currently lives and works in New Orleans.
Wendo Brunoir's Artist Statement
The scope of my recent works has been attributed to my love of film and music. Nostalgia is a big factor in my artwork. Relating where I was or what I was doing when I saw or heard something that inspired me has always played a part in my remembrance of time and place. Drawing from these various artforms, I use different thoughts, motifs, dialogue and lyrics to convey new ideas. Keeping the basis of the original context, new ideas are formed. Whether relating them visually or by title the idea is recontextualized to form a new concept. With this method, I can present an idea that keeps the essence of the original source. I usually draw out the composition then relate the source as the overall motif.
About Louisiana Contemporary
For the 2020 edition of the annual juried exhibition, Louisiana Contemporary, Presented by The Helis Foundation, guest juror René Morales, Director of Curatorial Affairs and Chief Curator at Pérez Art Museum Miami (PAMM), has selected 55 works by 56 artists.
Ogden Museum first launched Louisiana Contemporary, Presented by The Helis Foundation, in 2012, to establish a vehicle that would bring to the fore the work of artists living in Louisiana and highlight the dynamism of art practice throughout the state. Since its launch, Louisiana Contemporary has presented 729 works by 450 artists.
This statewide, juried exhibition promotes the contemporary art practices in the state of Louisiana, provides an exhibition space for the exposition of living artists' work and engages a contemporary audience that recognizes the vibrant visual arts culture of Louisiana and the role of New Orleans as a rising, international art center.
Learn More