We have some amazing items by local businesses in the Ogden Museum Store, including handmade masks and bowties by Edward Wycliff, owner of Bow Shoeshoe – Mountain Kingdom Clothing. We had the opportunity to ask Wycliff some questions in order to get more familiar with his work and life passions. Here is what he had to say: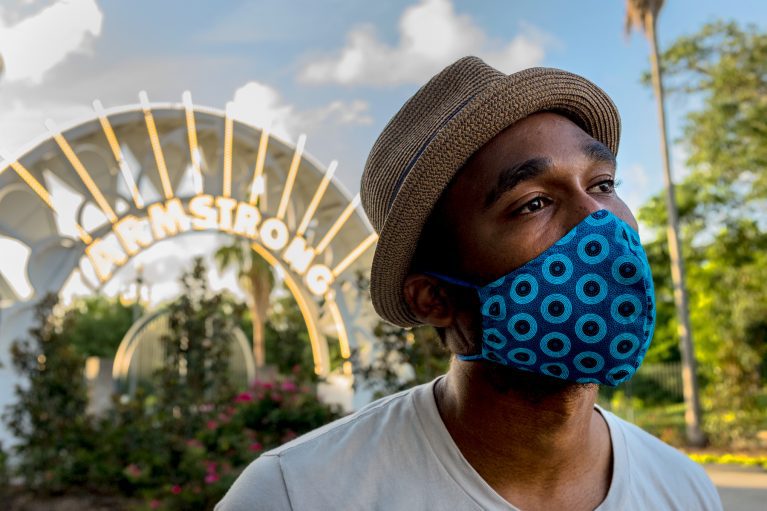 1. How did you get started in your work?
I got started with my work while I was serving in the Peace Corps on an HIV mitigation project in an African kingdom called Lesotho. The community I had been living in for over a year asked me to help design a business that could make money for the village, which is located in one of the most remote and least developed nations in the world. I started training groups within the village to sew bowties and the Shoeshoe ("shway-shway"), a textile that had been a part of southern African culture for nearly 200 years.
2. What inspires you?
The ability to bring together two places I love, New Orleans and Lesotho, gives me great joy. I'm inspired by the ability to design products across the world, then have customers in New Orleans find a connection to our unique material and the stories behind each tie, suit or mask.
3. How does the city of New Orleans inspire you?
New Orleans has many inspiring aspects. This city has a long history of art, music and food that make up its culture. What inspires me the most is the hustle behind artists, entrepreneurs and creatives who hail from and move to New Orleans. I got my start selling bowties on Frenchman Street. The street artist's hustler spirit, the drive to not just make your art but push it out to the world, is probably the most inspiring part of working in this city.
4. Describe a typical day in your life.
Life has changed a lot since the COVID-19 pandemic struck. Before, an average day would include preparing materials in my home studio before getting ready for work. I'd strap a vintage Samsonite suitcase on the back of my bicycle, then put on a suit, tie my bowtie and cycle down to Frenchman Street. I'd set my booth up in the Frenchman Art Market and get to share my work with thousands of people from all over the world, almost every night. Nowadays, instead I fill up that suitcase on the back of my bike with the masks we make in New Orleans and Lesotho. I cycle around to the coffee, wine, gift and book shops to restock shelves. And when I'm not cycling all over the city, I'm home designing several new product lines.
5. What is something you can't live without?
I can't live without my 1948 Singer Featherweight sewing machine. I travel all over the country with my machine, giving me the freedom to be creative anywhere I go. This machine is an extension of myself, and nearly every piece I sew in New Orleans is made with one of my featherweight machines.
6. Has art always been prominent in your life?
Art has been a part of my life for quite a while, but I was never involved in textile design or clothing production until 2015. As a child, I had an active imagination and loved to draw. I nearly attended high school for visual and performing arts where I grew up in Houston. My mother was a model and ran a children's book publishing company, publishing positive images for African American children. My father was a screen and theater actor for many years; he even co-founded the Black actor's guild in Houston. The arts have always been important in my life, yet in the past six years I've been able to use my passion for art and conflict resolution to engage in community development in Lesotho, while bringing beautiful and storied creations to New Orleans.
7. Who are your biggest influences?
My biggest influence came from a small community in Lesotho, called Ha Rankakala. This is where I trained my first crew of 40 men and women to sew my designs. This community sits on top of one of Africa's highest mountain ranges. The people of Ha Rankakala have few amenities but a lot of love, and they showed it to me. It is the single most important influence and the reason why I am an artist. Looking toward the future, as I develop more skills and knowledge, I've become enthralled with the work of artists like Bisa Butler. Her textile collages beautifully utilize a variety of important African textiles and uniquely depict scenes of Black life.
8. What is something you are really looking forward to right now, either personally or professionally?
Currently, I'm looking forward to my second Jazz Fest. I participated for the first time in 2019, and this will be the first major event in New Orleans since the pandemic shut the world down in March 2020. I'm incredibly excited to capitalize on what I learned from my first time exhibiting at the Congo Square market, and to bring new creations to New Orleans, like a series of unique button-up shirts we've been designing with partners in Sierra Leone. This is our first foray in using West African textiles and launching a project in West Africa.
9. What's next for you? Where do you see your work taking you in the next couple of years?
The pandemic taught me you never know what's up next. For one, I'd never have thought we'd become one of the most prominent mask makers in the city, being one of the few small businesses with the capacity to pivot our product line and deliver during a global pandemic. So who knows what's next! I hope we'll have a small, humble gallery where I can custom make items. I'm also in the midst of moving from clothing to textile art and home décor.
10. What is your favorite part of working with your craft?
My favorite part of my craft has always been the hunt for unique fabric. Searching for fabric in neighborhoods in Johannesburg, particularly the textile corridor. It's so dangerous where I'd been that I had a car stolen along with my passport and all the earrings from my first sales event back in 2015. Now I move through this community with ease, knowing the languages and customs. Highlights have always been happening upon a saleswoman, with a baby strapped to her back as she walks a beach in Mozambique, perfectly balancing a vibrant assortment of fabric on her head. Or trying to convince a supplier to start reprinting fabric that resembles an Afro-centric version of seersucker that was removed from production before I was born. Most recently, hunting down a rare Ankara fabric in Sierra Leone, from thousands of miles away has piqued my interest. It's a great feeling to have every component come together, so you can offer customers something they've never seen before.
Visit the Ogden Museum Store to pick up a mask or bowtie by Edward Wycliff of Bow Shoeshoe – Mountain Kingdom Clothing. We are open 10 a.m. – 5 p.m., 7 days per week. Not local? No worries. We can help you shop and we ship! Email store@ogdenmuseum.org for information. 
More About Edward Wycliff 
Edward Wycliff is the owner and designer of Bow Shoeshoe, an ethical apparel company based in New Orleans, Louisiana and Lesotho. Wycliff served as a Pease Corps Volunteer in Lesotho in 2014-2015, working on an HIV/AIDS project in one of Lesotho's most remote mountain ranges. Wycliff has been working with these communities in Lesotho to produce garments with the local fabric, focusing on a community-driven model of production. The company began producing bow ties in 2015. In an effort to pivot due to COVID-19, Wycliff began organizing teams in Lesotho, South Africa and New Orleans to produce face masks with the same vibrant textiles. Originally from Houston, Texas, Wycliff holds a B.A. in Politics from Ithaca College, an M.S. in Conflict Resolution and Governance from Universiteit van Amsterdam. He has been living between New Orleans and southern Africa for the past six years.