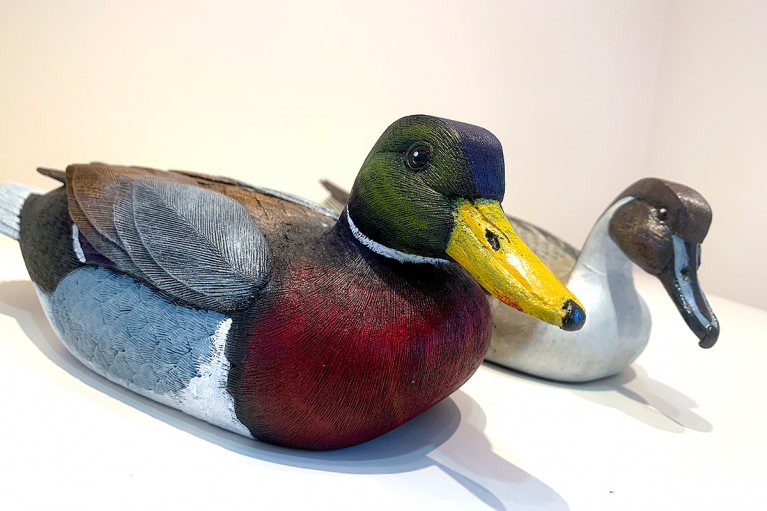 Woodcarver John Parfait was recently featured in a Center for Southern Craft & Design Spotlight at Ogden Museum of Southern Art. We got the chance to ask him a few questions to learn more about him and his artistic practice. Parfait's work is available for purchase in the Museum Store.
Q: How did you get started?
A: At a very young age, between three and six years old, fascinated to watch anyone whittle. My Grandpa was first, my Pop was second and my Dad was third (he was really my uncle who raised me). My birthmother died the day I was born and left nine other children for my Pop to take care of, so my Pop asked his brother and sister-in-law if they would take care of me and raise me, which they did. My Pop was a carpenter, so he had tools and a lot of small pieces of wood I could dabble with.
What really got me started was a conversation I had with my Pop about beautiful wood work I had seen in Japan and other countries in my tours with the U.S. Navy. He told me that he saw the stunning work of a skilled carpenter named Lanny Bourg whose carvings of flying ducks were creatively burned and coated with a high gloss clear varnish.  He said that Mr. Lanny was getting $500.00 a piece for his wood works, and that did it for me.  The Navy Seabee spirit in me blurted out, "I can do that!"
Q: What is your favorite part about working with your craft?
A: Everything else shuts down and the peace of God reigns.
Q: What inspires you?
A: Native American culture, colors in nature, Louisiana landscapes, the Grand Canyon and all kinds of wildfowl and flowers.
Q: Can you describe your process for us?
A: My woodcarving process involves cut blocks of soft wood, carving knives, sandpaper, a soldering iron, electric saws, gloss coatings and acrylic and oil paint.  I also have a workstation for electric saws.
Q: How has your artistic approach evolved since you first began making art?
A: I began making art at young age, and my first real artwork was a collection of pencil sketches featuring all of the U.S. Presidents up to Dwight Eisenhower. I had to do that as punishment in grade school because I was caught drawing during class.
When I first started woodcarving, I carved simple things like pirogues and canoes. But I moved onto carving small birds and other animals after receiving instruction from two well-known and established woodcarvers from the Cherokee Nation named William "Bill" Crowe and G.B. Chiltoskey in the 1970s.  As I gained more experience, I created larger sizes of mallard ducks and wood ducks. I primarily carve with tupelo gum wood because of its soft, porous texture. But I have also made carvings of mahogany and walnut in the past.
I have also done canvas painting as a hobby for several decades, and I have painted landscapes inspired by the Southwest and South Louisiana. My vision is declining due to glaucoma, but during the pandemic of 2020, I was able to paint a large Louisiana landscape on canvas.
Q: When you hit a creative wall, what do you do to overcome?
A: I throw everything in the fire, then I start over and try something different.
Q: How does the city of New Orleans inspire you?
A: I was born in New Orleans and moved back to the city after living in Nashville, Tennessee for 24 years. New Orleans was my bread and butter when I was a young rhythm and blues musician. I loved all of its native R&B songs and its R&B sons. Now, I am flabbergasted by all of the art I see in around city. It makes me glad to be a part of it.
Q: Describe a typical day for you.
A: Today, I spend my days daydreaming and art scheming.
Q: What is something you can't live without?
A: Coca-cola.
About John Parfait
South Louisiana-native woodcarver John Parfait carves a variety of wildfowl and small animals using swamp tupelo found in coastal Louisiana. Best known for his carvings of mallards and wood ducks, John has used his own unique woodcarving process since he began carving more than 40 years ago. His woodwork has been purchased by collectors from around the world, and some of his earliest pieces are on display in the Smithsonian Museum of the American Indian in Washington, D.C.
John uses his own stencils and a variety of carving tools to cut and shape the swamp tupelo to form. After sanding the wood to a smooth surface, John typically uses a soldering iron to create grooves in the wood, in order to give the carving a more lifelike appearance. His artistic skills and natural love of painting are revealed in the acrylic paint detail of each piece he creates.
John began experimenting with wood carving in 1975. He realized quickly that he knew next to nothing about woodcarving. In a moment of discouragement, he tossed his first pieces of woodwork in a fire. He quickly had a change of heart. After seeing the carvings partially burned, he pulled them out of the fire and said, "I can't give up."
In 1977, John, along with his cousin and fellow Houma woodcarver Roy Parfait, enrolled in his first woodcarving workshop in his hometown, Dulac, Louisiana. The workshop, conducted by acclaimed woodcarver Bill Crowe of the Eastern Band of the Cherokee Nation, laid the foundation for both John and Roy's understanding of the craft. John's interest would be further bolstered in a woodcarving workshop featuring Cherokee woodcarver and famed Hollywood set-builder Goingback (G.B.) Chiltolskey in 1979. The knowledge John gained from these two artists helped develop the process he would use on all of woodwork.
Over the years, John's carvings have been carried by art galleries in the Smoky Mountain towns of Helen, Georgia, Gatlinburg, Tennessee and Cherokee, North Carolina. He has also taught woodcarving workshops and sold his carvings at craft shows throughout Louisiana, including the New Orleans Jazz & Heritage Festival.
In addition to painting his carvings, John enjoys painting depictions of Native American life on canvas. He is a member of the United Houma Nation, Louisiana's largest Native American tribe. John participated in the development of the tribe's modern charter in the 1970s and later served as a tribal council member. He and his wife Virginia recently relocated to New Orleans from Nashville, Tennessee, where they lived for 24 years. Together, they have seven children, eight grandchildren and one great-grandchild.