Ann Perich is one of the Louisiana artists selected for the 2020 edition of Louisiana Contemporary, Presented by The Helis Foundation. Perich's work, determination or distrust, took home third place. In this interview, we'll learn a little more about Ann Perich as an artist.
Q: Why did you choose to shoot determination or distrust on the iPhone? Have you done that before? How did that change your process?
A: I have found that at times it is a lot easier to get the shot I want when shooting with the iPhone. People are more approachable. It's less conspicuous, less intimidating. I started shooting seriously with the iPhone in 2017 while in West Africa. It has made me more a "street photographer" – spontaneously taking photos, not setting up shots, catching people candid, un-posed or mid-action.
Q: Have you always wanted to be an artist? Were you an artist at an early age or did it come later in life?
A: I've always been creative – as far back as I can remember I was always making art of some sort.
Q: How would you describe your art? What are you trying to convey with your work?
A: My art is an examination/reinterpretation of the world around me. Whether it is a photograph or a mixed-media installation, my hope is that the work affects the viewer viscerally and emotionally. Ultimately, I want my work to communicate what words cannot.
Q: What do you think makes the New Orleans art scene special?
A: The fact that it's informed by the convergence of many cultures, histories, peoples and customs.
Q: How does the city influence what you do?
A: New Orleans is a feast for the senses . . . there is no lack of inspiration for me.
Q: Was there a specific moment where you decided to pursue art as a career?
A: Art has always been my full-time career . . . it's the jobs that pay the rent that get in the way!
Q: How has the rise of social media impacted the way you connect with people? How do you use it to connect with the public?
A: I have to admit I'm just not that interested in social media – maybe because I don't have the time for it . . .
Q: How has your work, if at all, changed from your first works? Where do you see your work going in the future?
A: Interesting question because I recently realized that my first photographic works were black and white portraiture . . . and here I am now doing a lot of portraiture!  So I guess I've come full circle in a sense. I am constantly trying different things and exploring new places, so I imagine this time next year I will be doing something that I couldn't even begin to guess at!
Q: Are you excited about any upcoming projects you're working on?
A: Yes, it's a project that is going to contrast and compare photographs I shot in and around Saint-Louis, Senegal with those shot here in New Orleans.  The two places are historically linked because of the trans-Atlantic slave trade. French and African cultures merged, each retaining separate and unique elements, yet many parallels.  I will also be incorporating text into the project with the Wolof proverbs I collected.
You can see Ann's work and the rest of Louisiana Contemporary, presented by the Helis Foundation, at Ogden Museum through February 7, 2021.
About Ann Perich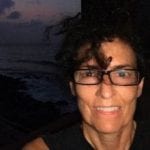 Ann Perich is a photographer, multi-disciplinary artist and performer. Through portraiture she strives to expose an intimate side of the subject while simultaneously revealing the larger cultural context. In combining disciplines, her investigations create work that reinterprets perceptions of time, place, memory and identity. And with her process of layering images, she creates new narratives by incorporating cultural references and iconic imagery.
Her work has been exhibited at The Palm Beach Institute of Contemporary Art, The California Museum of Art in Santa Rosa, the Los Angeles Municipal Art Gallery, Nouveaux Ateliers Waaw in Senegal, in addition to many other galleries.
She is the recipient of a Durfee Foundation Grant and artist residencies in Iceland, Senegal, West Africa and Texas. She established Trunk Gallery in Los Angeles from 2011-2018, where she curated exhibitions in a variety of disciplines, and produced artist talks, film screenings classes, performances and residencies.
Ann has performed solo, and as an ensemble member (performance art and music) at the UCLA Live International Theatre Festival, Institute of Contemporary Art in Glasgow, Scotland, the University of Houston, Cynthia Woods Mitchell Center for the Arts, and at the California Center for the Arts in Escondido, CA
Ann studied at the Santa Monica College of Design, Art and Architecture and holds a B.A. in Psychology from California State University, Sacramento.
Ann Perich's Artist Statement
"Behind the mask beats a loving heart, willing to save others." – Helen Munson, author
In a city renowned for its masks, a Mardi Gras tradition, residents of New Orleans now go out in public wearing masks of another kind and for a different purpose.  Shot entirely on the iPhone 11 Pro Max, "Behind the Mask" is a series of portraits of New Orleanians wearing masks to prevent the spread of the coronavirus.  It explores the requisite mask wearing in public caused by the worldwide coronavirus pandemic.
Through these portraits I strive to expose an intimate side of the subject while simultaneously revealing the larger cultural context.  How are we going to adapt to this new world?  How can we make a meaningful connection with another person with our faces covered?  The portraits have each been given a title consisting of two emotions.  This is to show how impossible it is to discern what the person behind the mask is feeling.
Masks create isolation by causing the inability to read facial expressions.  If you are unable to perceive these non-verbal nuances, then you behave as if you have no understanding of what others are trying to convey, or even know what is expected of you.  In medical literature this inability is called "social-emotional agnosia."  It severely limits normal social interactions and produces stress and anxiety.  Feelings can easily be misinterpreted.  In this pandemic world, emotions can be fragile and extra care needs to be taken when dealing with others.
Perhaps if we are aware of the effects of wearing masks, we can observe our behavior and be more mindful of our interactions with others.  Compassion and kindness are needed more so now than ever.
About Louisiana Contemporary
For the 2020 edition of the annual juried exhibition, Louisiana Contemporary, Presented by The Helis Foundation, guest juror René Morales, Director of Curatorial Affairs and Chief Curator at Pérez Art Museum Miami (PAMM), has selected 55 works by 56 artists.
Ogden Museum first launched Louisiana Contemporary, Presented by The Helis Foundation, in 2012, to establish a vehicle that would bring to the fore the work of artists living in Louisiana and highlight the dynamism of art practice throughout the state. Since its launch, Louisiana Contemporary has presented 729 works by 450 artists.
This statewide, juried exhibition promotes the contemporary art practices in the state of Louisiana, provides an exhibition space for the exposition of living artists' work and engages a contemporary audience that recognizes the vibrant visual arts culture of Louisiana and the role of New Orleans as a rising, international art center.
Learn More
Blog post contributed by Kasey Uddo, Graduate Assistant