Before the Covid-19 crisis, almost a third of New Orleans households had no access to internet, and for households with less than $20,000 in annual income that number rose to 55%. However, on April 3, NOLA Public Schools stated that the district had procured 10,000 Chromebook laptops for students and 8,000 Wi-Fi hot spots for families lacking reliable internet access at home (Nola.com).  Since these efforts are still not enough to bridge the "digital divide" in our community and most of the Ogden Museum's initial Covid-19 programming is online and not fully accessible to all New Orleanians, the Ogden Museum partnered early on with a group of other arts organizations to form New Orleans Creative Response.
Working with family nutrition programs at New Orleans public schools across the city, the group provides free stay-at-home activity kits during lunch distribution and has committed to do so each Wednesday until New Orleans' stay-at-home order is lifted. Kits contain artist designed activities and coloring pages, educational worksheets, sketchbooks, stickers and art supplies. Each week the Ogden Museum contributes an O-riginal Art Activity (the same one shared digitally on Ogden Museum Online) in both English and Spanish. To date, these kits have been distributed to more than 5,000 students. New Orleans Creative Response is dedicated to providing this resource as long as food distribution at the school sites continues.
The goal of a New Orleans Creative Response Network is to create a broad coalition of arts leadership in New Orleans during this crisis period. By creating a crisis network of arts leaders, New Orleans Creative Response aims to:
1) Connect arts leadership for solidarity and support
2) Create digital space for immediate idea and information sharing where we might collaborate on projects and share information related to artist relief and cultural funding
4) Develop and share online content to bolster resilience among citizens and increase impact
3) Support advocacy for relief funding from the city, state and nation
5) Serve collectively to amplify public health announcements as the crisis hits peak.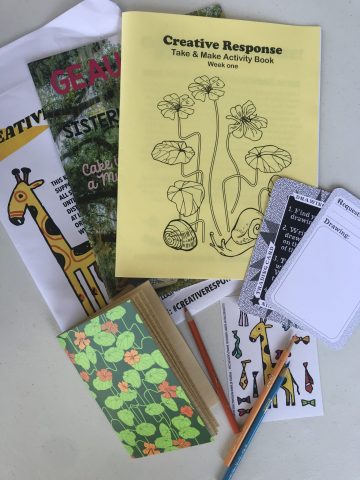 Ogden Museum's O-riginal Art Activities are available on the New Orleans Creative Response website. You can also find them here on our website.
More About New Orleans Creative Response:
Creative Response is a New Orleans-based art and movement building relief effort to support artists, performers, writers and culture bearers in the Greater New Orleans Metro Area facing the grave economic and social impacts of the COVID-19 pandemic.
This rapid response initiative is designed to provide direct economic support and opportunities to creators working within various practices and across multiple disciplines, alongside the distribution of art kits to support the creative life of local families while they stay home to keep our communities safe. At this seemingly chaotic moment, this website and the organizing efforts behind this work is designed to operate as a resource hub and to provide a support network for creators and organizations.
Learn More about New Orleans Creative Response