Ogden Museum of Southern Art is the First Museum in Louisiana to Provide Accessibility Options to See Color for Color Blind Population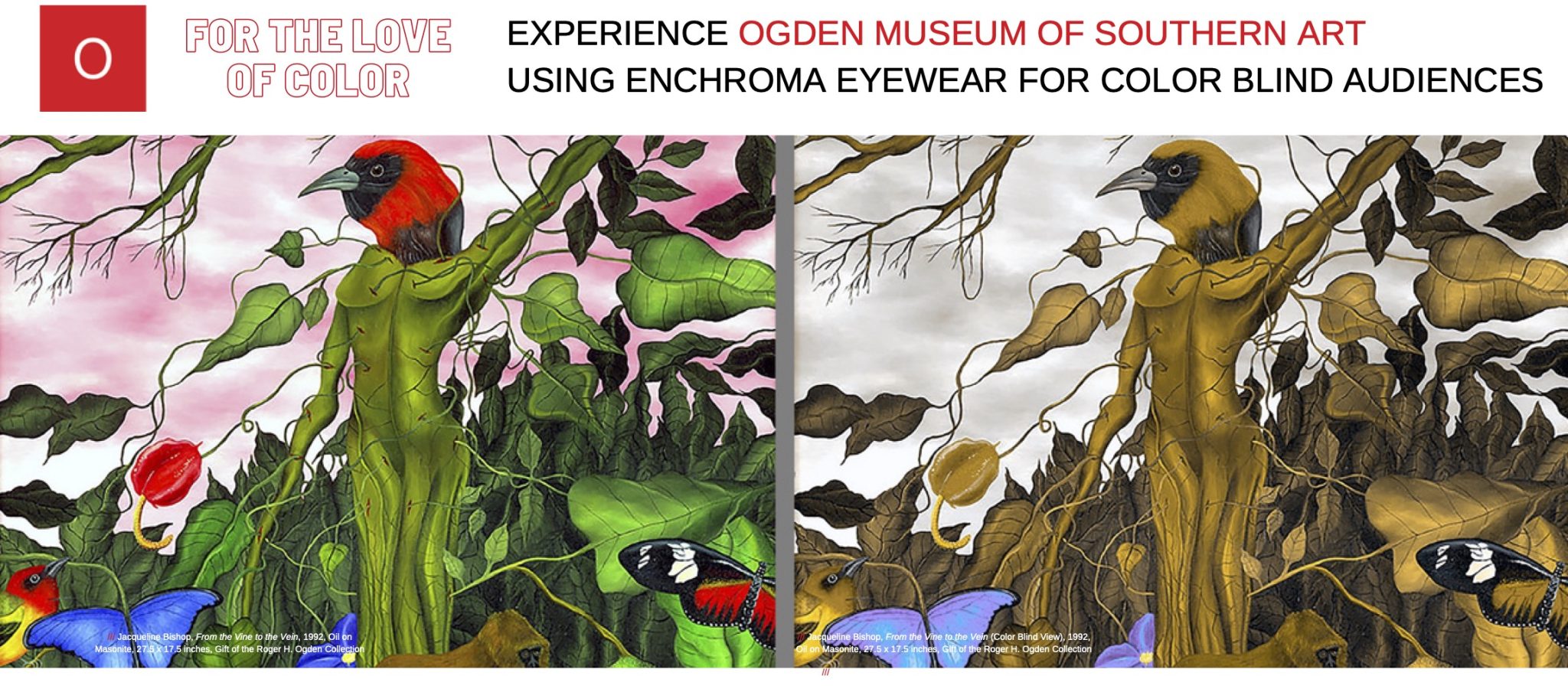 Imagine being unable to see all the colors in a beautiful painting, a flower, a sunset, or the color of a loved one's eyes? While people with normal color vision see over one million shades and hues, those with color vision deficiency only see up to 10% of colors.
An estimated 350 million people worldwide are color blind: 1 in 12 men (8%) and 1 in 200 women (.5%). That means that over 200,000 people in Louisiana and over 42,000 people in New Orleans are color blind and yet no museum in the state of Louisiana or in the city of New Orleans includes accessibility options for this significant population.
As part of our mission of accessibility and inclusion, Ogden Museum of Southern Art has partnered with EnChroma to make the colors in our artwork accessible to the color blind. Color blind guests can now borrow EnChroma glasses for color blindness at Ogden Museum for the duration of their visit.
Several color blind people conducted a live reveal of EnChroma eyewear on February 14, 2023.
Participants included:
Kevin Merrell, age 29, from Metairie, is a color blind accountant who says that "in school anything that used color to signify differences (i.e. charts and graphs) were a problem. Socially, I tend to question myself when I say what a color is. One time I thought I was wearing brown pants and a red shirt, but the pants were actually dark green. So someone jokingly asked me if it was Christmas (it was not close to Christmas time). I went home and changed." Of EnChroma glasses he said, "It was crazy to see the world like I never had before. Before these glasses I went to art museums and thought, "whatever," but now I think I'll be able to see what all the hype is about."
Cliff Carey is a 70 year-old retired architect from New Orleans who says that "in architecture school I was hesitant to discuss color-related subjects." After he wore EnChroma eyewear he said, "It has more depth. It jumps out at you more!"
Christian Mellor (55) found out that he was color blind when he was 16 in his driver's test when he couldn't distinguish the different signals. He has never been able to determine what's green versus red, making every day tasks like driving particularly frustrating. He told us that "he prays for a yellow" every time he approaches a traffic light, as it is one of the the only ways he can be sure of what color will come next. When trying EnChroma glasses Christian differentiated green from red for the first time.
"Experiencing art is so personal, visceral, and rewarding that the artist's full expression should be available to all," said Erik Ritchie, CEO of EnChroma. "We are pleased that the Ogden Museum of Southern Art is the first museum in Louisiana to ensure that color blind visitors can more fully experience its artworks and applaud their support for accessibility."
About Enchroma Glasses:
EnChroma glasses use special optical filters that help the color blind see an expanded range of color and to see it more clearly, vibrantly and distinctly. The glasses are the product of two NIH research grants and clinical trials at UC Berkeley and UC Davis. Read this recent study by UC Davis on the effectiveness of our glasses. Importantly, the glasses are not a cure for color blindness and work for 9 out of 10 color blind people.
For more information about EnChroma, click here.
About Ogden Museum of Southern Art
Located in the vibrant Warehouse Arts District of downtown New Orleans, Louisiana since 1999 and open to the public since 2003, Ogden Museum of Southern Art invites visitors to experience and learn about the artists and culture of the American South. Ogden Museum is home to a collection of more than four thousand works, making it the largest and most comprehensive repository dedicated to Southern art in the nation, with particular strength in the genres of Self-Taught art, Regionalism, photography, and contemporary art. The Museum is further recognized for its original exhibitions, public events and educational programs, which examine the development of visual art alongside Southern traditions of music, literature and local craft.
Ogden Museum is open daily from 10 a.m. – 5 p.m.
Admission is free to Museum Members and admission for Non-Members is $13.50 for adults, $11 for seniors 65 and older, $6.75 for children ages 5-17 and free for children under 5.
The Museum is located at 925 Camp Street, New Orleans, Louisiana 70130. For more information visit ogdenmuseum.org or call 504.539.9650.