Español abajo
Inspired by Horton Humble's Scattered Sight, illustrate your inner thoughts as an abstract self-portrait.
Download Activity
Horton Humble is a member of Level Artist Collective, and a native son of New Orleans. Humble grew up primarily in the Sixth Ward – popularly known today as the Faubourg Tremé. Horton's work is greatly influenced by his travels, ranging from Portugal to the African continent. Recently, his work has moved more toward figuration and his narrative has become more informed by the social issues facing New Orleans and the USA.
Supplies
Pencil, Crayons, Paper
Instructions  
Step 1: Use a pencil to sketch a face, neck and shoulders.
Step 2: What images come to mind when you think about your identity and personality? Sketch these images inside of the portrait. Abstract these images by simplifying and exaggerating their features.
Step 3: What colors fit your personality? Use crayons to color your self-portrait.
Step 4: What is your favorite color? Color the background this color.
Vocabulary
Portrait – an image of a person; genre of art
Abstract – an artwork that is comprised of shapes and colors
Identity – a person's idea of self
SEE HORTON HUMBLE'S SCATTERED SIGHT IN PRESERVATIVE FORCE: RECENT ACQUISITIONS TO THE COLLECTION AT OGDEN MUSEUM OF SOUTHERN ART.
CHECK OUT THE O BLOG FOR MORE RESOURCES!
QUESTIONS? EMAIL
EDUCATION@OGDENMUSEUM.ORG.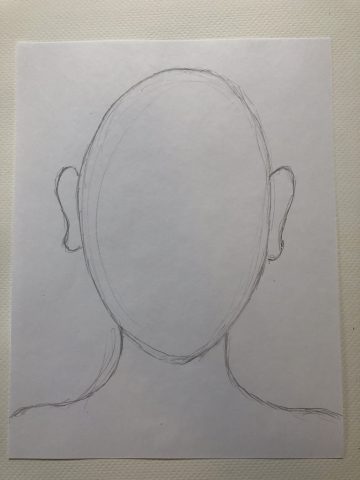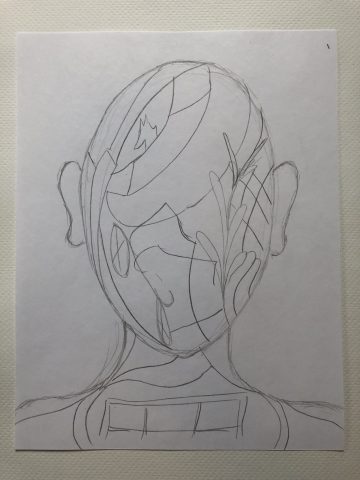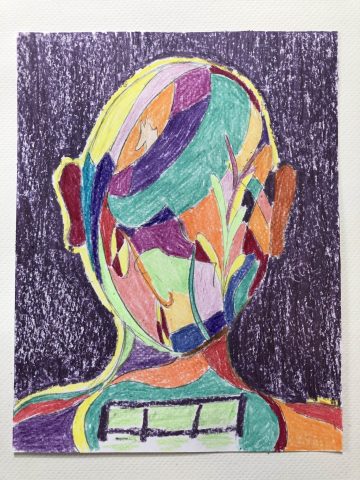 ___________________________________________
Actividades artísticas O-riginales: Retrato abstracto inspirado por  Horton Humble 
Ilustra tus pensamientos internos en forma de  autorretrato abstracto, inspirado por Horton Humble.
Horton Humble ​es miembro de ​Level Artist  Collective ​ e hijo nativo de Nueva Orleans. Humble  creció en el Distrito 6, conocido hoy popularmente  como el barrio ​Faubourg Tremé​ . La obra de Horton  está fuertemente influenciada por sus viajes: desde  Portugal hasta el continente africano.  Recientemente, su obra se ha inclinado más hacia el  arte figurativo y su narrativa se ha visto más  influenciada por los problemas sociales que enfrenta  Nueva Orleans y los Estados Unidos de América.
Materiales
Lápices, crayones, papel
Instrucciones
Paso 1: Utiliza un lápiz para bocetar una cara, cuello y hombros.
Paso  2: ¿Qué imágenes vienen a tu mente cuando  piensas acerca de tu identidad personalidad? Boceta estas imágenes dentro del retrato​. ​Abstrae estas  imágenes  simplificando  y  exagerando  sus  rasgos.
Paso  3:  ¿Qué  colores  van  con  tu  personalidad?  Utiliza crayones de colores para colorear tu autorretrato.
Paso 4: ¿Cuál es tu color favorito? Colorea el fondo utilizando ese color.
Vocabulario
Retrato:​ imagen de una persona, género de arte
Abstracción:  una  obra  de  arte  conformada  por  formas y colores
Identidad:  ​la  idea  que  una  persona  tiene  de  sí  misma