In this Movement Monday Activity, imagine murals in your community.
Download Activity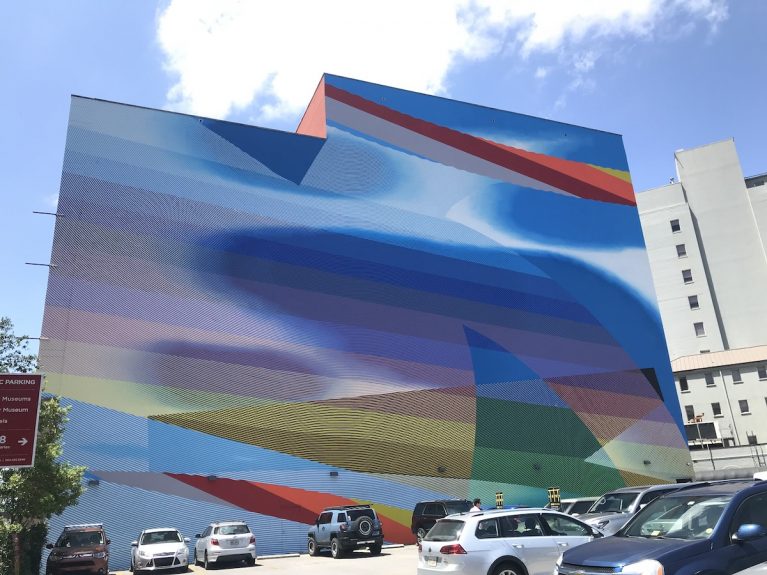 In every community there is a story to be told. Stories are about making connections. A story can create a connection between the people and their community. The power of community storytelling lies not only in the stories, but in the process of creating those stories. Murals are a way to incorporate the ideals of a community into a painted story.
Supplies
Pencil, Paper
Instructions
Step 1: With the help of your parent or guardian walk around your community and look for an ideal area or building that you would like to put a mural. What story do you want to tell about this location? If you're not able to talk a walk, pick a place from memory or look up your neighborhood in books or online.
Step 2: With the help of your parent or guardian take a picture of the area you would like to put a mural. While you are looking at the space, think about these questions:
Why did you pick this location for your mural?
How would a mural in this location affect you or your community?
What story do you want to tell with your mural?
When thinking about these questions, visualize how your artwork my take shape.
Step 3: Once you return home, use a pencil and paper to write down your story. Think about how this story connects with the area you chose and your community. What colors, shapes, words or images come to mind when you think of your story? Write these ideas down.
Step 4: Have your friends and family listen to your story and your idea for a mural. What do they think about it? What would that add or change?
SEE MORE FUN AT-HOME ACTIVITIES FOR KIDS ON THE O BLOG!
QUESTIONS? EMAIL EDUCATION@OGDENMUSEUM.ORG
_______________________________________________________________________
Lunes de movimiento: Narración comunitaria a través de murales
En esta actividad de lunes de movimiento, imaginate murales en tu comunidad.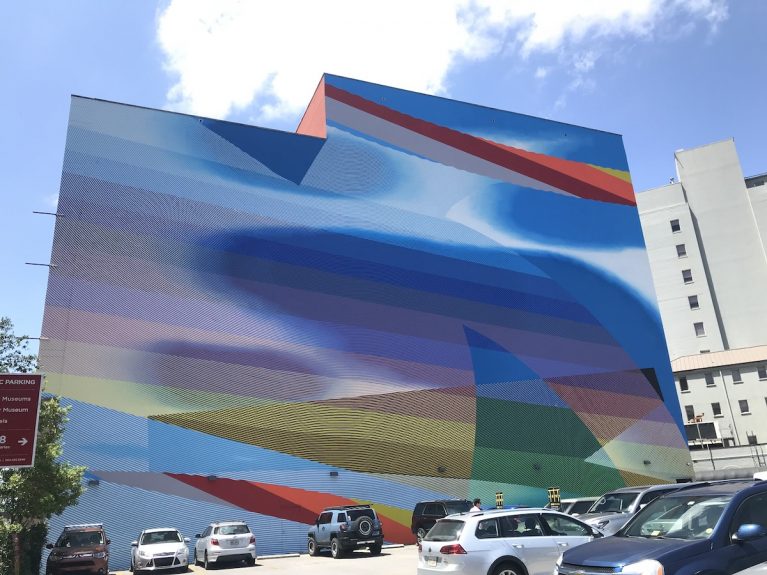 En cada comunidad hay una historia que contar. Las historias tratan de hacer conexiones. Una historia puede crear una conexión entre las personas y su comunidad. El poder de la narración comunitaria radica no solo en las historias, sino en el proceso de creación de esas historias. Los murales son una forma de incorporar los ideales de una comunidad en una historia pintada.
Materiales
Lápiz, papel
Instrucciones
Paso 1: Con la ayuda de tus padres o tutores, camina por tu comunidad y busca un área o edificio ideal en el que te gustaría poner un mural. ¿Qué historia quieres contar sobre este lugar? Si no puedes caminar, elige un lugar que esté en tu memoria o busca tu vecindario en libros o en internet.
Paso 2: Con la ayuda de tus padres o tutores, toma una fotografía del área en la que te gustaría poner un mural. Mientras miras el espacio, piensa en estas preguntas:
● ¿Por qué elegiste esta ubicación para tu mural?
● ¿Cómo te afectaría a ti y a tu comunidad un mural ubicado en este vecindario?
● ¿Qué historia quieres contar con este mural? Cuando pienses en estas preguntas, visualiza la forma que tu obra de arte pueda tomar.
Paso 3: Cuando regreses a tu hogar, utiliza lápiz y papel para escribir tu historia. Piensa en cómo tu historia se relaciona con la ubicación que elegiste y con tu comunidad. ¿Qué colores, formas, palabras o imágenes vienen a tu mente cuando piensas en tu historia? Escribe estas ideas.
Paso 4: Haz que tu familia y amigos escuchen tu historia y tu idea de mural. ¿Qué opinan? ¿Qué cambiarían o añadirían?
¡ENCUENTRA MÁS ACTIVIDADES DIVERTIDAS PARA NIÑOS PARA HACER EN CASA EN THE O BLOG!
¿PREGUNTAS? ENVÍA UN EMAIL A EDUCATION@OGDENMUSEUM.ORG.
Translation by Agostina Coll