Español abajo
Explore your home for objects to create an abstract monochromatic assemblage.
Download Activity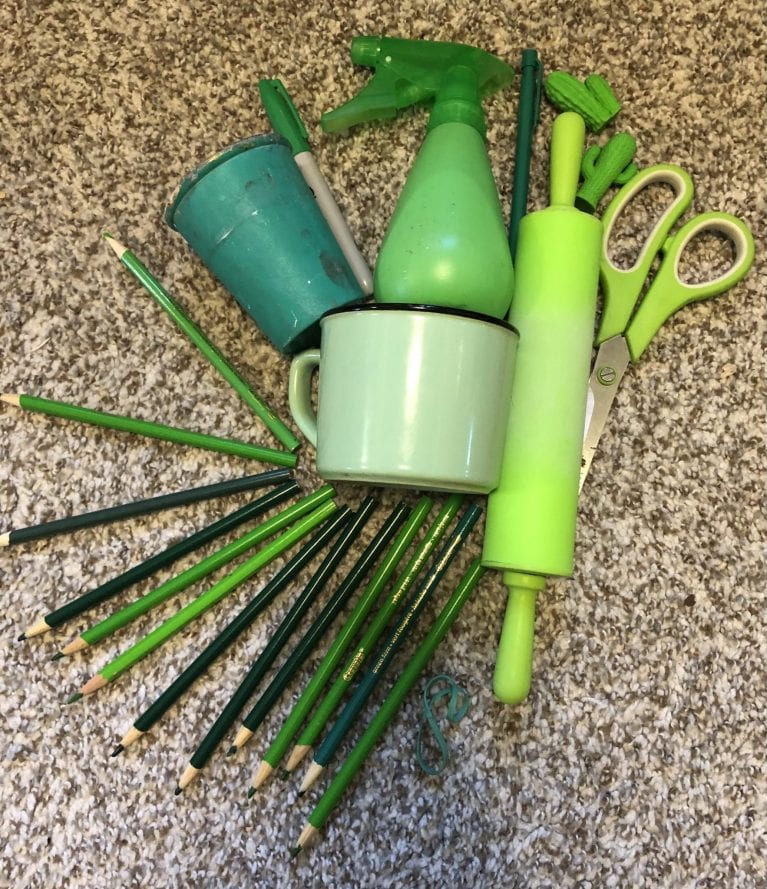 Instructions
Step 1: What is your favorite color? Search your home for found objects of that color. Be sure to ask a parent or guardian's permission to use the objects you find.
Step 2: Notice the size, shape and texture of the objects. How do these characteristics relate to each other? How are they different?
Step 3: Think about the composition of your artwork. Will you arrange items that are similar in size, shape and texture together? Take some time to arrange your objects.
Step 4: When you are happy with your arrangement, take photos of your assemblage to share with friends and family.
Step 5 (Optional): Search your home for objects of a different color and recreate the assemblage.
Vocabulary 
Monochromatic – containing or using only one color
Composition – is the arrangement or placement of visual elements in a piece of artwork
Abstract – an artwork that is comprised of shapes and colors
Assemblage – a work of art made by grouping found or unrelated objects together
Found Object – a thing that someone else has given or thrown away that is often repurposed by artists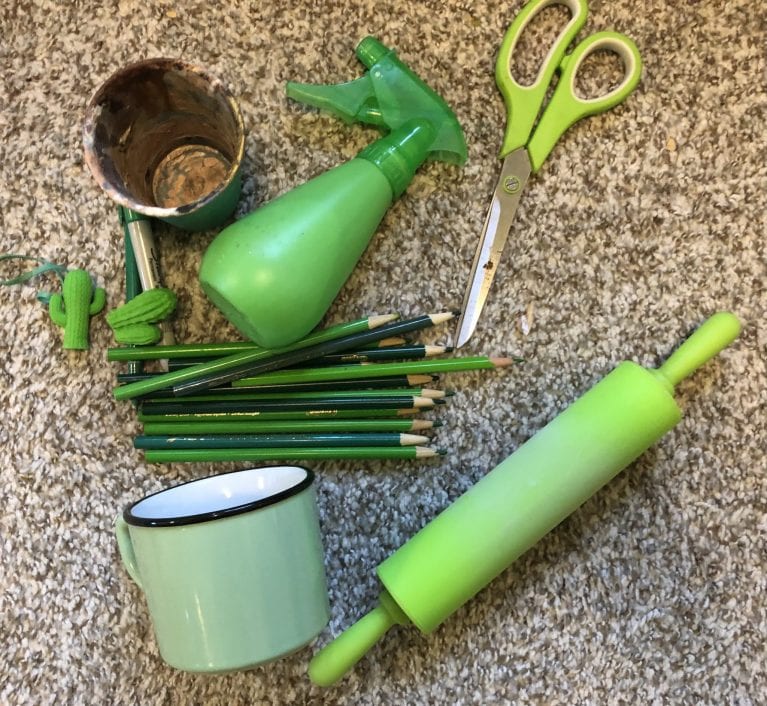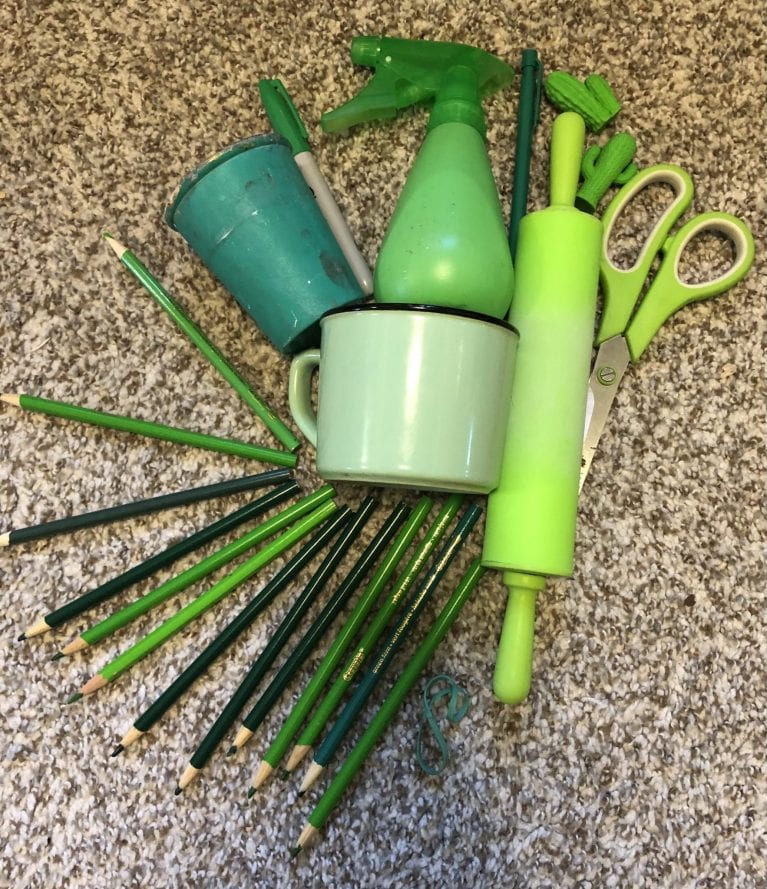 SEE MORE FUN AT-HOME ACTIVITIES FOR KIDS ON OGDEN MUSEUM ONLINE!
QUESTIONS? EMAIL EDUCATION@OGDENMUSEUM.ORG
___________________________________________________________________
Lunes de movimiento: Búsqueda del tesoro monocromática abstracta
Explora tu hogar y busca objetos para crear un ensamblaje monocromático abstracto.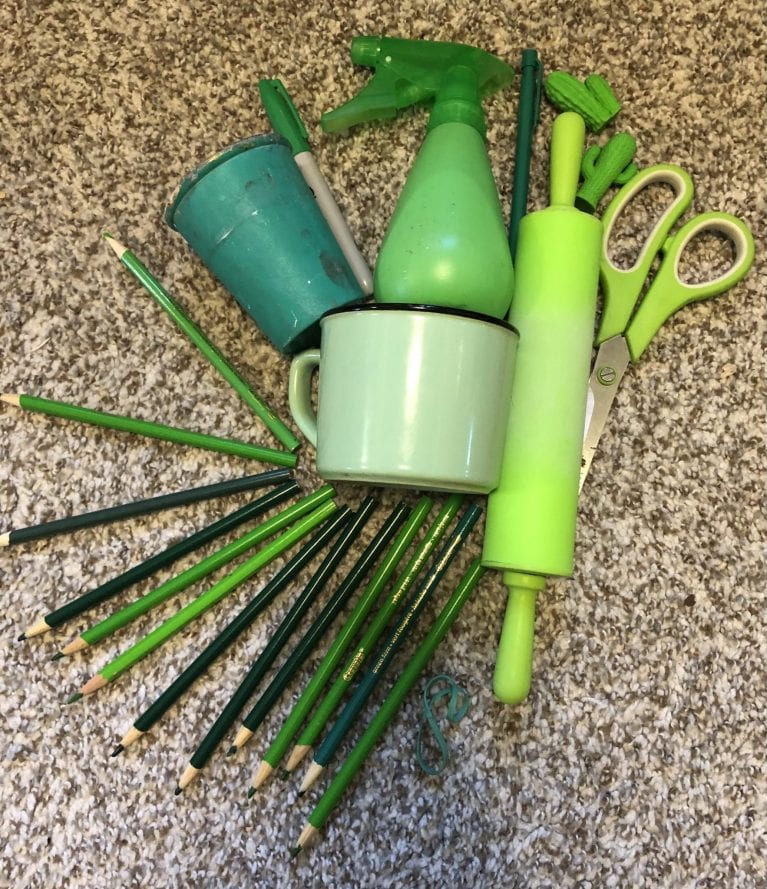 Instrucciones
Paso 1: ¿Cuál es tu color favorito? Busca en tu casa objetos encontrados de ese color.
Asegúrate de pedir permiso a un padre o tutor para usar los objetos que encuentres.
Paso 2: Observa el tamaño, la forma y la textura de los objetos. ¿Cómo se relacionan estas características entre sí? ¿En qué se diferencian?
Paso 3: Piensa en la composición de tu obra de arte. ¿Organizará elementos que sean
similares en tamaño, forma y textura juntos? Tómate un tiempo para organizar tus objetos.
Paso 4: Cuando estés satisfecho con la disposición de los objetos, toma una foto de tu ensamblaje para compartir con amigos y familiares.
Paso 5 (Opcional): Busca en tu casa objetos de un color diferente y recrea el ensamblaje.
Vocabulario
Monocromático: que contiene o utiliza un solo color.
Composición: es la disposición o colocación de elementos visuales en una obra de arte.
Abstracto: una obra de arte compuesta por formas y colores.
Ensamblaje: una obra de arte hecha agrupando objetos encontrados o no relacionados.
Objeto encontrado: un objeto que alguien donó o descartó y que los artistas reutilizan para hacer arte.
¡VE MÁS ACTIVIDADES DIVERTIDAS ​PARA NIÑOS PARA HACER EN CASA​ ​EN​ ​OGDEN​ ​MUSEUM​ ​ONLINE​!
¿PREGUNTAS? ENVÍA UN EMAIL A EDUCATION@OGDENMUSEUM.ORG​.
Translation by Agostina Coll