Have you had the chance to see MOMO's mural on the side of the Ogden Museum of Southern Art? His artwork is part of Unframed, presented by The Helis Foundation – a project by the Arts Council New Orleans. Now you can make MOMO's mural your Zoom background! We have included two options for you below.
How to Customize Your Background
MOMO is an American artist working in public spaces with homemade tools. His current interests lie with an evolving range of adapted masonry techniques to draft, design and organize wall murals. The artist has been commissioned for murals by the New York City DOT, the John Hancock Tower in Boston, the Millennium Iconoclast Museum of Art in Brussels, The Contemporary Art Museum in Oaxaca Mexico, Art Production Fund NY, Facebook, Pepsi, NFL, World Trade Center and The European Capital of Culture, all while living and keeping a studio in New Orleans.
LEARN MORE ABOUT UNFRAMED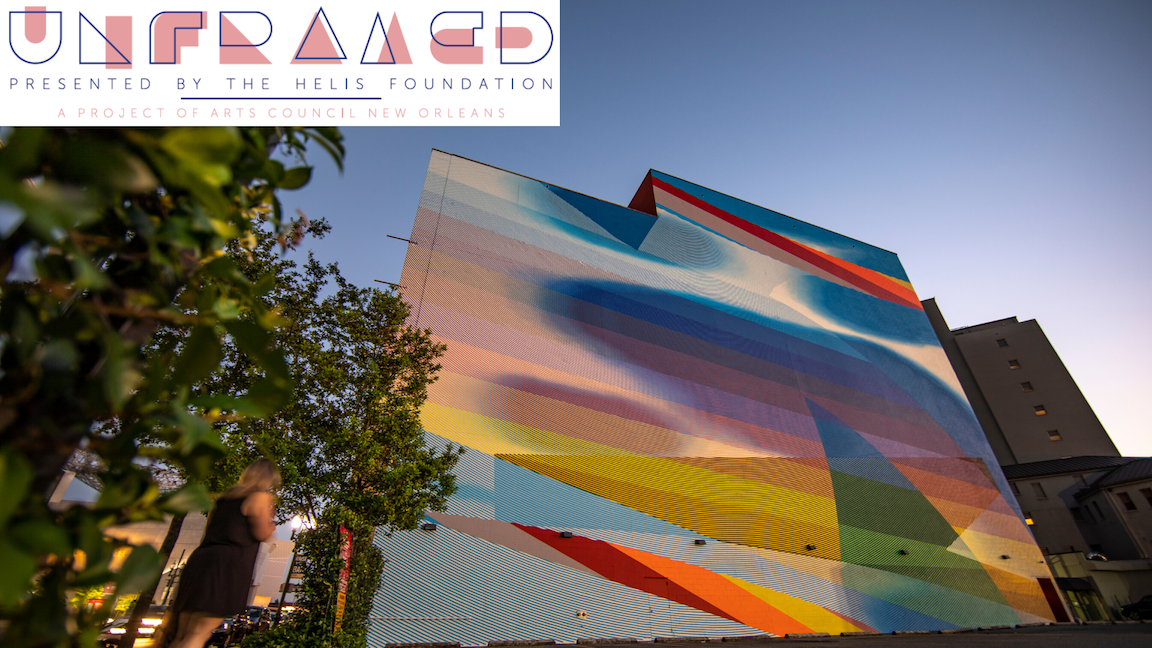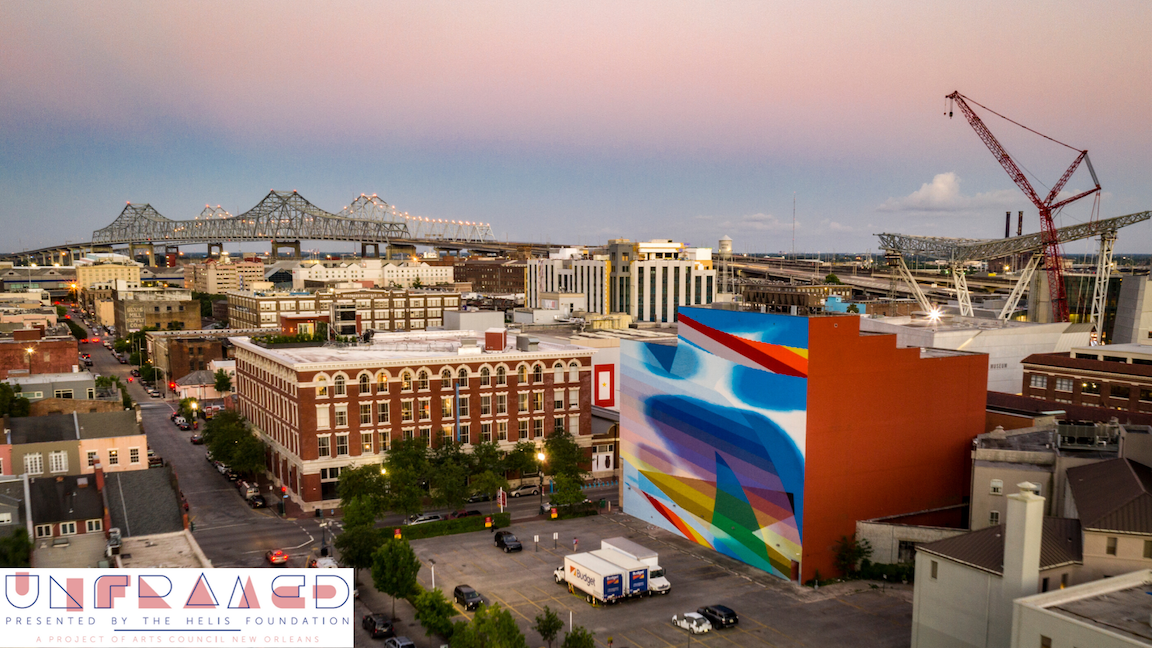 ABOUT THE PARTNERS
The Helis Foundation is a Louisiana private foundation, established and funded by the William Helis Family with a mission of advancing access to the arts and continuing a family legacy of philanthropic support to the New Orleans community.
The Helis Foundation makes grants to sustain operations, to provide free admission to, and to acquire significant art works on behalf of major institutions within the Metropolitan New Orleans area. The Art Funds also underwrite major initiatives and special projects, such as Prospect.3's Basquiat and the Bayou presented by The Helis Foundation, the ongoing Poydras Corridor Sculpture Exhibition presented by The Helis Foundation, the installation of Lynda Benglis' The Wave of the World in City Park, The Helis Foundation Enrique Alférez Sculpture Garden, Solidary & Solitary: The Joyner/Giuffrida Collection presented by The Helis Foundation organized by the Ogden Museum of Southern Art and the Baltimore Museum of Art, and most recently, The Historic New Orleans Collection's Tricentennial Exhibition, Art of the City: Post Modern to Post Katrina.
Arts Council New Orleans Unframed builds upon the Arts Council's experience in mural curation and established partnerships with public and private entities. Notably, the Arts Council coordinated the creation of 10 murals across the Fat City Neighborhood and organized murals for the One Time in New Orleans Campaign in partnership with the New Orleans Tourism Marketing Corporation. The Arts Council is private 501c3 nonprofit organization, whose mission is to improve quality of life in New Orleans by supporting, activating and investing in our City's greatest natural resource – our artists, cultural producers and creative citizenry.