Español abajo
Create a chain installation symbolizing strength.
Download Activity
Melvin Edwards is known for his dense, metal assemblages that honor the connection between African and African American art. Edward's great-great-great grandfather was a West African blacksmith and the African continent has, in his words, "always been there for me in one way or another." Blacksmithing is an important part of many African cultures.
Supplies
Markers, Pattern Paper, Construction Paper, Stapler
Instructions  
Step 1: Melvin Edwards often incorporates chains in his work and is known for his sculptures depicting chains. What do chains symbolize to you? Maybe they symbolize togetherness or a strong bond. Think about friends, family members or community members that represent strength to you.
Step 2: Use scissors to cut paper into strips.
Step 3: Use markers to decorate the strips of paper. Write words of strength on the strips. Write the names of your friends, family members or community members that represent strength to you.
Step 4: Use a stapler to staple one strip into a loop. Loop another strip through, then staple. Continue to loop strips to together to create a chain.
Step 5: Ask your immediate family members if they want to make and add their own link in your chain. When you are finished, decide where you want to hang your chain installation.
Vocabulary
Abstract – an artwork that is comprised of shapes and colors
Symbol – an object or concept that represents, stands for, or suggests another idea, visual image, belief, or action
Sculpture – an artwork made from materials such as glass, wood, clay, metal that is 3D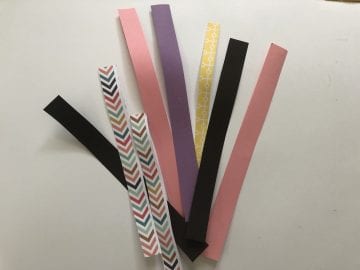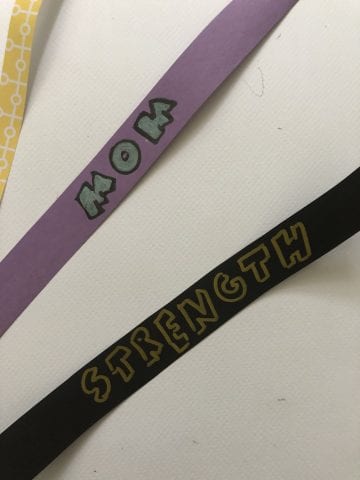 ___________________________________________
Actividades artísticas O-riginales: Instalación de cadena de papel Inspirado por Melvin Edwards
Construye una instalación que consista en una cadena que simbolice la fuerza.
Melvin Edwards es conocido por sus ensamblajes en metales densos que celebran la conexión entre el arte africano y el arte afroamericano. El trastatarabuelo de Edwards fue un herrero proveniente del oeste de África y en palabras del artista: "el continente africano siempre estuvo dentro de mí de una forma u otra". La herrería es una parte importante de muchas culturas africanas.
Materiales
Marcadores, papel de patrón, cartulina,  engrapadora.
Instrucciones
Paso 1: ​ Melvin Edwards generalmente incorpora  cadenas en sus obras y es conocido por sus  esculturas que representan cadenas. ¿Qué significan  para ti las cadenas? Quizás simbolicen la unión o un  vínculo fuerte. Piensa en amigos, miembros de tu  familia o miembros de tu comunidad que representen  fortaleza para ti.
Paso 2: ​Utiliza las tijeras para cortar el papel en tiras.
Paso 3:​ Utiliza los marcadores para decorar las tiras  de papel. Escribe palabras de fortaleza en las tiras.  Escribe los nombres de tus amigos, familia o  miembros de tu comunidad que representen fortaleza  para ti.
Paso 4:​ Utiliza la engrapadora para engrapar los dos  extremos de una tira de papel, formando un circulo.  Introduce otra tira de papel dentro del círculo y  engrapa la tira formando otro círculo. Repite este  proceso hasta que se forme una cadena. Paso 5:​ Pregúntale a algún miembro cercano de tu  familia si desea añadir su propio eslabón a tu cadena.  Cuando termines, decide dónde quieres colgar tu  instalación de cadena.
Vocabulario
Abstracción:  una  obra  de  arte  conformada  por  formas y colores.
Escultura: una obra de arte 3D hecha con materiales como vidrio, madera, arcilla o metal.
Símbolo: ​un objeto o concepto que representa o  sugiere otra idea, imagen visual, creencia o acción.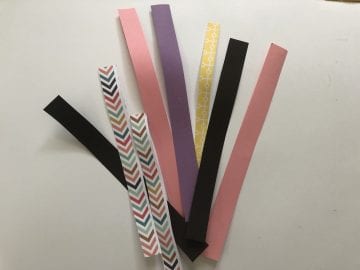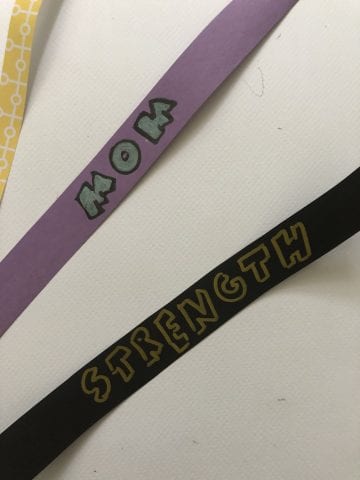 Translation by Agostina Coll