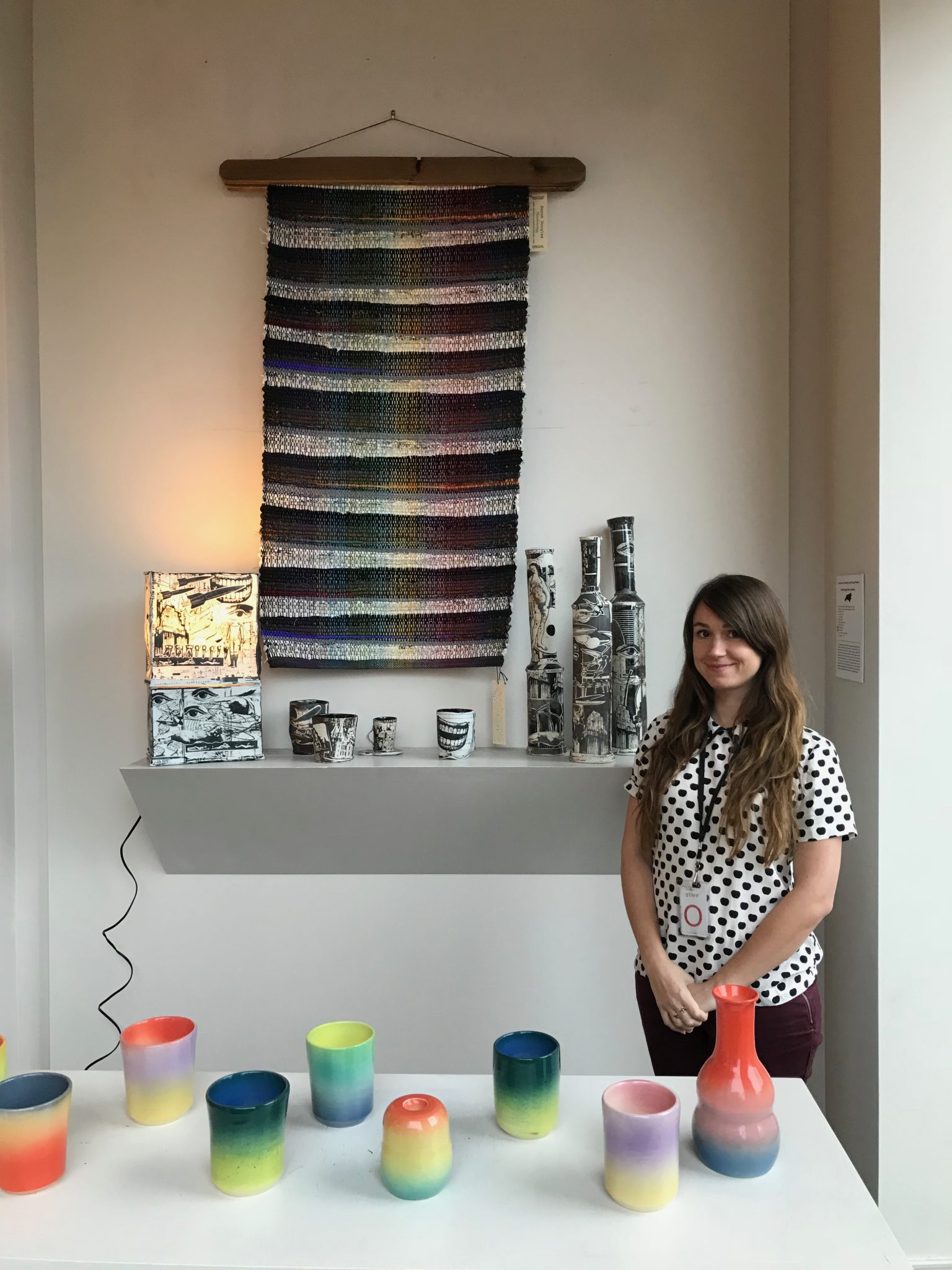 On the O Blog, we'll be posting a series about the Ogden Museum staff who work to support our mission to broaden the knowledge, understanding, interpretation and appreciation of the visual arts and culture of the American South
Today, let's learn a little more about the Manager of the Museum Store and Center for Southern Craft & Design, Jane Winslow.
Hey Jane! First off, tell us a little about yourself!
Hello! My name is Jane, I'm a Libra with a Scorpio moon and I have a two year old named Vivienne. I graduated from Tulane University in 2011 with a B.A. in Art History and Studio Art. I have been the Manager of the Museum Store and Center for Southern Craft & Design since 2014. Before that, I worked at Heriard-Cimino Gallery on Julia Street in New Orleans and as a florist in D.C. I am graduating from the University of New Orleans in December with a M.A .in Arts Administration.
Where are you from and what brought you to New Orleans?
I'm originally from Alexandria, Virginia. I moved to New Orleans in 2007 to go to school at Tulane University. I had been living in the Philadelphia area, which was cold, so I was happy to be somewhere warm and tropical. I studied Art History and Studio Art (mostly drawing and printmaking). I'm not exactly sure what drew me here, but I visited once in middle school and then again in high school and something about the sunlight, spirituality and sense of freedom enticed (18-year-old) me.
What do you like to do in your spare time? Do you have some personal passions?  
Obviously, I enjoy contemporary art, art writing, art history, crafts and crafting. I enjoy creating and being around people who enjoy creating. I love living in New Orleans because there are so many inspiring and clever people here. I love my friends, neighbors and the talented people I get to work and collaborate with through this job.
I recently re-discovered a passion for sharing toys and miniatures from the 80s (that my mom saved in the attic from my childhood) with my toddler.
How do you decide what to sell at the store?
The Center for Southern Craft & Design is a huge component of the Museum Store. We sell and exhibit handmade work by Southern artists, particularly those who work in mediums traditionally associated with "crafts." I am partial to ceramics, textiles and jewelry. We sell books related to current exhibitions and permanent collection artists, as well as proprietary products that are exhibition related or feature the Museum's logo.  We also sell some kids items.
What would you say is your favorite part of your job?
Curating Artist Spotlight exhibitions and coordinating our monthly Craft Happy Hour are my favorite aspects of this job. Recently, I had the opportunity to present a larger Artist Spotlight exhibition featuring the work of Margarita Cabrera, which will open in March. I have learned many skills through collaborating with local artists to produce our monthly Craft Happy Hour workshop series, and I feel lucky to have the opportunity to regularly work with talented members of our community.
Just for fun…
What was the first concert you went to?  
Raffi
If you were a crayon, what color would you be?
Celestial Blue or Pink Flamingo
---
About The Center for Southern Craft and Design and Museum Store
The Center for Southern Craft and Design supports the Ogden Museum's mission to broaden the knowledge, understanding, and appreciation of the visual arts and culture of the American South by offering talented Southern artisans and designers a platform from which to showcase and sell their work.
The Center hosts a quarterly Artist Spotlight series, which showcases leaders in craft fields including jewelry, ceramics, glassworks, woodworks, metalworks and textiles, and highlights the important place of craft at the heart of Southern Art. This series allows visitors to fully engage with and learn about the featured artist and their craft, with works shown in both the Center and in the atrium casework within the Museum.
Since 2008, the Center has also presented the annual exhibition, Art of the Cup and Teapot Spotlight, featuring two cups by each of the selected Southern ceramicists, this exhibition celebrates the aesthetic and design freedom the ceramic medium offers to enhance everyday routine and highlights the diverse methods artisans use to blur the boundaries of form and function.
The Center for Southern Craft and Design and Museum Store at the Ogden Museum of Southern Art offers a unique collection of items from the finest Southern artists, craftspeople & designers. Everyday Jane makes sure the store is in pristine condition and filled with exciting and new products for our countless museum visitors.