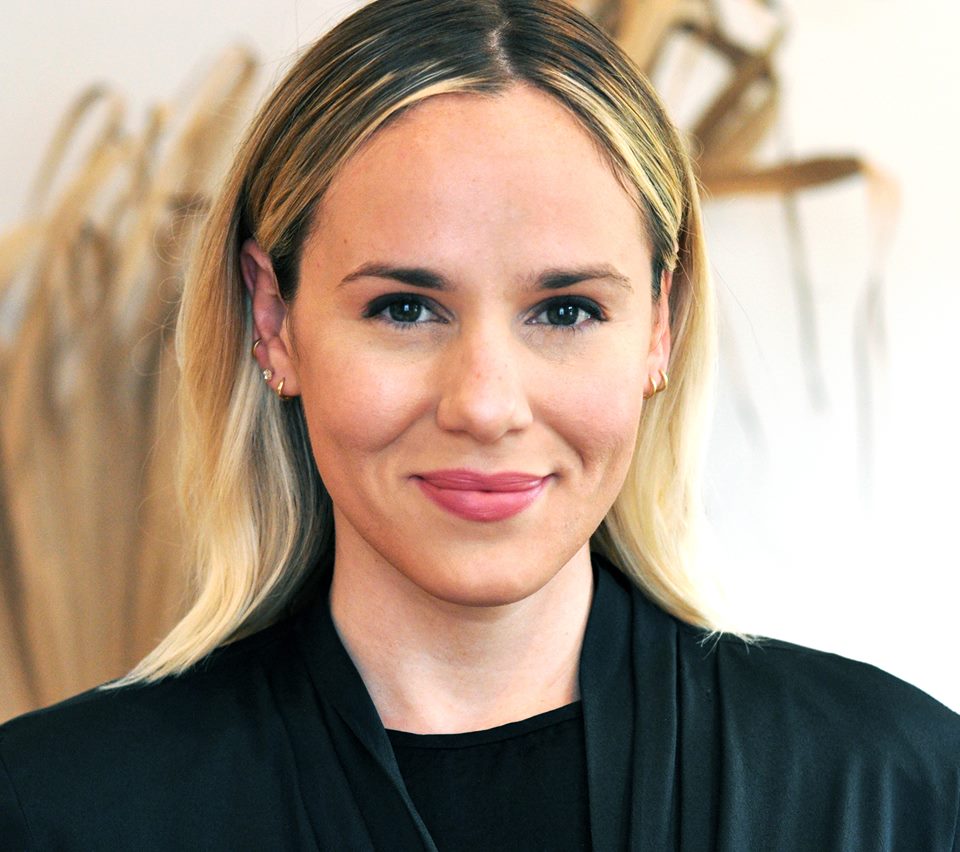 Bonnie Maygarden is a contemporary artist born in New Orleans, Louisiana. Currently, Bonnie is working at the Ogden Museum of Southern Art as a Curatorial Fellow. She attended Pratt Institute, where she received her Bachelor's of Fine Arts in 2010, and returned to New Orleans to attend Tulane University, where she received a Master of Fine Arts in 2014. Maygarden has exhibited extensively in the U.S. and abroad, and her work has been featured in publications such as New American Paintings and Artforum. Maygarden continues to live and work in New Orleans, Louisiana.
Let's get to know Bonnie Maygarden!
Your art was included in two Ogden Museum exhibitions this year: The Whole Drum Will Sound: Women in Southern Abstraction and Louisiana Contemporary, Presented The Helis Foundation. What did it feel like to see your work on view at the Museum?
Amazing! It was such an honor to be included in both shows. As a native Orleanian it means so much to me that my first museum show was at the Ogden, and I have so much respect for the presence the Museum has. I was also blown away by the other artists in both shows. The Whole Drum Will Sound was an incredibly powerful show to me, and being included with such amazing women was really humbling. This is my second time being in Louisiana Contemporary, and I always love seeing how the show turns out because it's always so different and exciting!
Courtney J. Martin, juror of Louisiana Contemporary, awarded your piece, "Parallel Moment," second place. What was your reaction when you heard the announcement? 
Dia has always been one of my favorite institutions, and when I saw that Courtney, the Deputy Director and Chief Curator of Dia Art Foundation, was the juror I was actually really intimidated. I still can't believe I had the opportunity to share my work with her, let alone that I won second place! I'm thrilled.
You are currently serving as a Curatorial Fellow at the Ogden Museum. What attracted you to this role?
There are so many facets of the art world. I love being in the studio but I also love looking at art, and sharing art with others. This role felt like an opportunity to learn more about how museums work to connect artworks and the public.
How is your work at the Museum helping you to develop as an artist?
Working in the Museum has really helped me learn about the technical aspects of presenting and caring for artworks. Art really works in partnership with its surroundings, and learning how to engage the viewer beyond just the work and in a larger conversation is really powerful.
The theme of illusion is associated with your work. What is it about illusion that excites and inspires you?
I often think about the art of painting existing in a world that is enveloped in the digital experience. I love illusion because the viewer has to experience an artwork in reality to understand it. It delays the instant gratification we have all become too comfortable with when looking at images.
When people see your work, they may not know that you use only paint. What are some of your viewers' frequent assumptions?
I've watched people use every ounce of their self control not to touch the painting to see if it's actually three-dimensional. I've also watched people look at the work for about three seconds, assume it's a print of a photo, and walk away. I hope that the people who took the time to try and understand the work feel rewarded.
Which artists do you look up to? Are there some styles or art movements that influence your work? 
I always love art that you have to experience to understand. I look up to Gerhard Richter, Anish Kapoor, Sam Gilliam, Pieter Vermeersch, the West Coast Minimalists (The Light and Space Movement) and Post-Digital Art. I also follow literally hundreds of artists that I've discovered on Instagram that I love and I find new artists all the time. It's a great time for access to art.
What advice do you have for other up and coming artists? 
Show up! Show up to museums, to galleries, to lectures, to your studio — if you don't show up nothing will happen, and if you do something will. It's as simple as that.