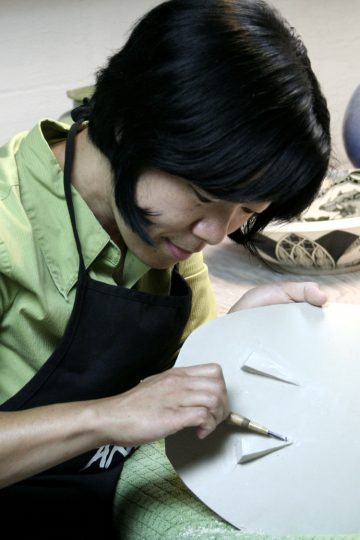 Now on view at the Ogden Museum through December 8 is the Ogden Museum Center for Southern Craft & Design's 12th annual invitational exhibition, Art of the Cup.
Art of the Cup was created in 2008 by Jan Kats, Director Emeritus for the Center of Southern Craft & Design. Prominently installed among the main galleries of the Ogden Museum of Southern Art, the exhibition features cups and teapots by world-class Southern ceramicists, which are also available for purchase.
Let's meet Yoko Sekino-Bové, one of the artists in this year's Art of the Cup!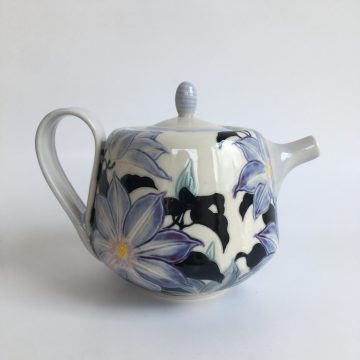 What inspired you to be a ceramicist? Are you self taught?
I was taking ceramic classes while working as a graphic designer. The joy of making functional ceramic wares with my hands led me to the path of a ceramic artist. It was a turning point that led me to earn my M.F.A. in ceramics and become a full-time studio artist.
Are there any specific techniques used when creating your work?
Much of my work is a combination of carving, Sgraffito, underglaze and glaze painting, with an option of gold and/or silver luster. The vision I get for each piece requires different techniques every time. It is fun to experiment with various techniques in order to achieve the visual effects.
What inspired the form, colors and patterns in your work displayed in Art of the Cup?
For this exhibition, I tried to come up with forms and designs that are comfortable to use, for people to enjoy using them everyday. It is a potter's privilege to create artwork that can connect with people through touch and establish an intimate relationship.
What is the meaning behind the name of your work?
The plant motifs I select usually come from my garden and the backyard (or sometimes my mom's). The titles follow their common names.
Is this your first time exhibiting in the Ogden Museum of Southern Art? If so, how does it feel to see your work on display? If not, what does exhibiting in the Ogden Museum of Southern Art mean to you as a Southern artist?
It's been several years since I was invited to the Art of the Cup show for the first time. I was ecstatic when the curator invited me. She told me that she would consider me as a Southern artist since I served and lived in Florida as an artist-in-residence. The year was so special and I loved to be considered as a Southern artist. Since then, I served as an artist-in-residence in Alabama and Georgia as well; I am almost qualified as a Southern Bell. Thank you for keeping my Southern connection alive and real by having me as a part of this important and special exhibition every year!
Does your work reflect any outside influences in your life? 
Yes, it does. I believe that everything each artist makes is a reflection of his or herself, almost like a self-portrait. As our skills advance and we gain a wider vocabulary in our work, the more our personality and thoughts will be exposed for the people to see. Some artists make it subtle, some in your face, but I think that is ultimately what people are looking for in art: the naked self.
Do you work or explore in any other mediums besides ceramics? If so, how does it influence your ceramics techniques?
There are so many different mediums I would like to try, but for now, I am still learning ceramics, so those have to be saved for later. The more I learn in ceramics, the deeper it gets.
Are you displaying work anywhere else? If so, where can your work be found? Does your work reflect those currently on display in Art of the Cup?
There are several galleries that carry my work. Here are some of the galleries' websites where people can purchase my work online:
Charlie Cummings Gallery, Gainsville, FL
The Clay Studio, Philadelphia, PA
Red Lodge Clay Center, Red Lodge, MT
My work may be showing up in ceramic galleries near you for a seasonal show or two, please check with your local galleries!