Español abajo
Learn about the history of the Mississippi River while creating an abstract watercolor.
Download Activity
Kael Alford's Bottom of Da Boot documents the South Louisiana communities most affected by land loss due to the oil industry and climate change. The more than 1,500 residents of Point-aux-Chenes and Isle de Jean Charles are a mix of native tribes, French and American settlers. Alford's ancestry can be traced to the native tribes of the region through her maternal grandmother. Her work compassionately tells the story of the people and environments of South Louisiana – the front line of America's struggle with coastal land loss and climate change.
Supplies
Template, Washable Markers, Black Sharpie, Paintbrush, Cup for water, Napkins
Instructions 
Step 1: Study an image of the river paths throughout history. Notice how the river path changes over time.
Step 2: Where would the river turn if there were no levees? Use a permanent marker to draw river paths on the template of Louisiana.
Step 3: Use washable makers to color the river paths. You don't have to color in all of the white space perfectly. In the next step we will use water to fill in the rest of the space. Next, color in the Louisiana state shape and background if you want.
Step 4: Use water and a paintbrush to "paint" over the river paths and see how the marker bleeds with the water making a watercolor painting. Be sure to lightly dip the brush in the water then wipe the brush off on the edge of the cup to lessen the amount of water you use. Remember to clean the brush in the water when changing to another color.
CHECK OUT THE O BLOG FOR MORE RESOURCES!
QUESTIONS? EMAIL EDUCATION@OGDENMUSEUM.ORG.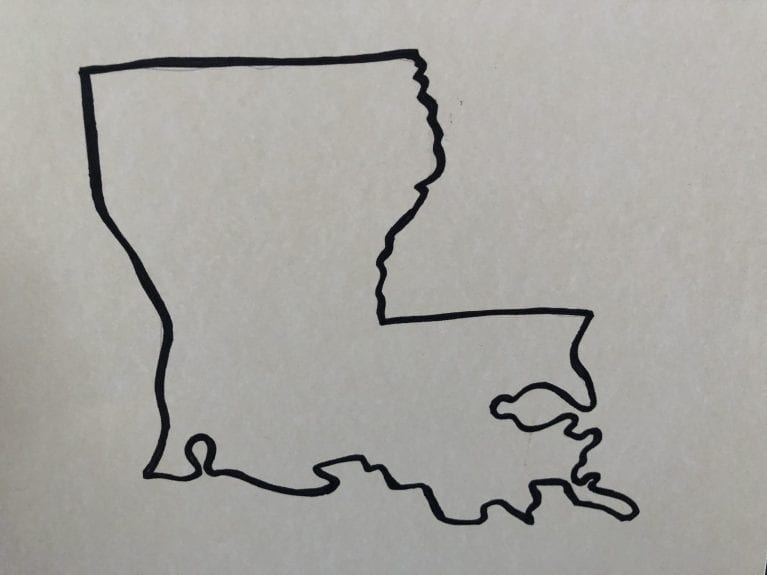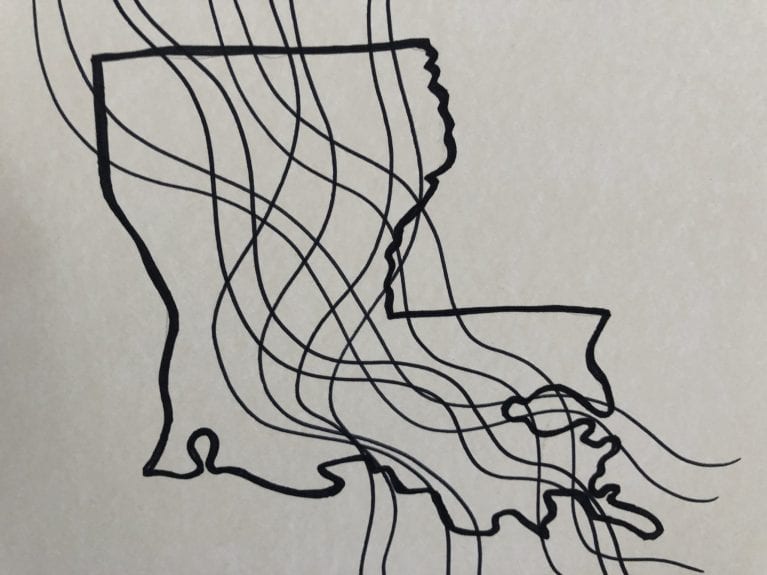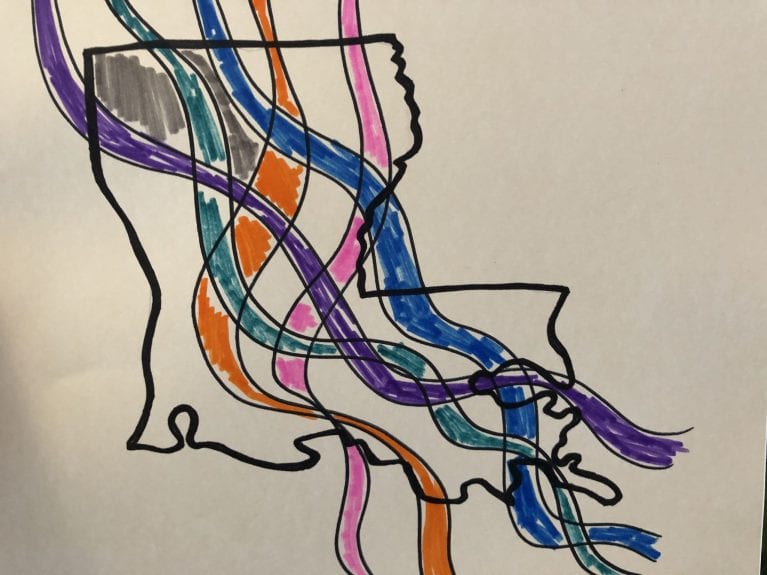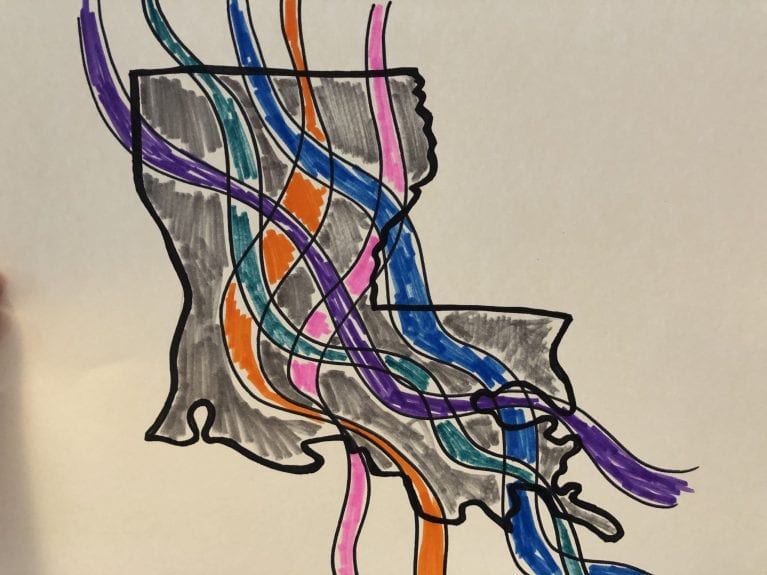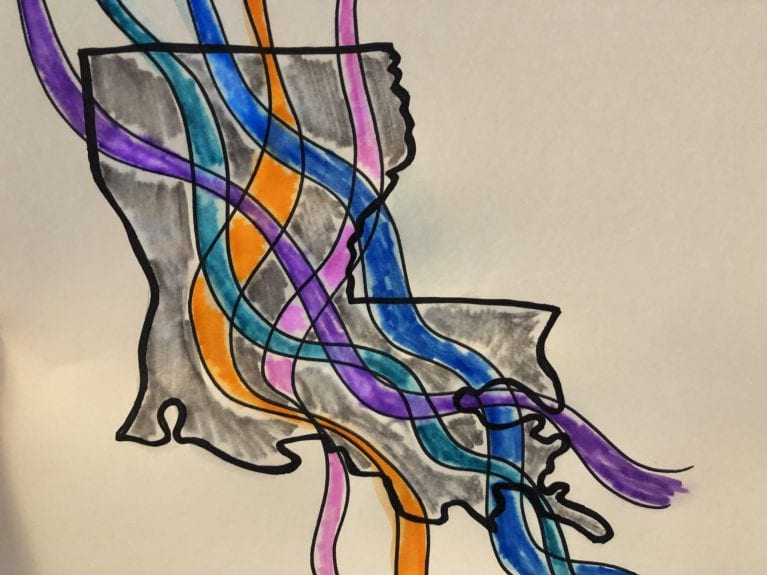 _______________________________________________________________________
Actividad artística O-riginal: Río acuarelado Inspirado por Kael Alford
Aprende más sobre la historia del río Misisipi mientras creas una acuarela abstracta.
Descargar Actividad
Bottom of Da Boot de Kael Alford documenta la vida de las comunidades del sur de Luisiana que fueron más afectadas por la pérdida de tierras debido a la industria petrolera y el cambio climático. Los más de 1.500 residentes de Point-aux-Chenes y la Isle de Jean Charles son una mezcla de tribus nativas y de colonos franceses y americanos. Los ancestros de Alford de parte de su abuela materna provienen de las tribus nativas de la región. Con delicadeza, su obra cuenta la historia de la gente y los ambientes del sur de Luisiana: estado que está en la primera línea de batalla contra la erosión costera y el cambio climático.
Materiales
Plantilla del estado de Luisiana, marcadores lavables, marcador indeleble negro, pincel, taza para el agua, servilletas.
Instrucciones
Paso 1: Analiza unas imágenes de la trayectoria del río a través de la historia. Fijate cómo la vía fluvial cambia con el tiempo.
Paso 2: ¿Qué forma tendría el río si no hubiera un dique? Utiliza el marcador indeleble para dibujar el trayecto del río en la plantilla de Luisiana.
Paso 3: Utiliza marcadores lavables para colorear el trayecto del río. No es necesario que colorees todo el espacio blanco de forma perfecta. En el próximo paso, utilizaremos agua para rellenar el resto del espacio en blanco. Luego, si lo deseas, colorea la forma del estado de Luisiana y el fondo.
Paso 4: Utiliza el agua y el pincel para "pintar" sobre la trayectoria del río y observa como el marcador se corre con el agua, formando una pintura de acuarela. Asegurate de apenas mojar el pincel en el agua y luego presiona el pincel contra el borde de la taza para escurrir la cantidad de agua. Recuerda limpiar el pincel con agua antes de utilizar otro color.
¡VISITA EL O BLOG PARA MÁS RECURSOS! 
¿PREGUNTAS? ENVÍA UN EMAIL A EDUCATION@OGDENMUSEUM.ORG.
Translation by Agostina Coll