Español abajo
Learn about the history of the Mississippi River while creating an abstract watercolor.
Download Activity
Kael Alford's Bottom of Da Boot documents the South Louisiana communities most affected by land loss due to the oil industry and climate change. The more than 1,500 residents of Point-aux-Chenes and Isle de Jean Charles are a mix of native tribes, French and American settlers. Alford's ancestry can be traced to the native tribes of the region through her maternal grandmother. Her work compassionately tells the story of the people and environments of South Louisiana – the front line of America's struggle with coastal land loss and climate change.
Supplies
Template, Washable Markers, Black Sharpie, Paintbrush, Cup for water, Napkins
Instructions 
Step 1: Study the image of the river paths throughout history. Notice how the river path changes over time.
Step 2: Where would the river turn if there were no levees? Use a permanent marker to draw river paths on the template of Louisiana.
Step 3: Use washable makers to color the river paths. You don't have to color in all of the white space perfectly. In the next step we will use water to fill in the rest of the space. Next, color in the Louisiana state shape and background if you want.
Step 4: Use water and a paintbrush to "paint" over the river paths and see how the marker bleeds with the water making a watercolor painting. Be sure to lightly dip the brush in the water then wipe the brush off on the edge of the cup to lessen the amount of water you use. Remember to clean the brush in the water when changing to another color.
SEE KAEL ALFORD'S FLOODING ON ISLAND ROAD, LOOKING TOWARDS ISLE  DE JEAN CHARLES IN REVELATIONS: RECENT PHOTOGRAPHY ACQUISITIONS AT THE OGDEN MUSEUM.
CHECK OUT THE OGDEN MUSEUM ONLINE FOR MORE RESOURCES !
QUESTIONS? EMAIL EDUCATION@OGDENMUSEUM.ORG.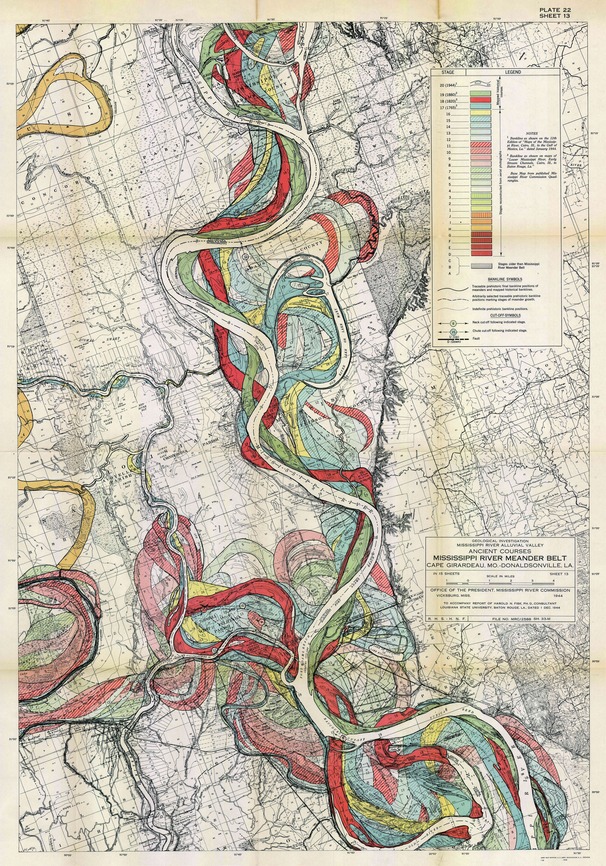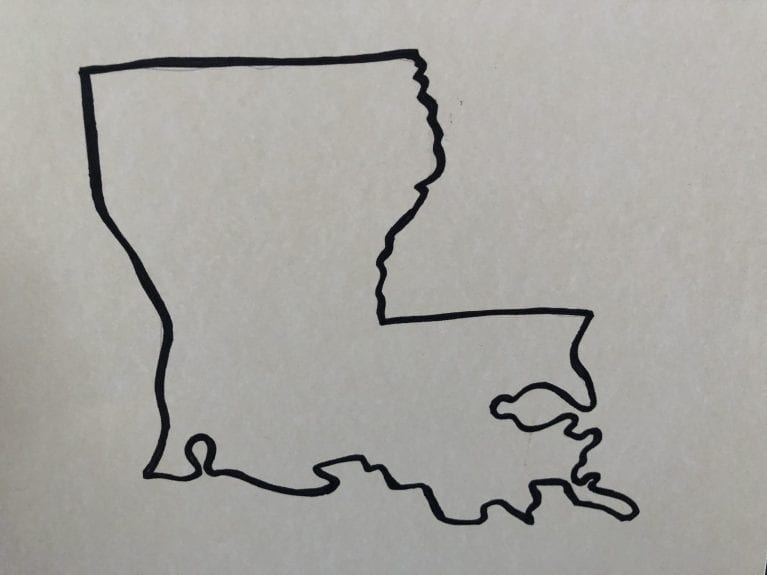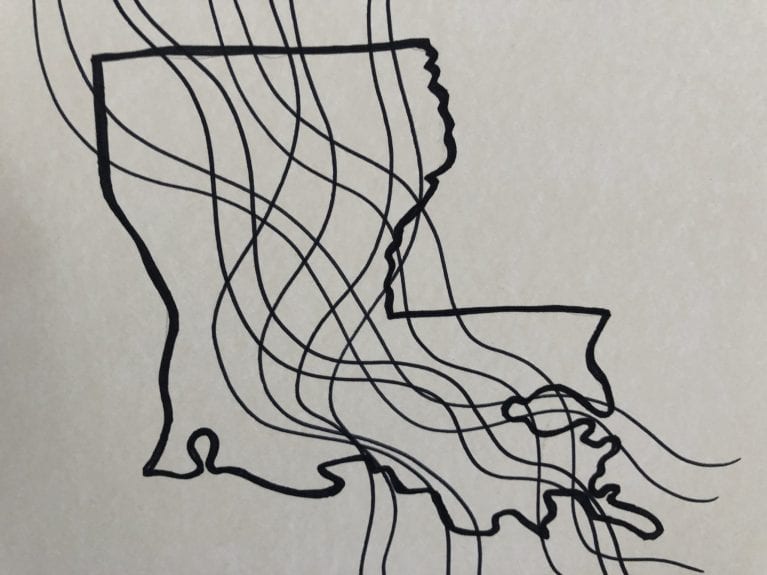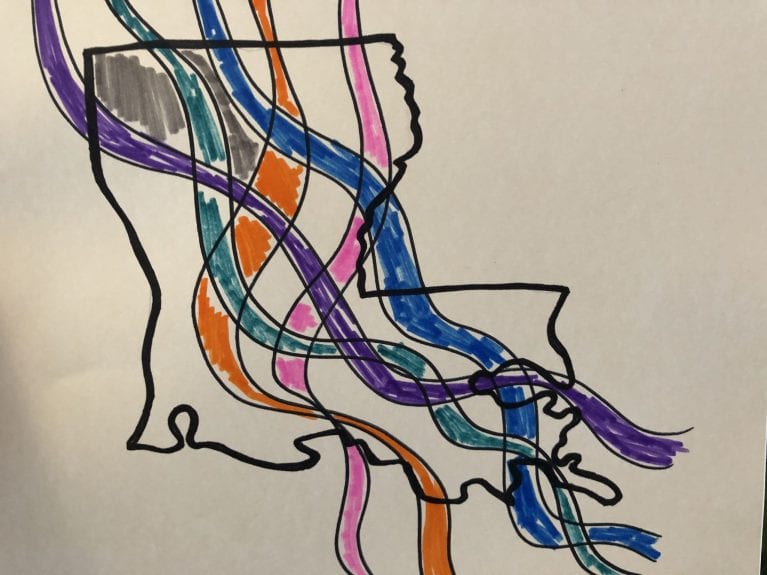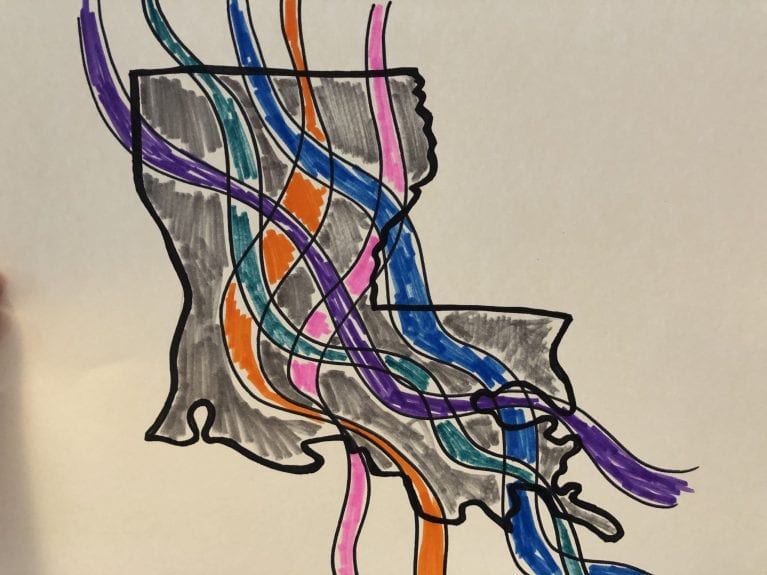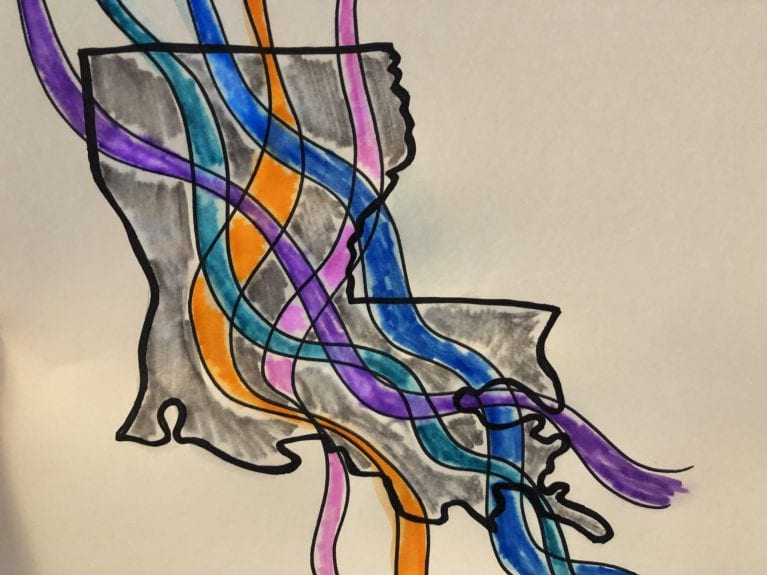 _______________________________________________________________________
Actividad artística O-riginal: Collage de paisaje  industrial inspirado por  David Emitt Adams 
Crea un collage de un paisaje inspirándote en las fotografías de paisajes industriales de Adams.
Descargar Actividad
En su trabajo artístico, ​David Emitt Adams utiliza métodos fotográficos históricos para crear un diálogo sobre el pasado y el presente. ​Poder explora el paisaje industrial de la industria petrolera estadounidense. Estas fotografías fueron tomadas en exteriores, con una cámara construida a medida, la cual expone las emulsiones fotosensibles que se encuentran en las tapas de los barriles de 55 galones de petróleo.
Materiales
Pegamento en barra, marcador negros y gris, cartulina negra, cartulina blanca.
Instrucciones
Paso 1:​ ¿Cómo es el paisaje natural o industrial en el lugar en donde vives?
Paso 2:​ Utiliza un plato para trazar un círculo sobre la cartulina blanca y córtalo con una tijera. Esto servirá como tu fondo.
Paso 3:​ Utiliza un marcador para dibujar un paisaje en otra cartulina blanca. Incluye edificios, árboles, etc.
Paso 4: ​Utiliza las tijeras para cortar los objetos en tu paisaje. Luego corta formas de la cartulina negra. Utiliza el pegamento en barra para pegar las formas en tu paisaje o sobre el fondo.
Paso 5: ​Corta el papel negro en pequeñas tiras. Enrolla las tiras y pégalas. Luego, pega la cartulina negra enrollada entre tus objetos y en el fondo para crear un efecto 3D.
VÉ MÁS DE ​VALERO BILL GREEHEY REFINERY  NO. 1, CORPUS CHRISTI, TX DE ​ DAVID EMITT ​EN ​REVELACIONES: FOTOGRAFÍAS  ADQUIRIDAS RECIENTEMENTE ​ EN EL MUSEO OGDEN.
¡VISITA OGDEN  MUSEUM ONLINE​ PARA MÁS RECURSOS! 
¿PREGUNTAS? ENVÍA UN EMAIL A EDUCATION@OGDENMUSEUM.ORG.
Translation by Agostina Coll