Español abajo
Create a sculptural piece that utilizes repetition and pattern.
Download Activity
John Barnes is a sculptor who predominately creates wood assemblages. Barnes first took an interest in art when he enrolled in the Baton Rouge public school system, but his passion flourished while enrolled at Southern A&M University. Using wood found in his Algiers neighborhood, Barnes pieces the debris and refuse into intricate designs influenced by racial politics, gentrification and income inequality. New Orleans and the Mississippi Delta region, more broadly, form the backdrop for the artist's work, while the material, subject matter and final display are directly of the place.
Supplies
Cardboard, Popsicle Sticks, Hot Glue or Tape, Scissors
Instructions  
Step 1: Start with a rectangular piece of cardboard. This will be your backing.
Step 2: Use scissors to cut another piece of cardboard into strips.
Step 3: Think about how you want to arrange your strips of cardboard and popsicle sticks on the backboard. Try different arrangements, what pattern and lines are you creating? Try adding depth by layering the pieces.
Step 4: Once you have decided on your composition ask an adult to help you use hot glue to secure the pieces to the backboard. If you don't have hot glue, white glue or tape can be substituted.
Vocabulary
Abstract – an artwork that is comprised of shapes and colors
Found Object – a thing that someone else has given or thrown away that is often repurposed by artists
Sculpture – an artwork made from materials such as glass, wood, clay, metal that is 3D
SEE JOHN BARNES DOE POPPIN' II IN BUILT SCULPTURAL ART FROM THE PERMANENT COLLECTION AT THE OGDEN MUSEUM OF SOUTHERN ART. CHECK OUT THE O BLOG FOR MORE RESOURCES!
QUESTIONS? EMAIL EDUCATION@OGDENMUSEUM.ORG.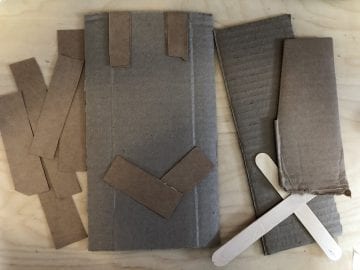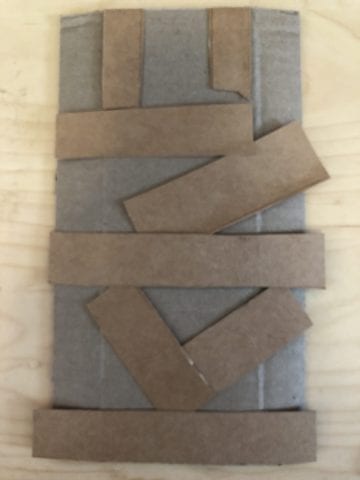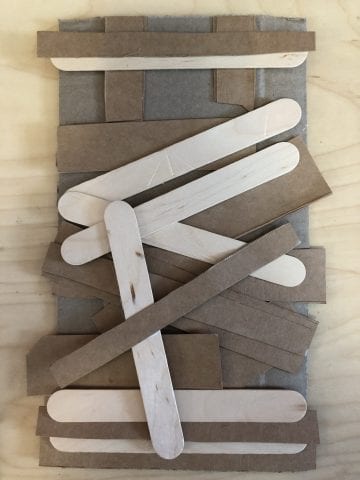 ______________________________________
Actividades artísticas O-riginales: Escultura de madera inspirada por John Barnes
Crea una escultura utilizando un patrón y repetición.
John  Barnes  es  un  escultor  que  crea  principalmente  ensamblajes de madera. Barnes se interesó en el arte por primera vez cuando se inscribió en una escuela pública de Baton  Rouge,  pero  su  pasión  surgió  mientras  estudiaba  en la Southern A&M University. Utilizando los residuos y escombros  de  pedazos  de  madera  que  encuentra  en  su  barrio, Algiers, Barnes crea diseños complejos, influenciados  por  políticas  raciales,  la  gentrificación  y  la  desigualdad salarial. Nueva Orleans y la región del delta del  Misisipi  son  el  trasfondo  de  las  obras  del  artista,  mientras que los materiales, temáticas y exhibición son directamente del lugar.
Materiales
Cartón, palitos de helado, pistola encoladora o cinta adhesiva, tijeras.
Instrucciones
Paso 1: ​Comienza con el pedazo rectangular de  cartón. Esta será tu base.
Paso 2: ​Utiliza la tijera para cortar otro cartón en tiras.
Paso 3:​ Piensa cómo quieres ordenar tus tiras de  cartón y palitos de helado en la base. Prueba distintas  formas, ¿Qué patrón y líneas estás creando? Añádele  profundidad, superponiendo las piezas.
Paso 4:​ Luego de que hayas decidido la composición,  pídele a un adulto que te ayude a utilizar la pistola  encoladora para pegar las piezas de cartón a la base.  Si no tienes pistola encoladora, puedes utilizar  pegamento blanco o cinta adhesiva.
Vocabulario
Abstracción:  una  obra  de  arte  conformada  por  formas y colores.
Escultura: una obra de arte 3D hecha con materiales como vidrio, madera, arcilla o metal.
Objecto encontrado: un objecto que alguien donó o descartó y que los artistas reutilizan para hacer.
VE  MÁS  DE  DOE POPPIN'II DE JOHN BARNES ​ EN LA  COLECCIÓN PERMANENTE DEL MUSEO OGDEN DE ARTE  SUREÑO​ .  ¡VISITA ​THE O BLOG PARA MÁS RECURSOS!
¿PREGUNTAS? ENVÍA UN EMAIL A EDUCATION@OGDENMUSEUM.ORG​.
Translation by Agostina Coll