Español abajo
Create an assemblage out of objects found in your house or neighborhood.
Download Activity
Jeffrey Cook was born in New Orleans in 1961, and was raised in the culturally rich neighborhood of Central City. Cook pursued a dance career that took him around the world touring.
In the mid-80s, Cook returned to New Orleans, establishing a studio in the neighborhood of his youth, Central City. Cook began to collect debris from the street, the detritus of urban blight and renovation. With a renewed focus on visual art, he created brightly colored paintings and richly textured assemblages, sculptures and collages that spoke to the patina and spirit of his home. He began to incorporate found objects, signs, and handmade dolls to comment on the social and physical neglect of a community, combined with a nostalgia for the neighborhood's former glory and hope for the future.
Supplies
Cardboard or Cardstock, Found Objects, Glue or Tape, Color Paper, Scissors, Crayons
Instructions
Step 1: Jeffrey Cook used found objects from his neighborhood to create art about the culture of his neighborhood. What are the characteristics of your neighborhood or home? What colors, plants, smells, sounds and people are present? 
Step 2: With the permission of a parent or guardian explore your neighborhood for found objects. If you're not able to talk a walk around your neighborhood, look around your house for objects to include in your assemblage.
Step 3: Once you have collected materials; find a place to setup your assemblage. Use a piece of cardboard or cardstock as your base. Arrange the objects on the background. If you have color paper use scissors to cut shapes to collage onto your assemblage or use it to wrap your objects.
Step 4: Once you have decided on the arrangement of your objects use glue or tape to secure them to the background.
Step 5: Use crayons to add details to your assemblage. Cook used symbols, words and numbers to represent people, places and things that were important to him and his neighborhood.
Vocabulary
Found Object – a thing that someone else has given or thrown away that is often repurposed by artists
Assemblage — a work of art made by grouping found or unrelated objects together
Collage – a technique using cut or torn fabric or paper and glue
SEE JEFFREY COOK'S SACRED EMBLEM IN ENTWINED: RITUAL WRAPPING AND BINDING IN CONTEMPORARY SOUTHERN ART AT THE OGDEN MUSEUM.
CHECK OUT THE O BLOG FOR MORE RESOURCES !
QUESTIONS? EMAIL EDUCATION@OGDENMUSEUM.ORG.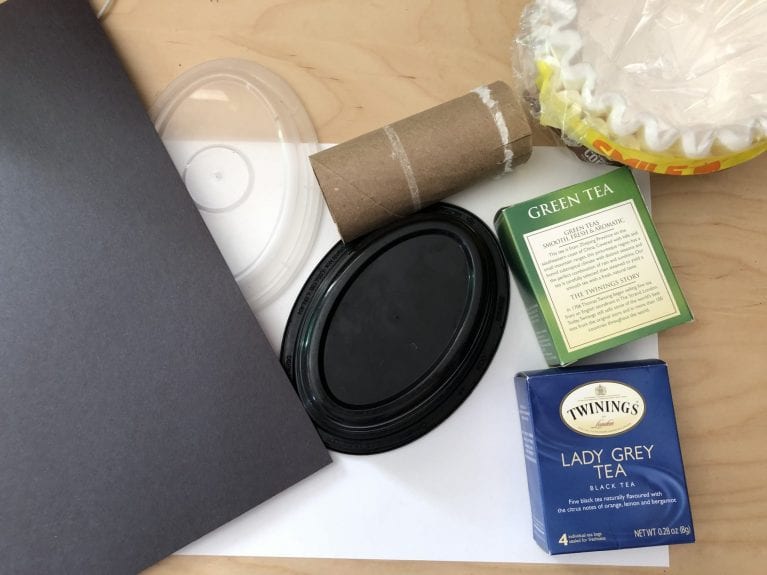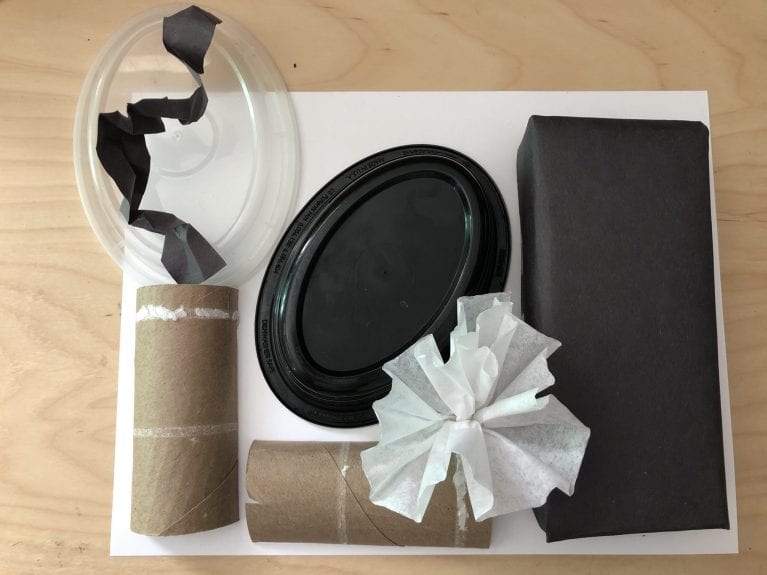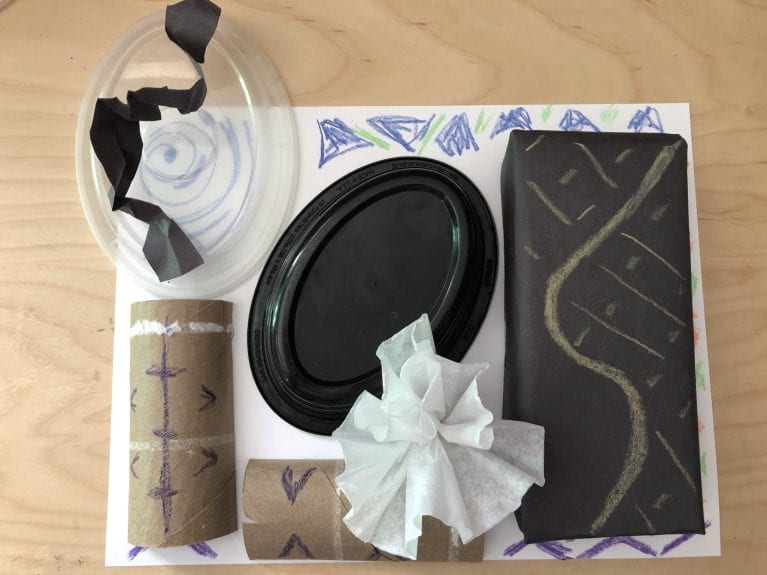 _______________________________________________________________________
Actividad artística O-riginal: Ensamblaje de objetos encontrados inspirado por Jeffrey Cook
Crea un ensamblaje con objetos encontrados que estén en tu hogar o en tu barrio.
Descargar Actividad
Jeffrey Cook nació en Nueva Orleans en 1961 y creció en Central City, un barrio rico en cultura. Cook se dedicó a ser bailarín, el cual lo llevó a viajar por todo el mundo.
A mediados de los años 80, Cook regresó a Nueva Orleans y estableció su estudio en el barrio de su juventud, Central City. Cook comenzó a recolectar escombros de la calle, los desechos propios del deterioro urbano y su renovación. Gracias a su enfoque renovado en artes visuales, creó pinturas de colores brillantes y ensamblajes, esculturas y collages de texturas ricas que transmiten la pátina y el espíritu de su hogar.
Comenzó a incorporar objetos encontrados, símbolos y muñecos artesanales como crítica del abandono social y físico de una comunidad, combinado con la nostalgia por la antigua gloria y esperanza para el futuro del barrio.
Materiales
Cartón o cartulina, objetos encontrados, pegamento o cinta adhesiva, papel de color, tijeras, y crayones.
Instrucciones
Paso 1:​ ​Jeffrey Cook utilizó ​objetos encontrados​ en su barrio para crear arte sobre la cultura del mismo. ¿Cuáles son las características de su barrio u hogar? ¿Qué colores, plantas, olores, sonidos y personas están presentes en él?
Paso 2: ​Pídele permiso a un padre o tutor para explorar tu  barrio en busca de objetos encontrados. Si no puedes dar  un paseo por tu barrio, busca objetos encontrados en tu  hogar para incluir en tu ​ensamblaje.
Paso 3:​ Luego de haber ​recolectado los materiales, busca  un lugar para montar su ensamblaje. Utiliza un pedazo de  cartón o cartulina como base. Coloca los objetos en el  fondo. Si tienes papel de color, utiliza las tijeras para  cortar formas y hacer un ​collage ​en tu ensamblaje o  utiliza las para envolver tus objetos.
Paso 4: ​Una vez que hayas decidido la disposición de tus  objetos, utiliza pegamento o cinta adhesiva para  asegurarlos al fondo.
Paso 5:​ ​Utiliza crayones para añadir detalles a tu ensamblaje. Cook utilizó símbolos, palabras y números para representar personas, lugares y cosas que eran importantes para él y su barrio.
Vocabulario
Objeto encontrado: un objeto que alguien donó o descartó y que los artistas reutilizan para hacer arte.
Ensamblaje: una obra de arte realizada agrupando objetos encontrados o no relacionados.
Collage:  una técnica en la cual se utiliza tela cortada o rasgada o papel y pegamento.
VÉ MÁS DE EMBLEMA SAGRADO DE JEFFREY COOK EN ENTRELAZADO: ENVOLTURA Y ATADURA RITUAL EN EL ARTE SUREÑO CONTEMPORÁNEO EN EL MUSEO OGDEN.
¡VISITA EL O BLOG​ PARA MÁS RECURSOS! 
¿PREGUNTAS? ENVÍA UN EMAIL A EDUCATION@OGDENMUSEUM.ORG.
Translation by Agostina Coll