Español abajo
Use patterns and shapes in your drawing to create an abstract landscape like artist Robert Gordy.
Download Activity
Robert Gordy was a Louisiana artist best known for his extraordinary compositional skill and imaginative use of color, shape, and pattern. He was born in Jefferson Island, Louisiana and studied at Hans Hofmann. Gordy is known for his acrylic paintings that featured flat pictorial landscapes with repeated patterns and high-key colors. Gordy's abstract paintings show his masterful use of color and imaginative artistic intelligence!
Supplies
Markers, Pencil
Instructions  
Step 1: Look at Robert Gordy's artwork, FIGURES IN A LANDSCAPE #1 (POOLS). What do you notice about his artwork? Gordy is an abstract artist who uses pattern, line, and color in his artwork.
Step 2: Plan your composition! Look to Gordy's work for inspiration in drawing natural shapes and plants! Gordy abstracts the forms of plants, pools and rocks into simple shapes of what they are! What natural elements will you include in your landscape? Use a pencil to draw your landscape.
Step 3: Add abstract figures to the landscape. Look closely at Gordy's work to help you draw figures.
Step 4: Add color to your drawing! Use markers to give your abstract figures and natural elements color.
Step 5: Add details to your landscape. You can draw more abstract forms, dots of color or fill it with color. How will you make your artwork unique? Be creative!
Step 6: Well done! You have just completed an abstract landscape inspired by Robert Gordy!
Vocabulary
Abstract – an artwork that is comprised of shapes and colors
Composition – the arrangement of elements within an artwork
Landscape – an image of the land, nature, or outside; genre of art
Form – A three-dimensional volume or the illusion of three dimensions as it relates to shape.
SEE ROBERT GORDY'S FIGURES IN A LANDSCAPE #1 IN THE PERMANENT COLLECTION AT OGDEN MUSEUM.
CHECK OUT THE O BLOG FOR MORE RESOURCES!
QUESTIONS? EMAIL EDUCATION@OGDENMUEUSM.ORG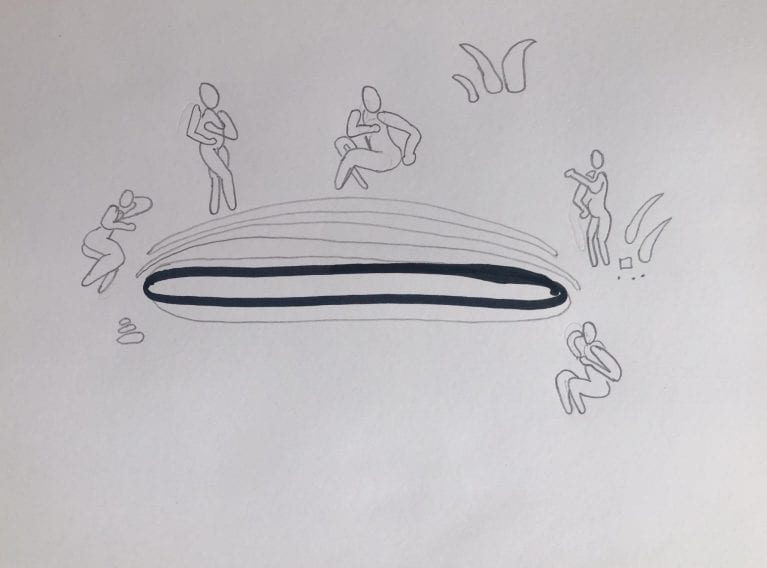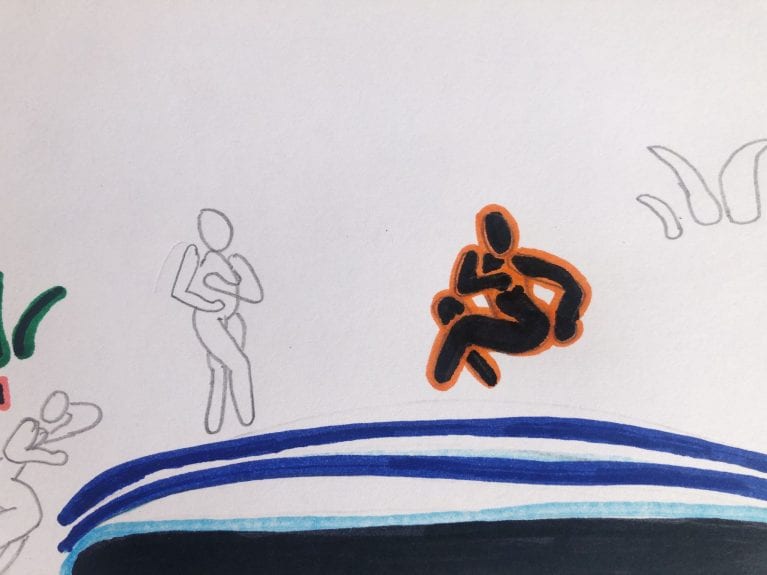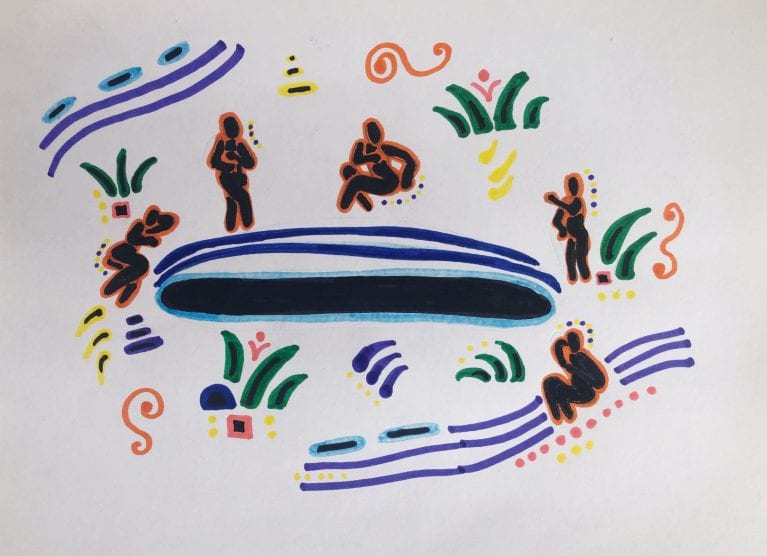 ________________________________________________________________________
Actividad artística O-riginal: Paisaje abstracto inspirado por Robert Gordy
Utiliza patrones y formas en tu dibujo para crear un paisaje abstracto como el del artista Robert Gordy.
Descargar Actividad
Robert Gordy fue un artista de Luisiana conocido especialmente por su extraordinaria habilidad compositiva y el uso imaginativo del color, la forma y el patrón. Nació en Jefferson Island, Luisiana y estudió en Hans Hofmann. Gordy es conocido por sus pinturas acrílicas que presentaban paisajes pictóricos planos con patrones repetidos y colores de clave alta. Las pinturas abstractas de Gordy muestran su magistral uso del color y su inteligencia artística imaginativa.
Materiales
Marcadores, lápiz
Instrucciones
Paso 1: Observa la obra de arte de Robert Gordy, FIGURAS EN UN PAISAJE #1 (PISCINAS). ¿Qué notas sobre su obra de arte? Gordy es un artista abstracto que usa patrones, líneas y colores en sus obras de arte.
Paso 2: ¡Planifica tu composición! ¡Mira el trabajo de Gordy en busca de inspiración para dibujar formas y plantas naturales! Gordy abstrae las formas de plantas, piscinas y rocas en formas simples de lo que son. ¿Qué elementos naturales incluirás en tu paisaje? Usa un lápiz para dibujar tu paisaje.
Paso 3: Agrega figuras abstractas al paisaje. Observa de cerca el trabajo de Gordy para ayudarte a dibujar figuras.
Paso 4: ¡Agrega color a tu dibujo! Utiliza marcadores para dar color a tus figuras abstractas y elementos naturales.
Paso 5: Agrega detalles a tu paisaje. Puedes dibujar formas más abstractas, puntos de color o llenarlo de color. ¿Cómo harás que tu obra de arte sea única? ¡Sé creativo!
Paso 6: ¡Bien hecho! ¡Has completado un paisaje abstracto, inspirándote en Robert Gordy!
Vocabulario
Abstracto: una obra de arte compuesta de formas y colores.
Composición: es la disposición de elementos en una obra de arte.
Paisaje: una imagen de la tierra, naturaleza, el exterior; un género artístico.
Forma: un volumen tridimensional o la ilusión de tres dimensiones en lo que respecta a la forma.
VE MÁS DE FIGURAS EN UN PAISAJE #1 DE ROBERT GORDY EN LA COLECCIÓN PERMANENTE DEL MUSEO OGDEN.
¡VISITA THE O BLOG FOR PARA MÁS RECURSOS!
¿PREGUNTAS? ENVÍA UN EMAIL A EDUCATION@OGDENMUEUSM.ORG
Translation by Agostina Coll.