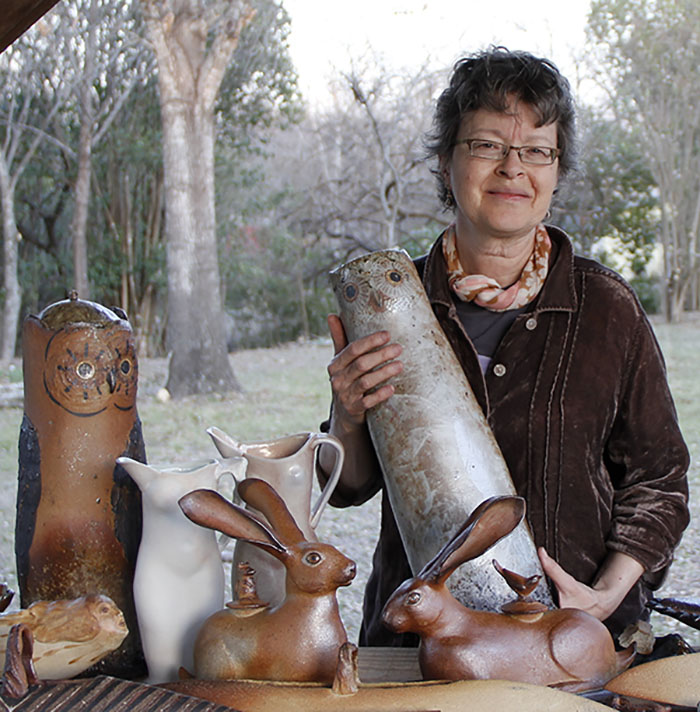 Now on view at the Ogden Museum of Southern Art through December 10, is the Center for Southern Craft & Design's 11th annual invitational exhibition, Art of the Cup.
Art of the Cup was created in 2008 by Jan Kats, Director Emeritus for the Center of Southern Craft & Design. The current exhibition features 84 cups and teapots by 40 world-class Southern ceramicists, which are also available for purchase.
The Center for Southern Craft & Design supports the Ogden Museum's mission to broaden the knowledge, understanding and appreciation of the visual arts and culture of the American South by providing a platform for Southern artists to showcase and sell their work.
Let's get to know Marian Haigh, a 2018 Art of the Cup artist!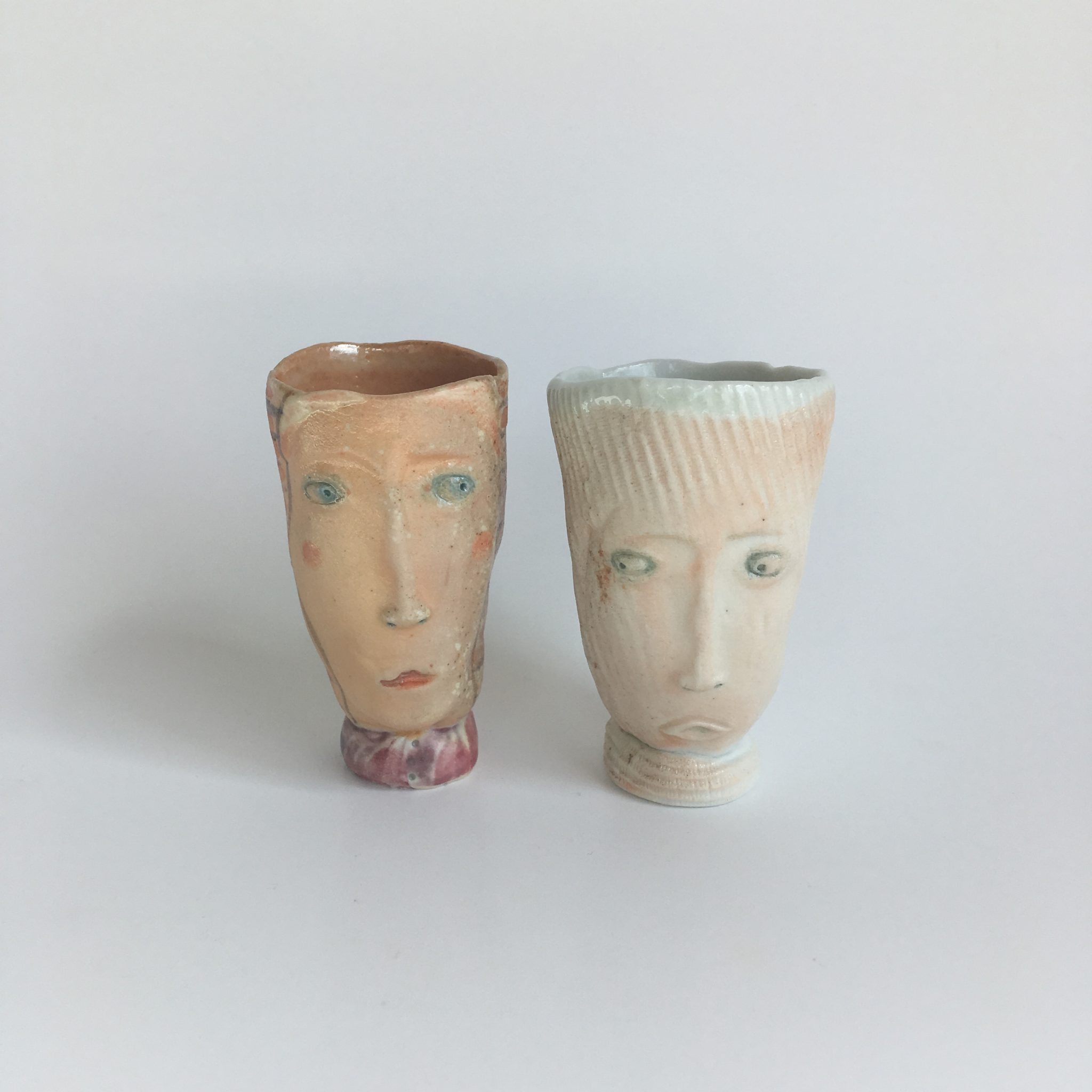 Explain the inspiration behind your work in the Art of the Cup exhibit.
The little faces on the whiskey cups were molded from an old virgin image on a Texas cemetery stone. I like this androgynous face (which I use a lot) because it can be male, female or neutral, representing, to me, the many internal faces we may have in our life. My work is fired in a wood kiln, and with the communal efforts of several potters, we feed the kiln wood for around 20 hours, reaching the temperature of 2,300 degrees Fahrenheit.  
How long have you been working as an artist/in ceramics? What drew you to the medium?
I have been working in studio pottery since I received my B.F.A. in 1974, oh my gosh, making that 44 years! But my real clay work began much earlier when in grade school my father built a small plywood table with four built in seats and painted it bright pink with enamel paint! My three siblings and I spent hours, no, days playing with oil based clay creating fantasy worlds and the animals and people who inhabited them. These clay play days, in addition to my fascination with Native American crafts, led me to a lifetime interest in ceramics.
What inspires you? Who are your favorite artists? What styles or art movements inspire your work?
Although I learn from and admire all art forms, I am still most inspired by the natural world around me and by the ancient art and craft of, usually, anonymous peoples. One artist from the 20th century I greatly admire is Constantine Brancusi, who was, not too surprisingly, inspired by ancient art.
Do you lean more towards form or function in your work?
I am equally interested in functional work and sculpture. Often, when I am starting back to work in my studio after an absence of time, I begin my routine with small cups. They are human scale and feel familiar and comforting, like coming home to a quiet space. Over the next few days or weeks, a thread of an idea starts humming in my mind and the beginnings of a new series of sculpture seems to blossom from the small works I am making. I never assign a more important status to a sculpture over a cup, to me, all endeavors are of the same value.  
As this exhibit celebrates Southern ceramicists, does your work reflect your Southern background in any way?
I think the Texas landscape has had a profound influence on me. My husband and I spend almost every weekend at a cabin in the hill country, where I can walk in a beautiful boulder strewn landscape and observe the animals and birds. It is especially thrilling for me during bird and butterfly migrations. I sometimes incorporate in my clay textures from stones and wood I find on my walks.
How does it feel seeing your work on display at the Ogden Museum of Southern Art?
Last year, I was able to come to the Ogden Museum for the first time and see the cup show. It was such fun for me to see my finished pieces in a pristine environment instead of the usual clutter in my studio. I was also impressed with the strong exhibitions all throughout the museum, I highly recommend this museum to all who are coming to New Orleans.
Do you have any advice/words of wisdom for other working artists?
My only advice to other artists is to keep on working.  Through your work you will know yourself more fully.
Where else can we find your work? Are you preparing for any future exhibits?
I have been selected to be in the Fayetteville Clay Invitational at the Red and White Gallery, Fayetteville, Texas, opening October 13. Also, I will join 60 Texas clay artists at the Texas Clay Festival in Gruene, Texas, October 27 and 28. Or you may visit my studio in Austin, Texas by appointment.  www.marianhaigh.com