Español abajo
Build your own city skyline using objects you find in your own home!
Download Activity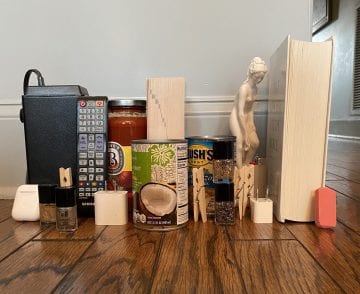 A skyline is the outline of a city against the sky. Skylines are like fingerprints for cities – no two are exactly alike! Because of their beauty and recognizability, skylines are common subjects in various works of art. You've probably seen images of famous skylines in the United States, such as New York's with the Empire State Building, or San Francisco's with the Golden Gate Bridge. 
Assemblage is a category of sculpture that puts together found objects to create a 3D structure or design. Found objects are items used in an artwork that are recognizable as what they were before existing as part of a sculpture. 
Instructions  
Step 1: Research images of city skylines. You can look in magazines, in books or online. Familiarize yourself with the characteristics of the skylines and buildings. What sorts of skylines appeal to you?  What about their design do you like?
Step 2: Adventure time! Scavenge around your house and collect items that you think you could use to build your skyline. Be sure to ask a parent or guardian's permission to use the objects that you find. Don't worry about making sure you have everything you need – you can always go back and find more objects.
Step 3: Build your skyline! Get creative with different methods of assembly. Can you stack some objects? Lean them against each other? Flip them upside down?
Step 4: Snap a picture, and then clean up your supplies. Make sure to put everything back where you found it.
Step 5 (Optional): Start the project over, timing how long it takes you. Can you beat your fastset record?
Vocabulary
Skyline – the outline of a city against the sky
Assemblage – a category of sculpture that uses found objects to create a new structure 
Found object –  an item used in an artwork that is still recognizable as what it was before existing as part of an artwork
SEE MORE FUN AT-HOME ACTIVITIES FOR KIDS ON THE O BLOG!
QUESTIONS? EMAIL EDUCATION@OGDENMUSEUM.ORG.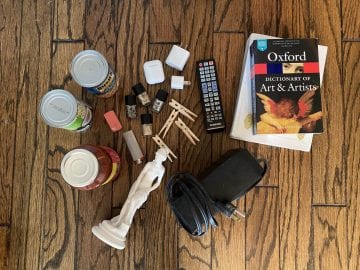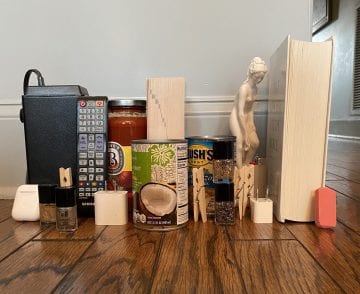 ______________________________________
Lunes de movimiento: Escultura de un panorama urbano con objetos encontrados
¡Construye tu propio panorama urbano utilizando objetos que encuentres en tu hogar!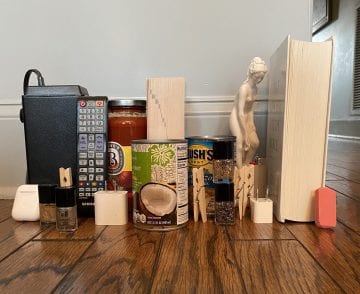 Un ​panorama urbano​ (​skyline)​ es el contorno de una ciudad contra el cielo. Los ​skylines​ son como huellas digitales de las ciudades, ya que no hay dos que sean idénticas y debido a su belleza y reconocibilidad son un tema frecuente en varias obras de arte. Probablemente, hayas visto imágenes de skylines famosos en los Estados Unidos, como por ejemplo Nueva York con su edificio Empire State o San Francisco con el puente Golden Gate.
Un ​ensamblaje​ es un tipo de escultura que une objetos encontrados para crear una estructura o diseño 3D. Los objetos encontrados​ son ítems utilizados en una obra de arte, que son reconocidos por lo que eran antes de ser parte de la escultura.
Instrucciones
Paso 1:​ Busca imágenes de panoramas urbanos en  revistas, libros o en internet. Familiarízate con las  características de cada panorama y de los edificios.  ¿Qué tipos de panoramas te gustan? ¿Qué te gusta  acerca de su diseño?
Paso 2: ​ ¡Hora de un poco de aventura! Busca en tu  casa y recolecta objetos que creas poder utilizar para  construir tu panorama urbano. Asegúrate de pedirle  permiso a tus padres o tutores para utilizar los objetos  que encuentres. No te preocupes de tener todo, ya  que siempre puedes volver y buscar más objetos.
Paso 3:​ ¡Construye tu propio panorama! Ponte  creativo y piensa en distintos métodos de ensamblaje.  ¿Puedes apilar algunos objetos o apoyar uno sobre  otro? ¿Puedes darlos vuelta?
Paso 4:​ Toma una foto y luego ordena los materiales.  Asegúrate de regresar los objetos a su lugar.
Paso 5 (Opcional): ​Comienza el proyecto nuevamente  y cronometra cuánto tiempo te lleva hacerlo. ¿Puedes  superar tu mejor récord?
Vocabulario
Panorama urbano (​skyline​ ): ​el contorno de una ciudad contra el cielo
Ensamblaje: ​un tipo de escultura que utiliza objetos  encontrados para crear una estructura nueva.
Objeto encontrado:​ un ítem utilizado en una obra  de arte que es reconocido por lo que era antes de  ser parte de la obra de
¡VE MÁS ACTIVIDADES DIVERTIDAS ​PARA NIÑOS PARA HACER EN CASA​ ​EN​ ​EL O BLOG​!
¿PREGUNTAS? ENVÍA UN EMAIL A EDUCATION@OGDENMUSEUM.ORG​.
Translation by Agostina Coll