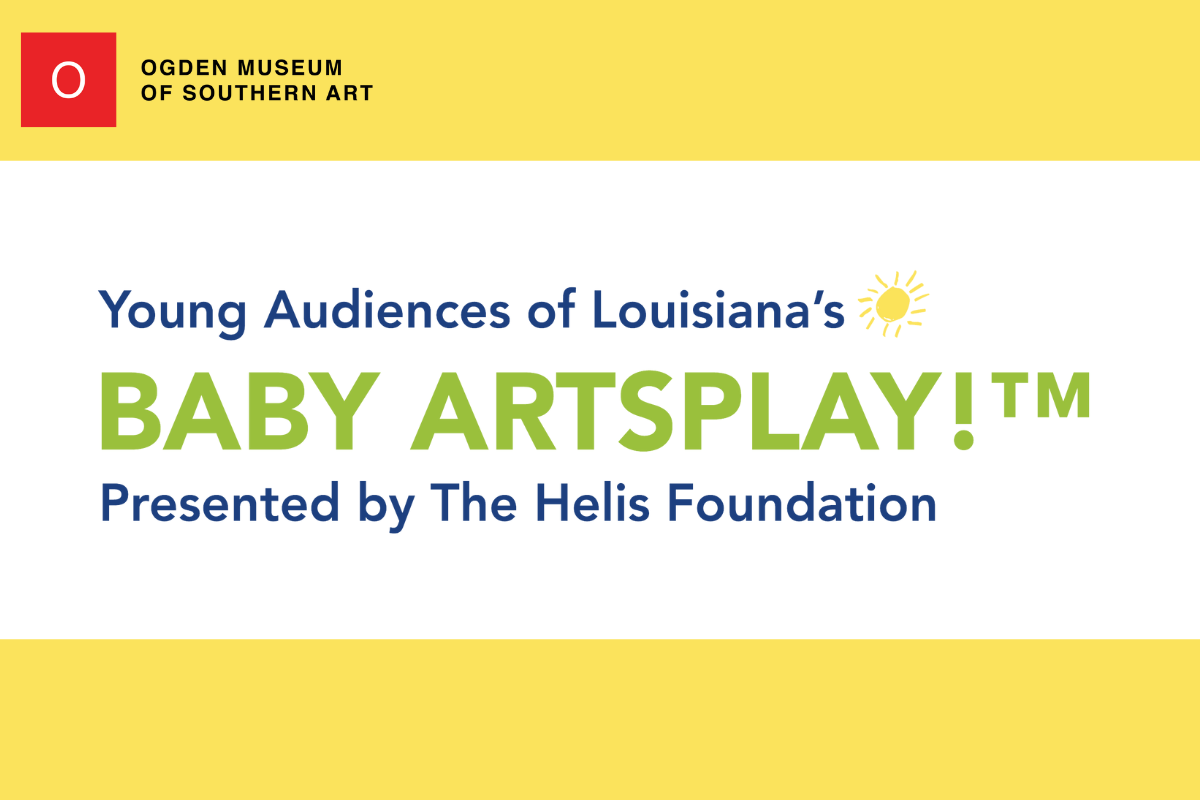 YALA BABY ARTSPLAY!
PRESENTED BY THE HELIS FOUNDATION
/// August 11, 2022 @ 9:30 am - 10:00 am
Join Young Audiences of Louisiana for "Baby Artsplay! TM," presented by The Helis Foundation.
This free 6-part workshop series is made possible by The Helis Foundation. The 30-minute workshops provide engaging arts-based activities designed to instruct caregivers on how to use the arts at home to promote early learning. Lessons are conducted by certified Louisiana Wolf Trap Teaching Artists, who have expertly crafted multi-sensory experiences that foster children's natural curiosity for learning. After each workshop, children and their caregivers can download digital Connection Cards for tips on how workshop activities can be continued at home.
August 4 – Workshop I – 1-2-3 Count With Me (Math Foundations)
August 11 – Workshop 2 – Pass It Along (Social Skills)
August 18 – Workshop 3 – Opposites Attract (Word Relations)
August 25 – Workshop 4 – Fun at the Zoo (Motor Skills)
September 1 – Workshop 5 – Mirror, Mirror (Social Emotional Skills)
September 8 – Workshop 6 – Wild At Art (Imaginative Play)
Register for one or all upcoming workshops:
Aug. 4 Aug. 11 Aug. 18 Aug. 25 Sept. 1 Sept. 8
About this session of "Baby Artsplay! TM,"
As children reach the ages of 3 and 4 years old, they are becoming little explorers. Their world is opening up. At this age their minds move quickly and they are processing the world around them through play. Children are also becoming more independent and are increasingly aware of others outside of their families. Created with your preschooler in mind, these workshops tap into the "magic years" of three and four—a time when your child's world will be dominated by fantasy and vivid imagination.
About Young Audiences of Louisiana
Young Audiences of Louisiana is the leading provider of arts education and integration programs in the state of Louisiana. We offer a comprehensive and creative approach to educating young minds. Fortified with years of experience, we draw upon our city's strong arts culture to provide young people with tools to impact their worlds using art. Through our school performances, arts-integrated residencies, extended learning programs and community workshops we not only impact the children of New Orleans, but make intentional contact with the influential adults in their lives.
Related Events