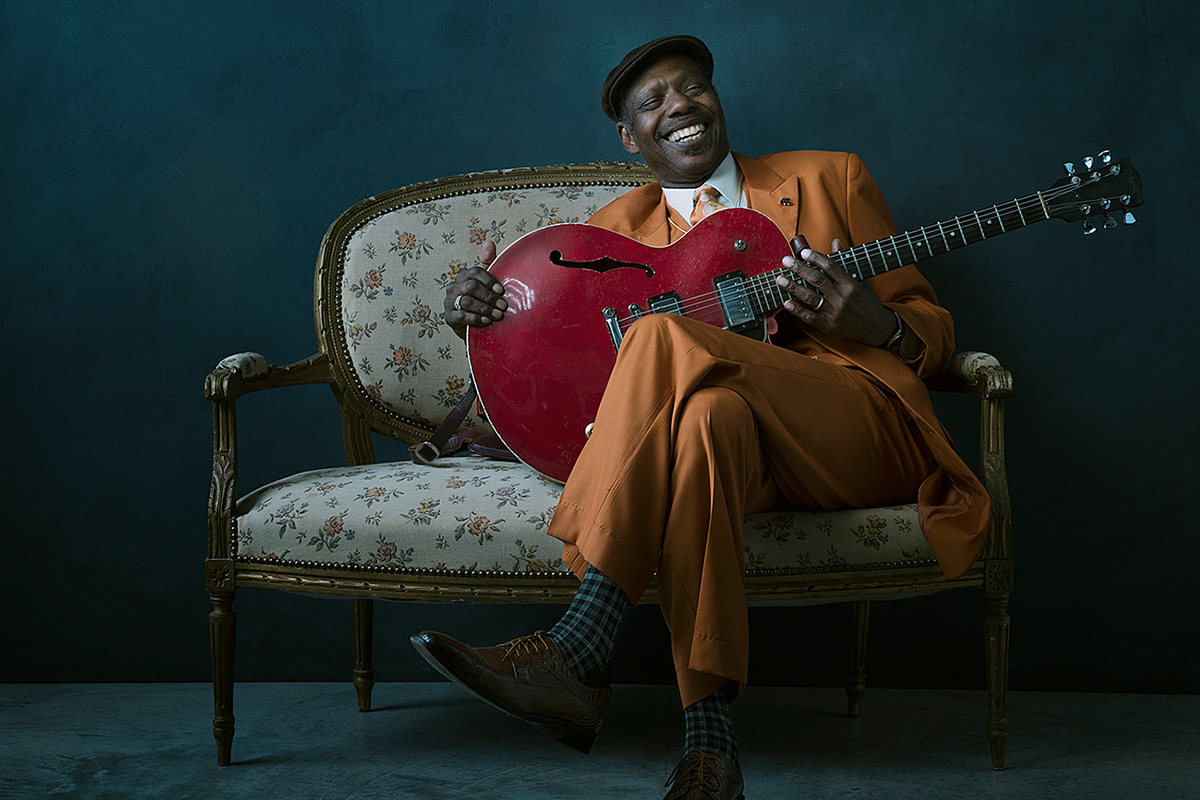 Walter Wolfman Washington
at Ogden After Hours
/// March 5, 2020 @ 6:00 pm - 8:00 pm
Purchase Tickets
"I'm used to playing with another person. To do something like that by myself, I was kind of nervous," said Walter "Wolfman" Washington, sitting in a chair in his living room and talking about his new record My Future Is My Past, produced by Ben Ellman of Galactic. He smiles and continues, "Oh man, it was really a thing.  I had never done something like that. I had to really discipline myself where I couldn't really underplay and really overplay, so I had to stay really in the middle which was a trick for me. I was amazed at my own self at how it turned out."
Now 74 years old, Walter "Wolfman" Washington has been a mainstay in the New Orleans music scene since the early 1960s. He cut his teeth backing up some of the best singers and performers in New Orleans history including Lee Dorsey, Johnny Adams and Irma Thomas before putting together his long time band The Roadmasters, who have been burning down and burning up local and national stages since their first gigs in the 1980s. This new record confirms what fans have known for years: Walter "Wolfman" Washington has soul to go along with that fire.
Like many African American musicians in the South, Washington started singing in school and the church. He had just hit double digits when he formed an acapella spirituals group in his neighborhood called the True Love and Gospel Singers. One Sunday they went on the local gospel show on WBOK to sing, and Washington noticed the guitar player in the studio who was playing behind them. "I just sat there and watched him," Washington recalls, "He was playing with all his fingers." When Washington got home he made his own guitar from a cigar box, rubber bands, and a clothes hanger. One of his uncles saw this and gave him a real guitar, and Washington started practicing. His dad supported his music, and took him to see a musician he knew across the river from New Orleans, and those two played his first gig in Gretna, Louisiana.
Washington continued playing with different musicians around New Orleans – including Irma Thomas, who sings the great slow burner "Even Now" on My Future is My Past. Lee Dorsey was Washington's first big gig.  Dorsey was a New Orleans singer with a couple big hits, "Ride Your Pony" and "Working in a Coal Mine" under his belt.  Dorsey hired the 19 year old Washington to go on the road with him where he spent the next two and a half years. It was 1962. "The furthest I'd ever been from home was Mississippi or Baton Rouge," chuckled Washington, "Our first gig was at the Apollo Theatre in New York, and we drove straight there in a red Cadillac. It was great."
My Future is My Past is a different kind of record than his playing with Lee Dorsey or The Roadmasters. Washington had to take more care with these songs. He explained, "When you're with a band, you have to really punch it out.  When you're alone, you have to pay attention to your notes and pronunciation and stuff. And then you have to put your soul into it and your feelings. Each one of the songs is a story. You can actually picture things like that happening. I had to fix my mind into each of the situations in the song."  
Songs like "Lost Mind," "Save Your Love For Me" and "What A Difference A Day Makes" are subtle and heartfelt.  "I always liked jazz," he says, 'What a Difference A Day Makes'? It's a happy song. It's a song about how you found someone who makes you feel different, and each day represents the way you feel, and that day you feel different. That particular song was a song I used to do when I was playing with the AFB (All Fools Band) back in the 1960s. There were a lot of jazz songs at that time in the world of real musicians. I came in on the tail end of when a lot of those musicians were going out, and I had a chance to meet most of them. It was fun to play with them. Big Joe Turner and all those cats. It was a thrill to me when I could play with them. And those were the songs they played."
Washington has always embodied both the wildness and sophistication of New Orleans, but finally we have a set of songs that reflects the yin to Walter's bring-the-party yang. This is the record that we all have known he has in him. This is the night after that party, or maybe just the after party. He's been given free rein to express himself, and that's special. Producer Ben Ellman has assembled a sympathetic group of musicians from keyboardists Jon Cleary and Ivan Neville to a versatile and sensitive rhythm section of bassist James Singleton and drummer Stanton Moore.  When asked about being in the studio with these musicians, Washington's enthusiasm comes through immediately.
"To have all those cats in there at one time, and they are playing behind me!  That was one of the most thrilling things for me. While we were doing the album and what has become of it, that's even better. That's what happens when you have certain musicians that are qualified to do that. There aren't but two cats that really amaze me when I saw James and Stanton. I said, 'Man, there they are!'  I had Jon Cleary playing too, and then when I saw that David Torkanowsky is going to be there! Man!!!!"
Washington is being characteristically modest. He has played with many of the greats. Starting in the late 1960s, he went on the road with singer Johnny Adams and also backed him up at a gig that has become infamous at Dorothy's Medallion on Orleans Avenue in Mid City that started at 3 AM with shake dancers and ended at daylight."  Washington says, "The place would packed until daylight. You go in there, and you come out and it's daylight."  
Wolfman also started recording with Adams. He backed him on his long run of acclaimed albums on the Rounder label. He and the Roadmasters also recorded 3 albums for Rounder, Wolf Tracks (1986), Out of the Dark (1988), Wolf at the Door (1991), and one for Rounder's subsidiary Bullseye Blues Funk is in the House (1998). The Roadmasters have proven to be Washington's longest lasting band, lasting 28 years. Their steady Saturday night gig at the Maple Leaf Bar on Oak Street in Carrollton entertained legions of Tulane students and rhythm and blues fans until the wee hours of Sunday morning for over a decade.  
All of those experiences have been distilled into this record. Ellman creates a space for the Wolfman to express this side of himself. We've known him for his impassioned vocals and cutting guitar tones – that isn't gone here, but it's been refined into a smoother style that goes down like a lover's caress. Washington embodies both ends of the African American vocal tradition: the impassioned cries of a James Brown and the urbane lines of a Nat King Cole. 
Walter uses his voice to embody both those traditions here, and then twist those traditions so that he's doing both at the same time. His vocals and playing is quiet but keeps up the slow burn intensity. He filters his smooth croon through his unique raw blues feel, and the result is subtle, tasteful, and powerful. His guitar playing has that searing tone but also the well placed chords of a bebop player. That's all here but it's jazzy and improvised and in the moment in such a way that you are on the edge of your seat wondering what he'll do next. It is exciting to the listener, and it is exciting to Washington. He says, "People tell me, 'Walter, you don't ever lose the root of what you're coming from," and this record proves he is as close to his roots as he has ever been.
Related Events