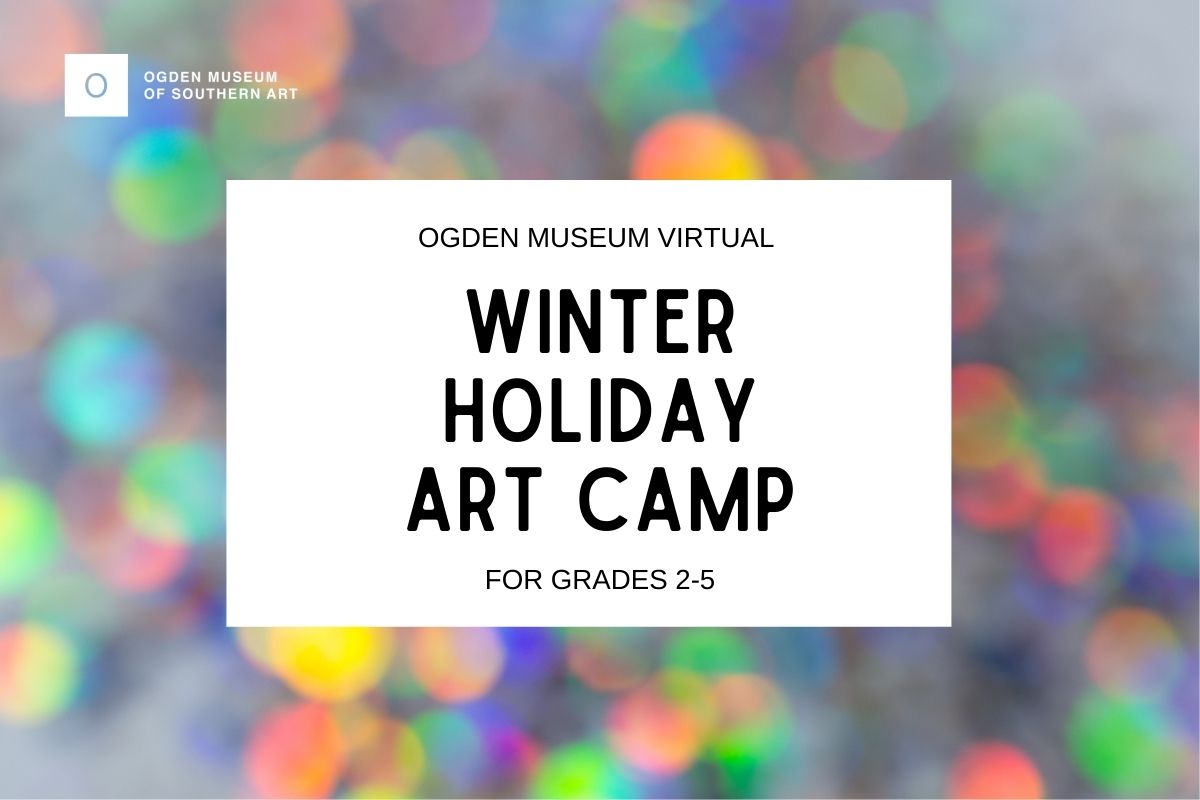 Virtual Winter Holiday Art Camp for Grades 2-5
Projects are fun, inventive and new every day!
/// December 29, 2020 @ 9:30 am - 12:30 pm
December 22, 23, 29 and 30, 9:30 a.m. – 12:30 p.m.
For students in grades 2-5
Space is limited. Register soon! Registration for Dec. 22 and Dec. 23 has closed. 
$45 member/$50 non-member per day
Register for Dec. 29 or Dec. 30. 
Schools may be out for kids, but learning and art-making continues! Ogden Museum's Winter Holiday Art Camp participants will bring their imaginations to life with creative and engaging activities. Kids will craft unique charcoal portraits, miniature gemstone sculptures, cut-out paintings, multimedia collages and unique seasonal craft objects inspired by current exhibits and the jubilee of the season. Each three hour session will also include a 15-30 minute playful movement exercise, ranging from yoga or calisthenics to a dance party or even clowning basics! Projects are fun, inventive and new every day. Don't miss out!
Registration includes all supplies needed for each activity. After registration, a Zoom link will be emailed to each registrant. The Winter Holiday Camp art supplies will be available for pick up at Ogden Museum starting December 20. Shipping is available for an additional fee.
THEMES
Tuesday, December 22: The Art of Giving (Registration closed)
Miniature gemstone sculptures inspired by the work of MaryGrace Bernard, winter crafting and yoga
Wednesday, December 23: The Art of Receiving (Registration closed)
Portraits in charcoal inspired by the work of Brendon Palmer, winter crafting and calisthenics

Tuesday, December 29: The Art of Celebration
Collage extravaganza inspired by the artists Benny Andrews and Antonnia Zennaro, winter crafting and clowning
Wednesday, December 30: The Art of Gratitude
Cut-out painting inspired by the work of Joey Slaughter, winter crafting and dance party
Register for Dec. 29
Register for Dec. 30
Related Events