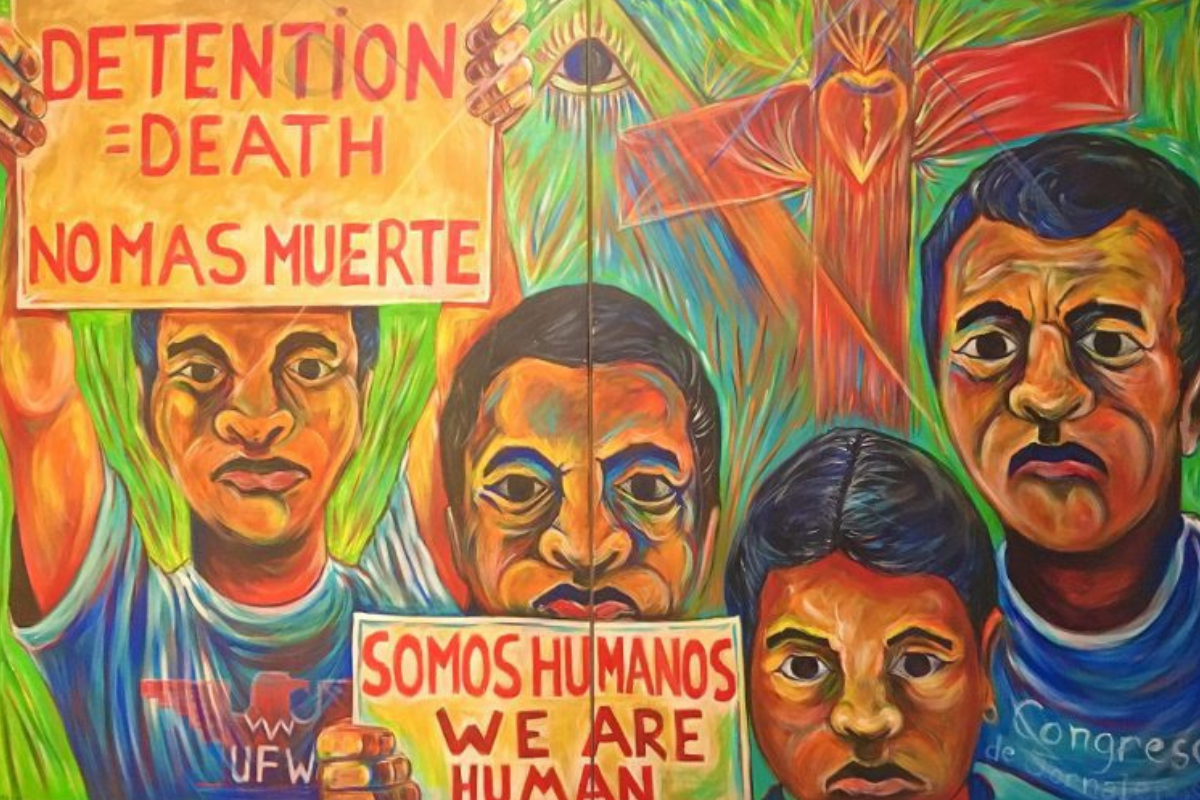 Artist Workshop
Portraiture Drawing with José Torres-Tama
/// December 17, 2022 @ 10:00 am - 1:00 pm
Join Louisiana Contemporary, presented by The Helis Foundation artist, José Torres-Tama to learn the basics of portraiture drawing.
Warm up with gestural charcoal drawings, graduate to oil pastels and create a colorful self-portrait.
The workshop includes a guided tour of Louisiana Contemporary 2022 Presented by The Helis Foundation. All materials will be provided.
$40 Member / $45 Non-member
Register
About José Torres-Tama
José Torres-Tama was born in Guayaquil, Ecuador and is of indigenous Quechua decent, as are most "Mestizo" Ecuadorians. He is an interdisciplinary provocateur, and he speaks truth to the perverse abuse of power in GrinGoLandia. He is a performance and visual artist, published poet and playwright, photographer and journalist and cultural arts activist. He chronicles the raging anti-immigrant hysteria gripping the nation. In February of 2021, he finished a four-month arts residency program with the Joan Mitchell Center in New Orleans that began in October of 2020, and continued his series of works-on-paper and new paintings exploring the immigration crisis and traumatic experiences of Latin American immigrants, who have reconstructed New Orleans while experiencing a myriad of human rights violations in the 16 plus years post-Katrina. From 2006 to 2011, he contributed post-Katrina commentaries that aired on NPR's Latino USA and exposed these atrocities. His forthcoming book "Hard Living in the Big Easy: Immigrants & Photography of Post Katrina Protests 2010 to 2019" has received a New Orleans Jazz & Heritage Foundation Documentation Grant and a National Performance Network Take Notice Fund to support its development. It chronicles a decade-long project of "Live Art" public protests photographs Torres-Tama captured of immigrant workers and their heroic acts of resistance to labor abuse, police brutality and deportations by inhumane ICE Agents. In September 2018, the University of New Orleans (UNO) Saint Claude Gallery presented some of these new works in a solo exhibition, and the opening was received with 300 plus people in attendance that included the Latin American immigrant reconstruction workers, who are the inspiration for these new works-on-paper. The Stella Jones Gallery in New Orleans exhibited one of these new mixed media works-on-paper last summer in a curated exhibition called "Complexion Reflections" of artists of color, and it ran from may 1 – July 31, 2021. Space One Eleven Art Center in Birmingham exhibited three of these works-on-paper in a show titled "Just / Unjust" from April 16 – May, 28, 2021. Both show are exhibiting Black and Brown artists exploring issues of social justice and the "urgency of the now." The new body of work developed at the Joan Mitchell Center is called "New Works Exploring An Era of Anti-Immigrant Hysteria." This body of work will begin touring throughout university museums and galleries in the South in the fall of 2023.
About Louisiana Contemporary, presented by The Helis Foundation 
Ogden Museum of Southern Art first launched Louisiana Contemporary, presented by The Helis Foundation in 2012, to establish a vehicle that would bring to the fore the work of artists living in Louisiana and highlight the dynamism of art practice throughout the state. This year's juror, Valerie Cassel Oliver, Sydney and Frances Lewis Family Curator of Modern and Contemporary Art at Virginia Museum of Fine Arts, has selected 51 works by 49 artists from a total of 1,036 submissions.
Learn More About Louisiana Contemporary