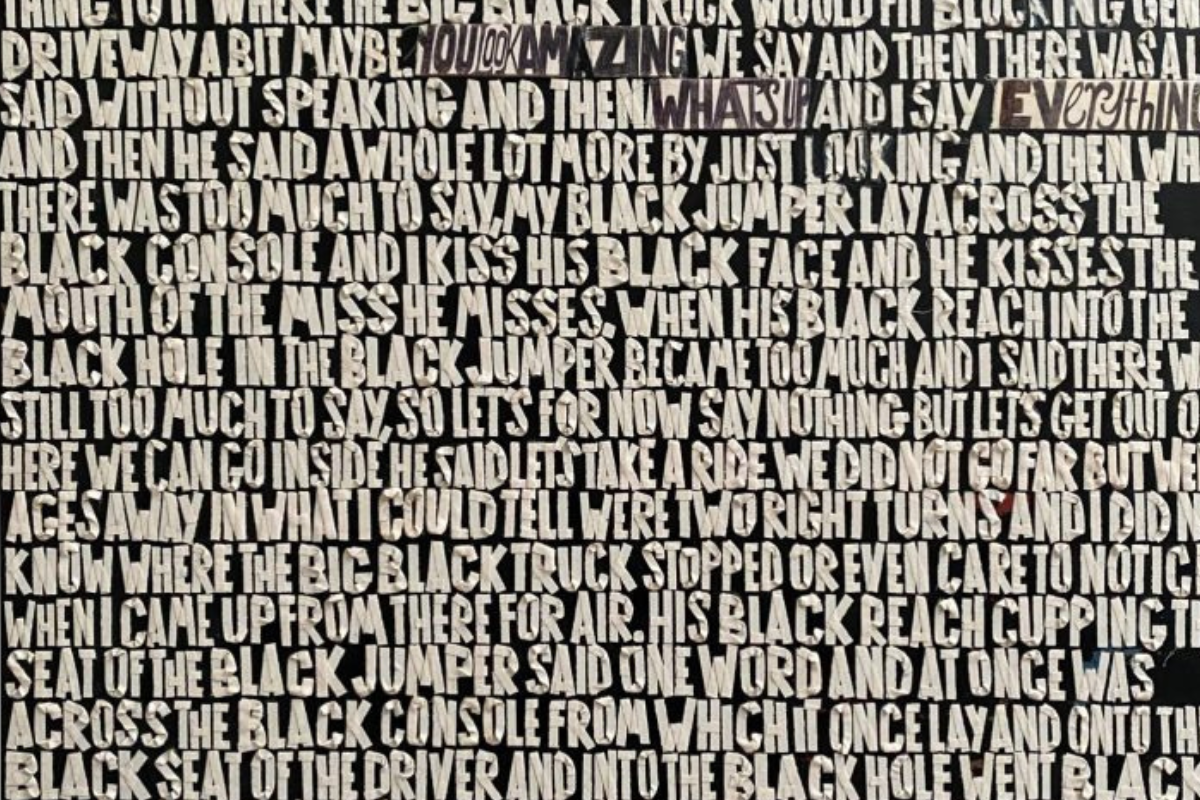 Artist Workshop
With Paige Valente
/// October 22, 2022 @ 10:00 am - 1:00 pm
Event Navigation
Join Louisiana Contemporary, presented by The Helis Foundation artist, Paige Valente to explore non-traditional art-making techniques such as stenciling.
Learn about Valente and other artists who incorporate text, narrative and storytelling in their work. Use your own personal story as inspiration for a text-based mixed media artwork.
The workshop includes a guided tour of Louisiana Contemporary, presented by the Helis Foundation. All materials will be provided. Participants are encouraged to bring their favorite excerpt of literature, poetry, quote or original writing to use as a reference.
$40 Member / $45 Non-member
Register
About Paige Valente
Paige Valente is an artist and art educator living and working in New Orleans since 2009.
Valente is interested in the phenomena of how language arrangement in organic yet formulaic measures of rhythm, have the capacity to suspend and preserve social and cultural narrative in time space. For her, verbal discourse is multi-sensory. It can be heard in and recited to meters of musical rhythm which can be felt viscerally. It can also be engaged through visual verbal discourse within a picture plane of measured tangible dimensions. It is here where Valente uses mixed media: acrylic, paper, oil pastels… and always Gaffer's tape to construct visual word play: the cadence of rhythm and rests between nuances of poetic, metaphoric, and syllabic pattern, where connective meaning is made.
"What I do in my artistic practice and what I hear in the rhythm of language, is an act that preserves life history through extracting and isolating mundane moments and unassuming details that reflect humanity as a whole."
Paige holds a BFA in Graphic Design from the Savannah College of Art and Design and an MA in Art Education from Boston University.
About Louisiana Contemporary, presented by The Helis Foundation 
Ogden Museum of Southern Art first launched Louisiana Contemporary, presented by The Helis Foundation in 2012, to establish a vehicle that would bring to the fore the work of artists living in Louisiana and highlight the dynamism of art practice throughout the state. This year's juror, Valerie Cassel Oliver, Sydney and Frances Lewis Family Curator of Modern and Contemporary Art at Virginia Museum of Fine Arts, has selected 51 works by 49 artists from a total of 1,036 submissions.
Learn more about Louisiana Contemporary
Related Events